Egg trader rears goat scientifically to promote goat milk and manure
Mr. U K Srinivasa Archarya laid the foundation of Yashodavana Goat Farm in 2012 with the aim to introduce goat milk. "I am rearing milking goats in my farm. Goat milk is rich in medicinal properties so I want to introduce the same to my countrymen. Focus of my farm is on milk, breeding and manure," he says was the drive to get into the goat farm. Goats are supplied for meat too but the main attention is on milk.
After completing graduation Mr. Srinivasa started with egg trading business. As a part of diversification he started goat farm, "Initially I bought the farm for doing organic farming. I planned mango trees, coconut trees and sapota trees. For the manure I selected goat dung and cow dung and studied the costing. I found goat dung to be more cost effective hence started with goat farming," he adds. The farm is located at Hullhalli, Nanjangud Taluk, Mysore District, Karnataka.
First and foremost samples of soil were tested to ensure the productivity and suitability for goat rearing and logistics. "We ensured the bluemap for goat rearing is plotted as per international standards," he says.

Yashodavana Goat Farm spreads across 50 acres land. It is a well planned and scientifically designed farm. It has separate sheds for the goats based on the age and health. "It is the most crucial task to rear the just-born kid till four months. I have experienced mortality of goat kids in large number in the farm so I have organized it well now by creating a separate shed for the same," he says. Similarly sick, pregnant and lactating goats are kept in its' respective shed different from the growing herd. "The lactating shed is further having compartments for one goat and its kid. All these arrangements are done to ensure healthy well being of animals." Mostly betel breed from Punjab is raised at the farm as it is in compliance with the climatic conditions in Mysore region. "I buy only premium variety of the animals," he adds.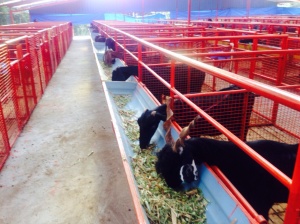 Farm has a mechanized milking parlour and exclusive pasteurized unit. "Goat being a free grazing animal milking it manually is tedious and tiring. In the mechanized parlour it can be done easily as well as collecting the milk is done hygienically," he informs. "To improve the shelf life of the goat milk it is pasteurized immediately after milking that ensures the milk stays safe for use till three days." Milk is sold at the organic stores in Mysore.
When asked the reason to promote goat milk he responds, "Goat milk is a rare product now. People are not aware of its medicinal properties. Right now when country is facing the epidemic due to dengue goat milk is elixir. It helps in increasing the platelet count in the human body. Unfortunately there is no availability of goat milk anywhere. I want to promote and supply rich quality of goat milk across India for its medicinal properties." Goat milk is good medicine for asthama and other chronic diseases. Every day 200 liters of milk is available at the farm for sale. It is sold under the brand name 'My Goat'.
Fodder for the goat is grown at the farm itself in 40 acres. The goat diet is maintained strictly following the protein and energy level parameters. "To meet these requirements we are growing legumes and grass. Sunlight is also essential for the goat's health as it provides vitamin D3 so it is ensured that herd is moved in the yard having sunlight every day," he elucidates. Diet for goats after giving birth to its young ones and pregnant goats is further monitored as per its body requirements.
Medical checkup and vaccinations are given as per the schedule to keep goat free from internal body diseases. Whereas for external body ailments care of the goats is take on day-to-day basis like disinfectant treatment, hair trimming etc. "We are very particular in taking care of even the minor things as it is important for the growth and development of the goat," he adds. Farm has the infrastructure to raise 2000 goats however presently the parent stock is 600 and 200 kids.
Speaking of challenges he says, "I came from poultry background which is well-organized sector in India. I came into goat farming business with the blind belief that it too will be organized like poultry but it is not so!" When Mr. Srinivasa started goat farming he didn't receive any support from government departments or veterinarians.
Goat is a free grazing animal. "Mine is stall fed farm so it is very difficult to hold the goats in restricted shed area. Another challenge is goat breeding. It is very tough in India to breed the goats and there are no large-scale farms for the same," he shares.
Immediate plan of Mr. Srinivasa is to appoint the vendors to supply 'My Goat' milk to the people of India. "I want to start with Delhi as the capital is gripped with the epidemics," he says. Milk will be supplied to various parts of the country through air-cargo.
Presently manure is used at the farm for growing the fodder. "I am also working on the end-product to supply as goat dung based manure. People will be able to use it directly in their farm. But as of now it is in process," he adds. The entire farm is under the surveillance of CCTV in order to ensure 100% check on the goat and its look after.
To be successful in goat farming four thumb rules are premium variety goats, well planned infrastructure, balanced nutritious fodder and best management. He says, "Fall out in any one of these will lead to the collapse of entire farm."
Mr. Srinivasa concludes, "I am not having any agricultural background instead I am purely a businessman. As commonly followed for establishing the goat farm I had appointed consultant and experts but having swindled by them I did everything on my own. I can vouch for the fact that practical experience is best learning and beyond any training program. I struggled a lot initially all by myself but now I am in the market with the positive result."
Contact details:
Yashodavana Goat Farm
Farm Address : Yedahalli, Nanjungud Taluk Mysore District, Karnataka, India
Correspondence Address : No. 386, Krishna Kuteera, Subramanya Temple Road, Vedyaranya Puram, Mysore
Mobile: 09620590777
Email: yashodavana@gmail.com
Web: http://www.yashodavanagoatfarm.com/