Provides platform for volunteers to live and learn organic farming. Plans to export organic products of WWOOF hosts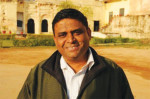 WWOOF India was started in the year 2007 in Nainital, Uttrakhand. With a     modest number of 14 farmers in the beginning, it currently has 190 plus farmers in its fold. WWOOF provides a path for volunteers (WWOOFers) to learn about organic food and farming at the farms of members (WWOOF hosts). The various business activities of WWOOF India are placements in organic farms for internships program for students, providing volunteering opportunity in organic farms to volunteers, conducting training and publications on organic farming for organic farmers, students, NGO staff, and individuals. Also it extends consultancy to corporate and Government.
Its main focus remains on sustainable livelihoods and addressing issues of poverty, through community mobilization around income-generation activities combining cultural, craft and ecological dimensions of rural life.
The number of volunteers that associate themselves with WWOOF increases with each passing year. Most volunteers are youth, interested in green living and sustainable agriculture practices.
"We also got 15 interns during two years. They learned about crop rotation, preceding crops benefits, resistant varieties, composting, mixed cropping, no tillage crop production and pest prevention, green manure, soil covers, mulches, nutrient balance, nutrient cycles, resource recycling and nutrient," shares Mr. Harish Chander Tewari, Director. The volunteers also get the opportunity to analyze the certification process and understand different issues to consider when developing an export marketing strategy. The company invites new volunteers and receives publicity through newspapers, magazines and TV.
WWOOF India's activities are spread in various corners of India. It currently operates in 20 states. WWOOF's primary source of income is received by selling host list to WWOOFers. The price range may vary from 25 $ for single and 40 $ for couples. It also charges 10$ membership form each of the host farms annually. Its consultancy services, training and publications are other ways through which the company receives funds.
The company plans to expand its operations of organic farming to 15,000 acres by the end of 2015 and 25000 acres by 2020. "We plan for marketing of various organic farm products of our members through exports after proper certification. Through this activity by next year we would be exporting with WWOOF India label high quality crops like off season vegetables, tea, organic sugar, spices, rice & ayurvedic herbs," Mr. Tewari signs off.
Mr. Harish Chander Tewari is an Agricultural Micro-Biologist. He has vast experience of working in more than 10 countries at various projects related to organic agriculture, water management and livelihood improvement etc.
Our Correspondent
Contact Details- WWOOF India
A 46 Judge Farms, Haldwani, Nainital, Uttrakhand, India Mob: 9837240600
Email: sewak12@rocketmail.com Web: www.wwoofindia.org
Source : Agriculture & Industry Survey