Farmers know what is organic farming all about. But most of them are not following organic farming methods. We find out why?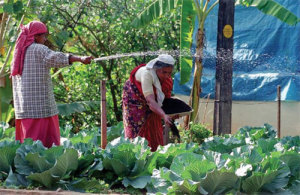 Farming inputs expensive!
Organic farming inputs are cheaper by at least 40 percent quotes Mr. Dushyant Laijawala of Nico Orgo Manure.
Mr. Ajit Kulkarni of Jai Prabha Agro Chemicals clears the myth with example of fertilizers like DAP. DAP costs around Rs. 1200 for 50 kg and covers one acre area. Whereas organic fertilizer/manure priced at Rs. 300 per ton is used for 1.5 – 2 acres. On comparing the price it is evident that chemical farming input is costlier than its organic counterpart.
Farmers must look forward for long-term benefits derived by using organic inputs irrespective of the cost involved that is anyways comparable, suggests Dr. Satwik Joglekar, of Coprex Biochemicals.
Yield drops!
All manufacturers of organic farming inputs agree with farmers that during the transition period the farm yield drops. To justify it, Mr. Kulkarni gives a simple formula :
Chemical based farming is – More input cost + More output – Quality = No Profit
Farmers must compulsory conduct soil tests and clarify, if the soil is in acid/alkaline and what are nutrient deficiencies exists in soil. Accordingly with use of quality rich organic manures the yield can be enhanced as suggested by Mr. Balachandran.
Further, the drop in yield does not happen forever. The first year it goes to minimum. Second year it increases a little. Finally for sure from fifth year farmer gets beyond expectation the quantity and quality of farm produce. The transition period is difficult for first two years, from third year onwards positive results would be seen.
Insufficient for big farms!
Dr. Joglekar explains that using organic growth supplements the yields can be optimized for big farms too. In case of disease management products organic products gives better results than most synthetic products in the market.
Mr. Balachandran shares that even big estates/farms can depend only on organic farming and surely would get expected returns. It is not about attractive bags, literatures or some certificates that can give farmer quality and quantity to the farmers. What is important is to feed the soil what it wants then there would be no wrong notions or myths.
No Subsidy!
There is no need to have any subsidy on organic pesticides & insecticides. Mr. Kulkarni refers to farmers from Nagaland, Manipur and Assam. These farmers are doing organic farming and never care or ask for subsidies then why it should bother the other states farmers? Organic farming in itself has the potential to rebate its output cost against input cost and would give profit to farming community without any hazards or dreadful effects.
Organic farming inputs are widely gaining acceptance. Dr. Joglekar shares his experience that 15 years back they had a tough time explaining the uniqueness and benefits of organic inputs to the farmers but over the years the farming community has seen the benefits of these formulations. It is apparent from change in figures that today Cropex Biochemicals sell around 400 KL of growth supplements and 200 MT of disease management products.
Many farmers have tried the switch and are successful. But there are still many farmers who are well aware that synthetic chemicals although initially increase the yield but is extremely harmful for human beings, environment, soil and water. They know chemical inputs are very expensive when compared with bio-organic products. It is mandatory for farmers to stop worrying and get into action because "Organic is natural. Be with natural and turn organic".
Our Correspondent
Source : Agriculture & Industry Survey