Committed to preserve and improve Tharparkar dairy breed of India
"Tharparkar cows are great asset to our Indian heritage however it is almost on the verge of getting extinct! Its existence could be limited to only books as a beautiful grayish-white coloured cow but would not be available on the farmland across the country therefore to save it from getting vanished completely from our country we decided to restore it," affirms Mr. Chandrakant Bharekar, founder, Vrindavan Tharparkar Desi Cow Club. Exclusively indigenous Tharparkar bulls, cows and calves are reared at the club. "We are 100% dedicated to only this desi breed of India. We are not even in the favour of cross-breeding amongst the desi breeds of India. We want to bring back the original breed with all its unique features and characteristics by breeding cows and bulls of Tharparkar breed only taking care of its clan (family bloodline)."
Mr. Bharekar is a builder by profession but being from agriculture based family he knows the role of cows in the human life. Thereby on seeing the pitiable condition of Tharparkar breeds, four years before he started working to revitalize the breed. He thought to involve like-minded people in this noble program of protecting Tharparkar breed instead of doing at personal level. Thus taking the project to the community level he laid the foundation of Vrindavan Tharparkar Desi Cow Club that is committed for rearing and breeding pure Tharparkar cows in the traditional and ethical manner. "The idea to establish the club is modern and more appealing because with the cow offerings (milk, dung and urine) the members could be benefitted as their health would be improved. Starting the club is a win-win situation for Tharparkar breed as well as members. We are trying our level best to understand the medicinal and gainful properties of cow urine, dung and milk in the same order of importance. We are also dedicated to re-establish the valuable role of cows in farming. We also want to increase farmers' income and enable him to produce healthy nutrient rich food for the masses using various by-products from cow urine and dung," he states. The dairy farm and club are located at Bhukum village, 18 km away from Pune, Maharashtra. It was started in the year 2013. It spreads in 27 acres having the cow shed in 10 acre and rest of the area is used for producing fodder.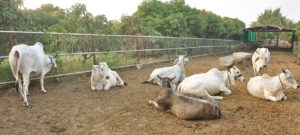 As the main purpose of the club is to protect desi cows and bulls, it took off well and is growing steadily. The club was started with five people and fifteen cows sourced from remote Rajasthan village located just 2 km away from India-Pakistan border. Today the number of members grown is 50 while the Tharparkar breed cattle herd is increased to 200+. Members of the clubs belong to different professions but share the same passion – saving cows. "In Indian religious scripture cow is given the status of goddess because its' every offering is useful for the mankind in some way or the other. It is much beyond being a source of milk! Besides milk, dung and urine of only Indian desi cows is loaded with medicinal properties not of foreign dairy animals like HF and Jersey. At our club we are 100% committed to Tharparkar Indian dairy cows and bulls," he asserts. Life membership of the club is Rs. 1 lakh later to which members are entitled to pay a nominal yearly fee. They get all the 40 products produced and sold by Vrindavan Tharparkar Desi Cow Club at special discounted price such as milk, ghee, butter, cow dung cakes and cosmetic products etc.
Origin
Tharparkar breed is native of Western Rajasthan preciously Jaipur-Jaisalmer and Kutch-Sindh region. "We brought pure Tharparkar cows and bulls in our farm from Barmer district, Rajasthan. We visited many villages in the district and it was quite a challenge to find pure Tharparkar cattle as the breed has lost its exclusivity due to cross breeding. However with umpteen efforts we could identify some cows and bulls. We went 3-4 times to Barmer district for getting the cows and bulls. Now the herd is grown and breeding is done within the farm through natural matting, artificial insemination and embryo transfer," shares Mr. Bharekar. Presently there are 14 bulls and 200+ cows in the farm. Pedigree of every cattle is maintained meticulously using the computer software. "We document every minute detail such as medical history, milk yield, growth and fodder intake etc. We ensure there is no in-breeding. Every cattle in the farm is tagged with a special number."
Unique Features
Tharparkar is supposed be the premium milking prowess Indian desi dairy breed like Sahiwal, Gir and Red Sindhi. In addition just like the Kankrej breed, the bulls of Tharparkar are renowned for its strength and power that makes it most suitable for farming activities. The breed is amazing in itself. It is gifted to survive the odds like extreme climatic conditions, fodder scarcity and disease resistant. "It has originated in Rajasthan, the desert region so it can survive high temperature easily and doesn't fall sick much! Now as we have brought it in Pune we are sure the breed will improve certainly."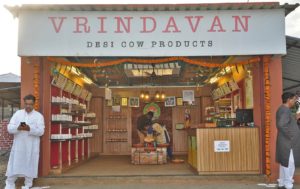 Milking
Milk of Tharparkar cows is supposed to be very tasty and packed with essential minerals and vitamins. The fat content is more than 5%. "In our farm produced milk the fat content is close to 5.5-5.7%. It has been tested at Government certified laboratories. It is the best in quality," claims Mr. Bharekar. Commonly Tharparkar cow yields 3-4 litre milk/day but, "Cows in our farm yield 5-9 litre/day. Even some cows give 10 litre/day. It is so because we give a balanced diet to our entire herd. We feed nutrition rich fodder and provide relaxed surroundings. Except for the milking time (twice a day) the cows are never tied-up. It roams freely in the adequate open space and closed shed. Therefore the cows are happy and stress-free," he insists. It is observed when the cow is always tied its milk has 67% stress level while when allowed to move freely the stress level in milk is only 10-12%! Higher stress level deteriorates the quality and quantity of the milk. Therefore it is mandatory to allow the cow and bull to move around the shed liberally.
Apart from free movement, light classical music or religious hymns are played during the milking time. "We strongly feel listening to religious hymns cows are more relaxed and yields higher quantity of milk," he explains. In addition milking is done from only two teats and rest two teats are left for the calves irrespective if it is female or male calves. "We want to re-vive the breed and it can be done only when both female and male calves are healthy. We need both for refining the breed. To do so calves need adequate quantity of its mother's milk."
Milking is done manually because milking machine troubles the cows and pulls out all the milk leaving nothing for the calf. "As milking is done manually the hygiene conditions and measures are practiced stringently. Not only the keeper sterilizes his hands before milking but also the teat of the cows is cleaned with luke warm water," he highlights.
On an average milking is done from 20-25 cows daily and the production is 300 liter/day. Milk collected is packed in half liter packs through a packaging machine and is delivered to members' door step within one hour.
Fodder
"When we brought cows and bulls in our farm the health condition of the entire herd was not-good at all! With proper care and good feed it improved enormously. Also milk obtained from our Tharparkar cow has fat content more than 5.5%. It is because we give nutritious and balance diet to our entire herd. Partly the fodder is produced within the farm premises while rest is bought only from reliable sources," he reveals the key behind the quality rich milk produced at the farm. The cattle feed is the mix of green fodder, dry fodder and concentrates. Supply of clean drinking water and rock salt is maintained 24 hours in the shed at its designated place enabling the cows to consume as required.
Fodder and concentrate is given twice a day. Green fodder constitutes 80% of the feed while dry fodder is 20%. It is given after milking. Green fodder includes DHN6 napier grass and maize. "We give fresh maize along with the corn because the corn has all the vital nutrients. After removing the corn, the left behind residue is only roughage which cannot fulfill the nutrient requirement of the cow. So we give the corn too along with the stalk and leaves of the maize plant. Quality of milk will be good only when cows eat good food!" says Mr. Bharekar. Dry fodder includes sorghum (jowar) and pearl millet ( bajra).
Concentrate is given twice a day before milking. Quantity fed is 2kg/cow each in morning and evening. It is made within the farm. Ingredients used are soyabean 10%, cotton seed cake 20%, maize husk 20%, wheat husk 20% and mineral mixture 10%. It is all mixed together and when fed to the cattle little water is added to soften the concentrate. "We take oiled cotton seed cake because the de-oiled cake will again be roughage and would not add any nutritional value to the cows," he adds.
Cows are given a special diet post pregnancy. "We need to ensure the calcium content level in the cow's body after delivery should not be reduced. Thereby we give luke warm jaggery water three times in a day to the cows for atleast one week from the delivery date. Also we feed wheat porridge for re-gaining the physical strength. Jaggery used is organically produced," he shares.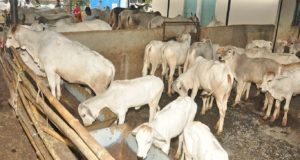 Breeding
With the consistent efforts of four years Tharparkar herd is growing steadily at Vrindavan Tharparkar Desi Cow Club. Initially sourced from Barmer district, Rajasthan the cows and bulls have been multiplied gradually through natural matting as well as using the technology of artificial insemination and embryo transfer. "Tharparkar cows, native to India have a strong built. It has the potential to deliver 14-15 calves in its lifetime. In our farm we are expecting to cross this figure yet it is too early to comment as we have started rearing cows only four years back. We are never in hurry to inseminate or mate the female calf. We check its weight and height after 2.5 years then only it is mated! Patience is crucial for the health of the calf and new born. Usually in 2 years the calf gains 300-350 kg weight in our farm," elucidates Mr. Bharekar. Weight at first mating should be minimum 250 kg. It needs to be fed with nutritious diet for good growth and development of the embryo.
In 200+ cows there are 100 female calves while the remaining are adult milking cows. Male calves are given to neighboring farmers for farming activities after its mother's milk is stopped for that cycle. "We ensure the male calf gets his share of milk and attains good immune internal body system. We also feed it nicely before giving away because it can be used for breeding too and requires strength for carrying out various farming activities. Later paying the nominal charges farmers residing in and around the farm takes it away. However we do ensure the farmers taking the male calf would genuinely look after the calf," he shares.
People working at the farm are trained for delivery. "As the cows move around freely in the farm premises delivery is hassle free but sometimes the position of the calf during the delivery time is not correct. So our boys assist the cow by correcting the calf position. They are trained to do so," he adds. Initial 4-5 days calf is allowed to have its mother milk fully. "Almost after 5th day from delivery date the milk quantity increases and then we start milking the cow from its two teats only."
Commercial Farm
Selection of pure breeding stock and passion to look after the herd are two requisites for the success of commercial dairy farm according to Mr. Bharekar. "Tharparkar cows need pampering and love just like children. If cow is left unattended and treated as milk producing machine then the returns will be always poor! Farmers need to be passionate about cows and must take care of it well without worrying about the quantity of milk yield because the quality is superior that will fetch premium price," he advices.
All the products developed and sold by the club are gaining popularity for its chemical-free ingredients. However most in demand is ghee. It is sold under the brand name 'Bilona'. "As the fat content is more than 5.5% in the milk, the ghee made from it is of supreme quality. 25 liter milk is used for making one kg ghee. It is prepared in traditional manner ensuring the medicinal properties are intact till it reaches consumers' plate!" he affirms. In time to come Mr. Bharekar wants to increase the herd size and develop the breed as much as possible.
India is gifted with desi breed of cows. "Dairy farmers and scientists from foreign countries have taken our Indian native milking cows and are doing wonders! Why we should give away our treasure to them and adopt their breeds? We have to invest our resources in the original breeds of India. It is our duty to safeguard and nurture what belongs to us! If we stick to our dairy breeds and rear them with complete sincerity then farmers of our country will always prosper and attain the wealth immensely!" signs off Mr. Bharekar.
Contact details-
Vrindavan Tharparkar Desi Cow Club
Gate No. 1311, Khatpewadi road, Off Paud road, Bhukum, Pune – 412115, Maharashtra, India
Mobile: 09860799526
Email: info@vtcc.in
Web: https://vtcc.in/