Breeders and suppliers of HF and Jersey cows
"We started Murugan Dairy Farm in 1960. I am a third generation dairy farmer and breeder," says Mr. Vinoth. Farm is engaged in breeding HF cows and Jersey cows. Consultancy services are also provided for dairy farming. "We supply good hybrid, high yielding Jersey and HF cows to big dairy farms. We have taken tender from the Kerala Government. It is the dairy development scheme of Kerala, so that we can easily supply cows to the Kerala Government for the farmers," he shares. Farm is located at Uppidamangalam, Tamil Nadu.
HF cows give more milk with less fat. While the Jersey cow gives more fat but less yield. Calves aged 2.5-4 years old are sold. "Cows are sold in the range of Rs. 35,000-70,000/cow depending on the age, body condition, milk production capacity, whether HF or Jersey, whether pure breed or cross breed etc," he explains.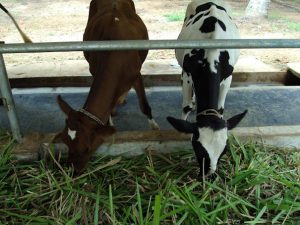 "Cows have good immune power as we give only organic feed," Mr. Vinoth highlights. "We selectively breed each and every animal so that we can maintain a good breed, called lineage (cow having good character for producing milk)." Vaccination of cows is done periodically thus keeping the cows free from diseases.
"The fat content of the milk can be altered by giving high protein feed. We get high fat milk," he avers. High yielding cows are given more green fodder which he explains is the basic requirement for a commercial dairy farm. 25-30 kgs of green fodder, 8-9 kgs of concentrated fodder (mixture of grains) is fed to the cow that gives 20 liter milk. "It is nutritious to the cows. We also give 70-80 liters of water for one cow. Grains include CO4 napier, maize, sorghum plant etc."
Additional supplement like minerals like potassium, calcium, sulphur etc are given as well. "We can get minerals from veterinary hospitals. Government will give minerals at subsidized rates. It is available in 5 and 10kg bag," he informs.
Milking machines and fogger system are used at the farm. Milking machines reduces labour. Fogger system reduces the temperature inside the shed so that the cow feels very comfortable leading to good milk production. The high yielding HF and jersey needs optimum temp of 30-31 degrees.
The farm provides certificates like health certificate from Government veterinary doctor for assurance to a customer purchasing calves. "He will check the cow thoroughly and give the certificate that the cow is fit to travel and are disease free. These certificates will be handed over to buyers," Mr. Vinoth explains with assurance.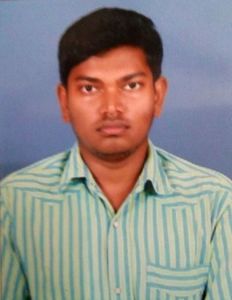 When a cow goes to another farm, the feeding system is disturbed hence small issues might happen which, he says, are very common. "We will rectify by giving proper consultation to the buyers as soon as possible. We will continue relation with our buyers and they can call me anytime."
The calves are sold across Tamil Nadu, Karnataka, Kerala, Gujarat and Maharashtra. "We focus primarily on these states. We are also looking for more order from Government of Tamil Nadu and Kerala," he assets. "We do get orders from Northern parts of India but due transportation constraints it is difficult for us so we decline the enquiries."
Dairy farming is receiving good support from the Government because, "Presently milk production is less and demand is more especially for milk based value added products," he opines.
Consultancy services include construction of sheds, preparing land for green fodder production, procurement of animals, feeding system, vaccination procedures, hygienic maintenance procedures etc. "We also sell milk to the dairy processing companies namely Aavin and Hatsun. Price of cow's milk in Tamil Nadu is Rs. 22-29/litre and in Kerala Rs. 27-35/litre," Mr. Vinoth adds.
Mr. Vinoth holds MBA and diploma in veterinary disease management.
Contact details:
Murugan Dairy Farm
Uppidamangalam, Karur District, Tamil Nadu – 639 114
Mobile: 07639299186, 07639280888
E-mail: vinodbiochem@gmail.com
Web: http://www.murugandairyfarm.com