Agribusiness|Unconvention is Villgro's sector-centric social enterprise conference designed to unearth and inspire social entrepreneurs and in turn grow the social enterprise movement deeper in India.
SAVE THE DATE: 23rd February, Hyderabad
In FOCUS: Entrepreneurs, Investors, Government and Industry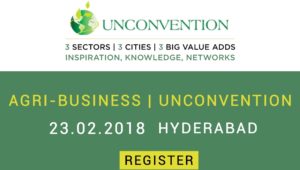 Each conversation will deeply examine challenges unique to the agriculture industry and allied sub-sectors in India. Unconvention brings together stakeholders from the agri industry including impact investors, government representatives, industry experts and entrepreneurs to share their perspective on the need of the hour and the effect of recent innovations on their lives. http://villgro.org/sector-unc/
SPEAKERS: Some of the key speakers include S. Nagarajan (Former MD, Mother Dairy), investors like Mark Kahn & Jinesh Shah (Co-Founders, Omnivore Capital), George Thomas (CEO, CapAleph Advisors), Vaidhehi Ravindran (VP, Aspada Investments); successful entrepreneurs like Srikumar Misra (Milk Mantra), Lakshmipriyan VG (FarmFolks Agro), Ranjith Mukundan (Stellaps Technologies) & Incubators like NAARM TBI, Villgro, etc.