Art draws attention to farmers and organic farming
I hail from Rampuria village, 25 kms from Darjeeling. My village is gifted immensely with serene beauty and great eco-system by Mother Nature. Agriculture is the main occupation here but as in rest of the country it is yet to get its deserved thoughtfulness. I have witnessed the life of a farmer closely since childhood and very much aware about his hardships to grow food. To promote village culture and let the countrymen residing in urban India to know importance of farming in our lives I initiated project 'Global Farming and Community'. I got to name it as 'I Have a Dream'. Land was my canvas and also an open gallery where I was using farming as a tool to express the creativity for my fellow villagers. I strongly feel every farmer is a great artist as he skillfully grows plants on an empty land.
It all started on April 16th, 2014 with my first meeting with our village farmer's assistant Mr. L.B.Chhettri along with my brother Mr. Nima Sherpa. I was able to convince him about the value of the project for all the farmers. To my surprise, I started alone but soon many villagers joined in willingly and finally I had 21 farmers with me to collaborate on this initiative.
Rampuria is a small mountain village having mostly terrace farming. Finding a plain land was tough but Mr. L.B. Rawat, a farmer by profession came forward and provided a portion of his farmland for our project. The area was 27ft x 3ft. I inscribed roughly on land 'Mero euta sapana cha' which translates to 'I Have a Dream' in English. It was decided to grow coriander and fenugreek leaves on the inscription because these are rich in medicinal properties and are the two main vegetables grown in the village.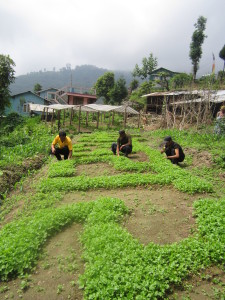 My village people collectively worked on the project and it took three months April-June 2014 to have fully grown coriander and fenugreek leaves. Later the leaves plucked and shared amongst all the villagers for their own consumption. The main aim of the project was to celebrate farming in creative way but little I knew that it would fetch some commercial gains too.
After the program people from different geographical areas visited my village, impressed with exclusive organic farming practices done here they started buying the farm products from the village farmers. Direct contact between the grower and consumer developed eliminating the middlemen. In my village, farmers are mainly growing carrots, maize, potatoes, cardamom, ginger, cabbage and all sorts of greens. Some of the farmers have also set up flower nurseries. People from nearby villages and towns visit Rampuria so farmers are expanding their network of business.
The project also helped in promoting agri tourism in the village as I shared the documentary of the entire program with The Vancouver Biennale, Canada-based non-profit charitable organization. Not only foreigners but even Indians are enthusiastic to visit the village.
Commercialization is good for the village but I am more satisfied that village culture is gaining acceptance again. People living in the village are regaining the lost enthusiasm and farmers are taking pride of their profession.
Encouraged by the success of this project now I open to work anywhere in India. I am visiting many Indian villages where I interact with farmers to know them well. During the discussions they also share their thoughts instigating new ideas for many more projects to promote agriculture in our country.

Mr. Wangdi Sherpa is an artist by profession, presently working at Hyderabad. He studied fine arts at Santiniketan before completing his masters in fine arts from MS University of Baroda. Better education and career prospects persuaded him to be away from village but he decided to contribute for the betterment of his village by bringing the focus farmers, agriculture and organic food globally. His next project shall be 'A dream village' in 2016.
(As told to ……..)
Contact details-
Mr. Wangdi Sherpa
C/o Ram Chandra Reddy
15-15/33, Sudarshan Nagar Colony,
Serillingampally, Hyderabad-500019,Telangana
Mobile: +91 7674971321
Email: sherpawangdi4@gmail.com