Hyderabad based company promotes organic farming and processed food items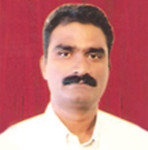 Village Organics established in 2004 promotes community supported farming in a sustainable integrated manner. Mr. V. Asha Kiran is the founder & managing director of the company. Making agriculture a prosperous and profitable business is another driving force of this company. From initiating farming in Guntur in 1997 to being involved in community farming with 240 acres in Medak, Village Organics has come a long way.
Mr. K. Srinivasa Rao is director of the company. He is a B.Com graduate and has an experience of approximately 20 years.
The company's farming activities include community supported organic farming and in-house inputs for soil preparation and plant protection. They also have vegetable stores in Andhra Pradesh. Village Organics exports organic mango apart from supplying and selling the same in India. "We are APEDA member and follow standards for packing organic mangoes" shares Mr. Rao. Organic pickles and mangoes are the main products processed at the processing units. The company has undertaken sandalwood produce as long term crop.
Village organics produced two quintals in the very first year. The response has been excellent since launch. The company plans to introduce 100% organic pickles this year, such as mango, tomato, ginger, lime, gongura, and amla. Village Organics has 400 associated farmers who get ownership of land and share in the produce. "Re-investment of agricultural income is the main source of our funds" adds Mr. Rao. Village Organics Associations includes Efresh, ICCOA, OFAI, Bamboo House India and Sandalwood Grower's Association. It reaches the customers directly through their own neighborhood stores.
Describing challenges faced by famers, Mr. Rao says "high input costs, low market rates and inefficient produce distribution system" are the major concerns. "World over farmers are faced with critical challenges of diminishing fertility of the soil which is having an impact on the both quality and quantity of the produce," he further adds.
The company plans to move forward with their community supported organic farming model in the future. They plan to get as much land as possible under cultivation. This model promises multi-fold benefits to farmers, consumers, and environment.
Our Correspondent
Contact details :Village Organics, #3-6-747/B, 1st Floor, Street No. 12
Himayathnagar, Hyderabad 500 029  Phone: 90000 86464
Email: info@villageorganics.in Web: www.villageorganics.in
Source : Agriculture & Industry Survey