Passionate to produce edible fungi, uses willow trees' logs to grow exotic mushrooms
Started with an investment of Rs.5000 in 1990, multiplied manifolds, and today clocking annual turnover of Rs.4 Crores – it is not the shares or IT or real estate, it is mushroom business. Sharing his story, Mr. Vikas Benal, founder of Vikas Mushroom Farm, says, "I started growing mushrooms at a very small scale. My first crop was raised in a small room in my house with an investment of Rs 5000 and from that my sales proceed was Rs.15000 (those days mushroom was sold at Rs. 20-22/kg)."
Later in 1991, family saving of Rs. 2 lakhs was invested to build a pasteurization tunnel for compost and seasonal growing mushrooms. Today the farm has its own spawn lab, compost unit and round the year air conditioned growing rooms with controlled temperature, humidity, and CO2 conditions. Production capacity at the farm includes 3000 metric tonnes pasteurized compost, 100 metric tonnes quality spawn (seed) and 500 metric tonnes mushrooms. It is worthwhile to mention that the entire financial investment was made from the sales proceed of mushrooms and not even a single rupee was financed by any government/private financial institution and no financial grant from the government has been availed.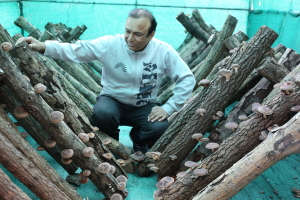 When asked why in mushroom growing business, Mr. Benal says, "Basically we are an agricultural family but my parents worked in education department with Himachal Pradesh Government and my father retired as a principal. After doing my Masters, I decided not to seek a job but to start my own business and after exploring other business options I decided to start growing mushrooms." Milky and oyster mushrooms are regular features at Vikas Mushroom Farm but what makes them stand apart is exotic mushrooms variety "Shiitake".
Shiitake mushroom also known as the mother of all fungi is packed with rich medicinal properties. It is consumed across the world as a medicine. It is valued for its flavor, nutrition and health benefits. Good taste, high protein content, no fat, and meaty texture strengthening and stimulating the immune system, and a long shelf life (around 2 weeks without refrigeration) are among its distinguished properties.
"I started Shiitake in 2010 on a trial basis," informs Mr. Benal, and says, "I came to know about it through symposiums and seminars at national and international levels." With the quest to learn producing shiitake mushroom Mr. Benal visited Belgium, Netherlands and Germany and took advanced training from Mycelia, Belgium, on production of sterilized substrates and lignicolous mushrooms, and on Shiitake spawn production. The initial seed was procured from Directorate for Mushroom Research, India, Field and Forest Products, USA, and from the Belgian Company Mycelia.
Initially Mr. Benal was growing Shiitake mushrooms using saw dust from unknown sources and thus he was not getting a good yield. He shares, "In 2012, during their visit Dr. Sandra and Douglass Williams of Lost Creek Mushroom Farm, Perkins, OK, USA, said that they were using sawdust and wood logs from some select species which are rarely available in India and are banned from cutting. I researched and found the list of trees suitable for shiitake mushroom production by Mr. Peter Oi of Netherlands. Out of that list I found that willow (salix) tree has an excellent rating."

Mr. Benal observes willow tree is temperature tolerant and fast growing tree and can be cultivated commercially. These properties make the willow tree an ideal substrate for shiitake mushrooms. Department of Tree Improvement and Genetic Resources, College of Forestry, provided Mr. Benal with some logs for research trial under the Public Private Partnership Scheme. During trials it was observed that on willow trees substrate the yield of shiiatke is high and fast.
There are two ways to grow Shiiatke – on composted saw dust bags and on hard wood logs.
Mr. Benal also planted different varieties of willow tree saplings for commercial agro-forestry. He says, "These trees grow very fast. After a year the branches of trees are pruned and converted into saw dust and wood chips are used as a substrate for growing shiitake mushrooms. Every year branches are pruned so that trees grow fast and after four years trees are cut and every part of the tree is utilized for substrate." One transplanted tree can be used 5-7 times in a period of 20-25 years. The saw dust/wood chips from willow trees can be used immediately fresh for substrate.
Stating shiitake producing technique as cost effective and less time consuming, he shares, "In 40 inch willow log having 3-4 inch diameter, holes are drilled into the logs. Then spawns are inserted into the holes (in the form of bullets) and sealed with wax. The logs are kept in the open under shade. Fruiting of shiitake starts in just three months and continues for 4-5 years." Another unique feature of the technique is that the entire substrate is consumed by the growth of shiitake mushroom and hence there are no issues of managing the used substrate unlike in button and oyster where the used compost needs to be processed into manure for raising horticultural crops.
Proper substrate, quality spawn (seed), proper pasteurization of substrate, maintaining hygiene and proper climatic conditions are the crucial factors when producing shiitake mushrooms. It can be grown round the year. Presently at Vikas Mushroom Farm its' production is in early stages. It will take at least two years for commercial production. Mr. Benal is confident about sales as, "Awareness on shiitake mushrooms is increasing. In addition, there is a huge demand for quality fresh and dried shiitake in the domestic and international market."
At the moment for sales in India, shiitake mushroom is being imported from neighboring countries like China and Thailand as there is no commercial shiitake mushroom grower. It is sold at Rs. 1000 to 1500 per kg for fresh and around Rs. 2500/kg for dried ones.
Mr. Benal prefers to sun-dry shiitake mushrooms because when it is dried in sun it absorbs Vitamin D which will be retained up-to one year. Further, sun dried shiitake is the best source of vitamin D. "We also dry in electric dryer at 50C to 60C," he adds, "By soaking dried shiitake in water for an hour it can be used as fresh mushrooms. Dried shiitake mushroom is used in pharmaceutical industries in various countries apart for its use in culinary such as soups and chips etc."
Mr. Vikas Benal is a resident of Shamlaich village, Solan district, Himachal Pradesh. He completed his post-graduation in commerce from Himachal Pradesh University, Shimla, in 1988. His vision is to promote shiitake mushrooms across the country and globe due to its health benefits.
Contact details-
Vikas Mushroom Farm
Village Shamlaich,
P.O.Barog Railway Station
Solan -173211, HP, India
Phones:91-1792-227651
Mobile:94180-27651, 9805827651
Email – vikasmushroom1@gmail.com, vikasmushroom@yahoo.com
Website – http://vikasmushrooms.com/