Practices different techniques to improve quality and quantity in pomegranate farming
"I opted for pomegranate farming because it has more profits and less maintenance as compared with other fruits cultivation. I am growing Bhagwa variety for past 2 years," says Mr. Vikas, a young farmer who quit his sales job with a fertilizer company. The farm is located at Kankate Hobli, Hassan district, Karnataka.
Combination of organic and scientific (chemicals) farming is practiced at the farm. Pre monsoon season does not give good yield. "When it is cloudy, flowering will not take place and consequently yield will be less. Therefore to increase the yield we put chicken compost and keep the plants dry without water and fertilizer for a month. Later we spray ethrel," he shares. "After 2-3 days, leaves start falling off. It helps the plants to flower." Once the leaves fall we add fertilizer to the soil and leave it. "I use fertilizer like mixture of cow and goat dung, DAP and potash. It is the process through which pomegranate yields without rains," he adds. "With only organic farming input the plants will flower naturally but the production would be less, consequently less income."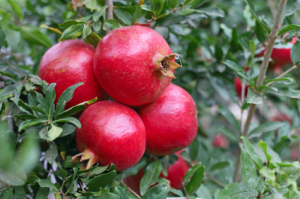 To increase the weight of the fruit primarily neem is used. "We also use vermicompost prepared at the farm. Initially we used to buy it at Rs. 100/kg but as it is expensive we started preparing our own compost," shares Mr. Vikas.
Pomegranate trees in the region are prone to diseases namely chukki (dots), lightex, virex and a contagious root disease called root rot. "We use herbal medicine prepared in Bijapur to protect our fields. We buy 20 liters medicine. It is used thrice in a year. 1litre costs Rs. 5000/-. The medicine controls to the disease largely," he claims.
In first harvest, "We get minimum 80-100 fruits/tree and 2nd harvest we get 150-200 fruits/tree," he asserts. The first harvest gives fruits weighing more than 500gms/piece hence are sold at Rs. 80-120/kg. In second harvest, quantity per tree is more yet it is sold at a cheaper rate as weight/piece is less.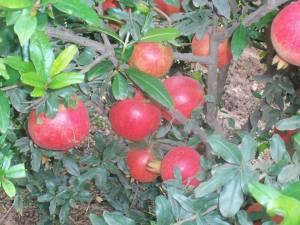 All the produce is sold in Tamil Nadu as middleman in Karnataka asks for a higher commission. "Main distributor comes and takes our entire yield to Tamil Nadu. Every day TN gets atleast 6-7tons of fruits. Even they take waste unripe fruits. We sell it for Rs.15-20/kg and they sell in town at Rs. 40-50/kg," he adds. "The distributor gives us what we quote and packs the fruits himself. He might get Rs.15-20 thousand commission for 1 ton fruits. It seems fair but in Bangalore and Mysore market, the middlemen demands 10-20% or Rs. 1lakh. And we have to pack the fruits properly for them. It is tedious."
In future Mr. Vikas wants to start cattle rearing. "I want to buy Sindhi cow. I want to rear calves till 1.5years old and sell for a good rate as now there is good demand for cows," he reveals.
Contact details-
Vikas Kumar
S/o Vijay Kumar, Kankate Hobli, D M Kurke, Arasikere Taluk, Hassan District, Karnataka
Mobile: 08746941929