Ex-corporate banker promotes cow milk and rural entrepreneurship
Sahaj Dairy Farm was set up in 2012 at Jaipur. It spreads across 1.72 hectare dairy farm in Lisaria village, 70km from Jaipur. Farm popularizes cow milk as it is healthier and nutritious milk than the buffalo milk. It gives access to pure and fresh cow milk to citizens because milk is a very important component of Indian diet. Besides company founder also wanted to prove that cow farming was a profitable venture and focused to make rural India prosper.
Farm was established by Mr. Vigyan Gadodia under his company Sahaj Inclusive Opportunities (India). He left his corporate job as a corporate banker to become a fulltime rural entrepreneur in 2006. Initially he experimented with multiple rural business models promoting grass root entrepreneurship, organic farming to improve primary education. Finally in 2012-13, he consolidated his learning and set up the dairy farm. "Our key focus is to improve farmer income through a better planned (and scaled) dairy farming operation at farmer level, and create clean milk system to produce the best quality milk in the world in India," he says.
His brother, Mr. Vidhyut Gododia too joined the dairy business in 2014. Mr. Vidhyut takes the responsibility to find innovative socially relevant models for direct to home marketing and brand building for 'Sahaj – As a quality food producer'.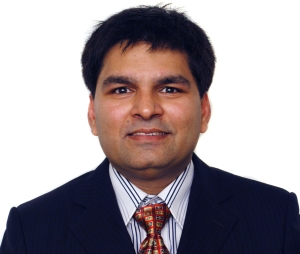 SIDBI is equity partner of Sahaj Dairy Farm. There are 50 milking cows and 100 calves. 500 liters is the milk production/day. Milk is supplied at the door steps of 250 customers in Jaipur. Milk is tested and certified. It holds FSSAI license.
Good management practices are the key to the business profitability. It includes efficient cow management. Mr. Vidhyut shares, "At our farm cows are never tied instead are allowed to roam freely, eat and drink as required. Consequently they are less aggressive and easy to manage. For milking they are brought in the milking parlor as per the schedule."
Protein rich diet is fed to the cows. Azolla, a fern rich in omega 3 is grown within the farm premises. It is feed to the cows along with other fodder and silage. Mr. Vigyan recommends azolla as it is cost effective when compared with other cattle feed alternatives. Further most important azolla boosts cow's health and milk quality.
One of an imperative change that is taking place in the vicinity of the farm is that looking at the conviction of Gadodia brothers in dairy farming rural Indians have regained their faith in farming! Many farmers in around 25 villages are now engaged in rearing cows.
Gododia brothers move one step higher! They are successful in stimulating the villagers to rear cows and now they do not want the local dairy farmers to take the stress for selling the cow milk. Therefore a milk processing plant has been set up by Sahaj Inclusive Opportunities (India). "We shall buy milk from these farmers that will be processed at our plant to produce milk based value added products such as curd, buttermilk, ice-cream etc. We have promised the farmers' to pay them premium price for the milk produced from indigenous cows," says Mr. Vigyan.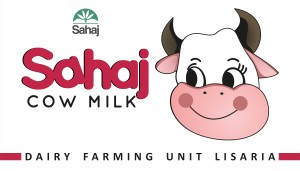 The farmers are provided necessary training and support for rearing cows as well. "We are giving the technology share to these farmers that they can implement at their respective farms and reap benefits," adds Mr. Vidhyut.
In time to come Gododia brothers are focused to work towards realizing their vision to empower rural India with the mission to connect rural India.
Contact details-
Sahaj Inclusive Opportunities (India) Pvt. Ltd.
Head Office – B-81, Parshwanath Marg, Subhash Nagar, Jaipur, Rajasthan, 302001 India
Farm Address – Sahaj Dairy Farms, Village Lisaria, Tehsil – Srimadhopur, District – Sikar, Rajasthan
Phone: 0141 402 6094, 2280704
Email: info@sahajagrofarm.com
Web: http://www.sahajagrofarm.com/