Importers and suppliers of raingun irrigation solutions from Italy. Located at Nagpur, Maharashtra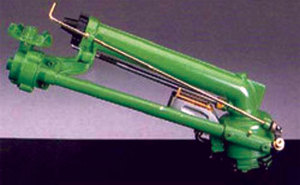 "Rainguns cover a larger area in comparison to sprinklers," points out Mr. Arun Bagri, proprietor Vedant Enviro-Agro & Irrigation Tech (P) Ltd. Established in 1998 in Nagpur, Maharashtra, Vedant supplies raingun to the Indian markets in collaboration with Italian company SIME S.R.L. Veda. The company also imports other irrigation products like spraying machines, and water pressure boosters.
Raingun vs. Sprinkler Irrigation
Rainguns are mostly used in coffee plantations and other large plantations. "Compared to traditional and small sprinklers, rainguns can save lot of labor while shifting. That is a major advantage and the reason why farmers are adopting this technology in India," maintains Mr. Bagri. Raingun irrigation cuts water usage by half as compared to sprinkler irrigation. "It is also long lasting. The farmers do not have to change these frequently," he adds.
Price Point
The cost of the equipment depends on the models. There are two models: spring driven and turbine driven. "The specialty of turbine driven is that wind velocity does not affect its velocity and speed. The cost is approximately from 5000 to 38000 depending on the model," informs Mr. Bagri. Spring systems are cheaper costing Rs.5000, whereas the turbine drive is double the cost.
Rising to Challenge
The company initially struggled for 2-3 years. "We gave demonstrations, arranged exhibitions, and now the product is popular.
The market has become quite big. There are many other companies now, who are selling these products, but the quality of the Italian raingun is well established since last 12 years," maintains Mr. Bagri.
Commenting on affordability he says, "Once they buy a raingun for Rs.14000, they can use this product for another 12 to 15 years. Therefore, per year cost is less than Rs.1000 per year for installation."
Target Customers
The company targets big agricultural farms and progressive farmers, and tea and coffee plantations. Major applications are in Western and Southern India. "Anybody who is into agriculture and irrigation can be our customers, but only few enlightened farmers are only aware about this system," says Mr. Bagri. Vedant has spare parts suppliers and dealer network across India to provide after sales service. "Through them we arrange the installation and repairing. We have a separate repairing hub in Nagpur," he maintains.
Choosing Right
One should first consider the depth of water before deciding on the irrigation system. "After checking the depth of water available in the land, you can choose the right pump to provide required pressure to the raingun because rainguns work with water pressure," says Mr. Bagri.
Mr. Bagri is B.Tech in agricultural engineering. "In 1999 during my visit to Italy for an agricultural exhibition, I came to know about this product. Being from an agricultural engineering background, I could foresee that this product will be liked by Indian farmers. Therefore we accepted the challenge and started importing it," he says. This year the company has also new equipment like hossery irrigation and harvesting equipment.
Our Correspondent
For more information, contact :  Vedant Enviro-Agro & Irrigation Tech (P) Ltd. 7, Damodar Layout, Near RTO, Civil Lines, Nagpur -440001 (Maharashtra),India
Mobile – 91 9823042260; Ph: 0712 2522368, FAX : 0712-2543741
Email – arunbagri28@dataone.in Website – http://www.vedantraingun.com
Source : Agriculture & Industry Survey