Rears and supplies rabbits for breeding and meat
"Rabbit farming demands patience to attain the monetary goals. It is not a magic that will produce money the next day. One should to be prepared that it would take at least 6months to get money. It is a systematic procedure that requires good animals for breeding, cleanliness and commitment to perform routine tasks diligently. Farmers also need to be extremely careful from fraud mediators in the business who sell meat purpose rabbit for breeding," affirms Mrs. Vinutha P, founder V K Rabbit Farm.
She was working for Karnataka State Government but took VRS to pursue agriculture. When in job she read an article on rabbit farming in newspaper and preserved it for long. Post retirement she went through the article and ventured into agriculture with rabbit farming. Apart from rabbits she also rears desi poultry, dairy, fish and sheep. 1500 silver oak trees are another feature of V K Rabbit Farm. It is located at Ganjigere Grama, Hassan district, Karnataka. She gives us a walkthrough on her journey from beginner to becoming a successful rabbit farmer. Excerpts:
When I started all I had was passion for agriculture! It was good to make the beginning but for learning the intricacies I visited more than 12 rabbit farms till Kankyakumari. I did the ground work for a year before starting the commercial rabbit farm in 2015. New Zealand white, New Zealand grey, Giant, Dutch and soviet Chinchilla breeds of rabbits are reared at the farm. There are 30 units having 10 rabbits in each unit. In total we have around 250-300 rabbits. The rabbit rearing capacity is 800 but half of the shed is used for sheep rearing.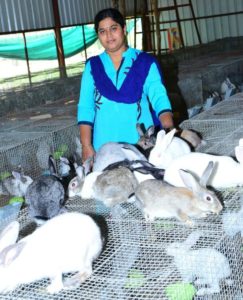 I started the farm with 300rabbits and lost 120 rabbits within a month due to inappropriate breeding process. We did not know the proper process of breeding thus we were losing rabbits every day. After taking the guidance from veterinary college we learnt the process well and carried out breeding properly. We used to get post mortem of dead rabbit to know the reason for death. We took nearly 6months to start a fresh breeding process.
Our breeding stock is 150 (parent rabbits). It is always in close supervision. We rear parent rabbits till 5-6years. We breed bunnies of this parent stock, rear and sell it. We do not allow the breeding rabbits to become overweight because obesity leads to pregnancy problems. Female weight is maintained at 1.5 kgs and male rabbit weights 1.5-2kgs. To avoid inbreeding we always keep the breeding stock separately and every rabbit's prodigy is documented in detail.
We give dry feed mix prepared from sweet corn, paddy, mineral mixture, wheat husk, green gram husk and Bengal gram husk. Usually 100 gram dry feed is given to each adult rabbit in the morning (9-9.30AM) while 400 gram green feed in the night after 5 PM. Green feed contains sweet corn grass and agasse grass mixed in the ratio of 80:20 respectively. Rabbits sleep between 9.30 AM till 5PM (rest time). Green fodder is grown in our farmland therefore it is cost efficient and quality of fodder that fulfills the nutritive requirements of rabbits.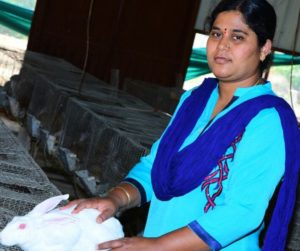 Other than breeding, cleanliness of farm is extremely important for success of rabbit farm. Every day we clean the area. Leftover food is thrown out and drinking water is changed in all the cages once in a day. Excreta is also removed everyday form the cage. Dampness is avoided. On the spilled water we put dry soil on the wet ground once in a week and entire area is sprayed with bioboost powder or detol solution (water) as disinfectant. We have separate footwear for the caretaker when he enters rabbit farm segment. Besides he sanitizes his hands before refilling the water and feed in the cages. We do not allow everyone inside our farm.
Rabbits do not have vaccinations as such. Commonly rabbits are infected with kajji roga (viral infection). If there is any variation in feed given or lack of cleanliness it causes diarrhea. If we do not treat diarrhea within two days then bunny might die. We give oral liquid called Hitek for treating kajji roga. If it is given every month, rabbits will be free from this infection. In rabbit suffers from common cold or fever it is given human medicine only but the dose is very less as per its weight.
We do not conduct any formal training but the farm gate is always open to the farmers genuinely interested and committed to start commercial rabbit farm. To these farmers we offer one breeding unit of 7 female and 3 male for breeding purpose. The unit comprises of rabbits, cage, nipple and feeding bottle. It is sold at Rs. 12,000/unit including all accessories. If the buyers ask for only breeding rabbits then without accessories animals are sold at Rs. 9-10 thousand, set of 3male and 7female rabbits 9 months and 6months respectively. Single rabbits is sold for meat at Rs. 250/kg.
These days many people are interested in rabbit farming. They ask for breeding unit. I take 6months time to give them rabbits but assure them genuine and healthy breeding stock developed in my own farm. I am not involved in any kind of rabbit trading because I do not want to sabotage my farm's reputation for short time gain. If rabbit breeding is good then only customers' business will be good and I am happy when rabbit farmers attain success.
There are 25 farmers in our network who purchase breeding rabbits. They are given farm updates with respect to rabbit available for sale through WhatsApp group. We do not extend buy-back guarantee instead give the production and marketing assistance in best possible way. Based on the feed, operational expenses and little profit selling price of rabbits is decided.
In the process of learning about rabbit farming I also understood the importance of integrated farming thus slowly and gradually I set up small units for sheep, cows, poultry and fish. Presently the farm has 15 HF cows, 100 sheep, desi poultry and fish. Common carp and catla are reared in krishi pond (120ftx80ftx12ft depth). In horticulture and fodder cultivation we decompose livestock dung into manure.
Our future plan is to rear Indian breeds of rabbit specially endangered species. Transplant lemon and papaya saplings in between silver oak trees and support silver oak trees with pepper climbers. We also want to expand sheep herd size to 200 and poultry birds so that we can sell 50-100 nati eggs regularly.
Demand of rabbit meat is constantly increasing as it contains only 3% cholesterol and 18% proteins. At the moment demand exceeds the supply. Rabbit meat is certainly good and is prices appropriately. The prospects of the business are very good but venture into the business only if interested genuinely else do not follow the rat race because if some known person in rabbit farming is successful it is not necessary everyone will be successful! Think hard, analyze minutely and then proceed with perseverance!
Contact Details:
Mrs. Vinutha P
W/o G P Kiran Kumar, V K Rabbit Farm, Ganjigere Grama, Kunduru Hobli, Alur Taluk, Hassan District – 573128, Karnataka
Phone: 09008945177
Email: pvinukiran24@gmail.com