Sugar, syrup and honey made from coconut sap using icebox technology
Umapathy Farms is a family owned business set up by Mr. S.Umapathy in 1983. Farm has two divisions, horticulture and poultry. Horticulture division is focused on coconut hybridization and lemon plantation. Farm is located on Pollachi Road, Palladam, Tamil Nadu.
Initially it was a small farm with only 200 coconut trees but today spreads in more than 75 acres. "Passion and right guidance from industry professionals is the key behind the success," says Mr. N.U. Raam Mohan, son of Mr. Umapathy. He also heads the marketing and strategy division. "At the time of expansion of coconut farm in 2004 we wanted our coconut trees to be high yield, high quantity of tender coconut, sweet tender coconut, copra content, but the main point of consideration was that the tree should have an early yield in spite of growing slowly. We got the solution with Ramganga variety," he shares, "We combined the female dwarf tree with the male from the tall tree to get a hybrid coconut seedling (D*T). The yield is high and produced coconut is used as copra as well as tender coconut."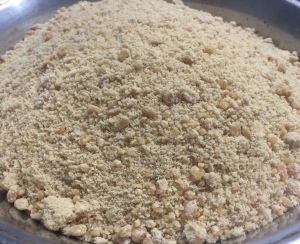 Tender coconut is sold on an average at Rs. 16/piece. 20% of farm produced coconut is sold as copra and tender coconuts. Rest 80% is used for coconut hybridization and for producing value added products namely coconut sugar, syrup and honey.

When asked the drive behind getting into value addition of coconut based products Mr. Raam says, "We came to know about a new technology developed by CPCRI to produce coconut sugar naturally without any preservatives. So we approached them for the same. Over period of time we have developed our own model using our trails to produce coconut based value added products successfully since 2014."
Umapathy Farms uses 'icebox technology' to collect the coconut sap instead of traditional methods. Explaining the difference Mr. Raam says, "In traditional method people use mud pot to collect the coconut sap. They apply lime in the mud pot so that the coconut sap doesn't get fermented. It leads to impurities and insects breeding while collecting the sap in the morning. On the contrary in icebox technology we use sealed container referred as ice box. No anti fermenting solutions are added. Insect breeding and contaminations are restricted. This enables us to collect the 100% natural sap from coconut tree. The sap is used as raw material for producing sugar, honey and syrup."
The value added procedure is same in the beginning but it later changes with respect to the product. "The first half of the production procedure is same for all three products. The second half varies accordingly but the technology used for all three is the same," he adds.
Coconut sugar is claimed to be a complete 1:1 replacement for sugarcane based sugar. It has a caramel flavour to it. It tastes very different from sugars available in the market. "Our coconut sugar is produced without any preservatives and additives. It is 100% natural. The difference between our sugar and the sugars available in the market is that the raw material we use for making coconut sugar is collected in controlled and protected condition, it is insect and dust free, which is not the case in most of plam sugars currently available in the market," informs Mr. Raam.
"Coconut sugar is the only product which is ready for sale and we have started marketing it in organic shops. Soon it will be available in metro cities," he adds. All the products are tested at various stages as per the food processing protocols. Commercial sale of coconut sugar is expected to take place mostly before March 2015. It shall be sold under the brand name Farm Made Naturals.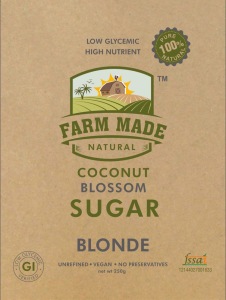 Poultry is another vertical of the farm. Mr. Umapathy took up poultry farming in 1983 because of the favourable climatic conditions required for the birds. He started with1000 birds, "Currently we have around 1.5 lack layer birds, with a daily production of 90,000 white eggs/day," he adds. The poultry farm unit is semi automated where feeding systems are completely automatic but eggs are collected manually. 52% of eggs are sold locally in Palladam and Tirupur while rest in Kerala. Eggs are packed and transported in standard egg collection trays. "Our selling price per egg varies between Rs.2.95-3.80, depending on the market," shares Mr. Raam.
Lemon plantation is spread over 30 acres. "We predicted increase in demand of lemon hence started with lemon plantation. In addition lemon tree requires very less water," he informs. Annual produce varies a lot due to change in climatic condition. Lemon is sold at, "Approximately Rs. 60/kg," he shares.
Mr. Raam Mohan did his BE (Mechanical) in India and for masters, MSc (Management with Enterprise and Business Growth) he studied at University of Glasgow, UK. He says, "Both my degrees help me to understand the importance of quality and quantity making it easy to interpret complex business. My passion is to work in agriculture sector, so I try to combine all these to best of my advantage."
Contact details-
Umapathy Farms
Pollachi Road, Nasuvanpalayam, Venkitapuram (PO), Palladam, Tirupur – 641664, Tamil Nadu
Phone: (04255) 252166, +91 9715370707
Email: farmmadefoods@gmail.com, umapathyfarms@gmail.com
Website: http://umapathyfarms.com/