To reconnect with the roots bankers return to agriculture with integrated farm near Pune, Maharashtra. Insists on investing resources in marketing to make farming profitable
"Myself and my brother, Ajinkya left our banking jobs in 2014 and 2010 respectively to turn into full time farmers. Being sons of a farmer, we share an irreplaceable bond with the soil so we took up farming. We wanted to pursue farming in a holistic way therefore we discontinued use of chemicals completely within the first year of farming and took up five-pillars farming. These pillars are desi cow rearing, multicropping, mulching, indigenous seeds and forest trees. Slowly and gradually we two brothers together nurtured our farm based on these five pillars and developed a food forest to produce nutrient rich food. We also expanded our operations to processing (value addition). Our products are packed with nutrients but selling them with the existing channels didn't do the economic justice hence we began marketing, branding and selling our farm produces ourselves under the brand name 'Amorearth'," Mr. Satyajit Hange, co-founder, Two Brothers Organic Farm, describes farm operations in the nutshell. It is an integrated farm located at Bhodani village, Indapur district, Pune. It spreads in 32 acres. The farm is certified by Ecocert.
Five Pillar Farming
It is the foundation of farming that is in alliance with the nature. Multicropping is pursued with indigenous seeds, soil and plants are cared by agri inputs prepared from desi cow's dung and urine, forest trees controls the temperature and ensure bio-diversity, post harvest all crop residues are mulched back in the soil. "It is a complete natural cycle that is followed stringently in our farm," asserts Mr. Ajinkya, co-founder.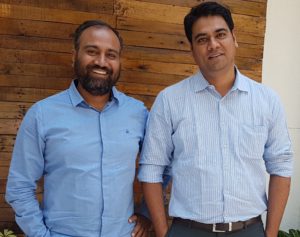 Multi-Cropping: Farm has more than ten thousand fruit trees mainly pomegranate, moringa and papaya. In addition a good mix of legumes and grains are also cultivated along with sugarcane and seasonal vegetables. Annual production approximately is 20 ton pomegranate, 15-20 ton drumsticks, 5 ton tuar, 2 ton groundnut, 4 ton papaya etc.
Indigenous Seeds: All the plant varieties grown in the farm are 100% desi varieties. Hange brothers researched extensively to procure desi varieties of fruits, forest trees, vegetables, legumes, sugarcane and grains. The seeds and saplings were bought from farmers who are engaged in organic farming from more than 10-15 years.
Desi Cows: The farm is home to 65 Gir breed cows, bulls and calves. The cows are reared for dung and urine while milk is considered as by-product. Dairy unit is managed in the traditional way as the rest of the farm activities, fodder is grown in-house, cows are never tied except during milking, entire herd compulsory is left for free grazing atleast five hours/day, breeding is done through natural mating. "We have 7-8 bulls although 2 bulls are selected for mating with the cows. To avoid in-breeding bulls are exchanged with other breeders once in 2-3 years," shares Mr. Ajinkya. Dung and urine is used for making agri-inputs for the entire farm cultivation. "We have our own bio-gas unit where cow dung and urine is converted into cooking fuel and slurry obtained is fed into the farm soil to enrich the fertility," he adds.
Forest Trees: Around 8000 bamboo, teak and suru (Australian pine) trees are planted on the farm periphery. "These trees grow very tall thereby a natural compound is developed on all sides of the farm. Besides, these trees play a vital role in creating a micro-climate inside the farm. "When the temperature outside the farm is 48 degree it is 43-42 degree inside the farm. Also these trees restrict the flow of strong winds in the farm that takes the water away that implies less water is evaporated from the ground. Lastly the trees enhance the bio-diversity in the farm. With the presence of different kind of birds pest management is functional 24/7 naturally," Mr. Satyajit elucidates.
Mulching: "We give lot of preference to nature mulching. All biodegradable farm waste is decomposed and fed to the soil to improve soil fertility and nourish it with required nutrients. Consequently the water holding capacity and fertility of soil has increased thereby quality and quantity of farm produce is enhanced," he states.
Processing
Value addition is more gainful for the farmers. "We do not sell raw milk at all instead A2 milk yielded by our cows is 100% processed into ghee, cheese, butter and buttermilk. Also we hand pound tuar dal, produce moringa leaves powder, jaggery from sugarcane etc," shares Mr. Ajinkya. The processing techniques used are mostly manual involving minimum use of machinery.
Marketing and Branding
To sell the products at the right price commensurate to the resources invested in production and nutritive value, "It was imperative to give equal importance to marketing and branding so we created our own brand 'Amorearth', packaging line and website. We priced our products ourselves independent of market pricing and sold it through different channels like tie-ups with shopping malls, online store etc. To create awareness on benefits of consuming chemical free food we interacted directly with the consumer, encouraged farm stays, uploaded farm videos on youtube, wrote blogs and so on," highlights Mr. Satyajit.
In time to come Hange brothers aim to increase the online store sales from present 15% to 50%. Also they shall extend help to other organic farmers sell their farm produce, "We have trained many farmers in past 1.5-2 years and some of them have quit use of chemicals. So we want to help them sell too and take these poison free products to as many as people we can. Also we will be soon exporting our products precisely ghee, moringa powder and jaggery," he informs.
They conclude, 'Having studied and worked in Pune city we both had a stable lifestyle but we left it for love for soil and we have never looked back! We love the village life and farming so we are enjoying every moment of it hence we never feel any pain instead it is always a pleasure!"
Contact details:
Two Brothers Organic Farm
Farm: Village Bhodani, Taluka – Indapur, District, Pune 413103
Registered Office: Jasminium-N-1104, Magarpatta City, Hadapsar, Pune 411028
Mobile No.: +91 9823136008, +91 9850588883
Email: info@twobrothersindia.com
Web: http://twobrothersindia.com/