Ahmedabad, Gujarat based manufacturers of green shade nets with 100% virgin raw material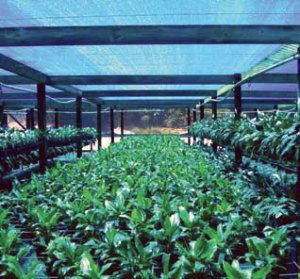 Tulsi Corporation was established 15 years back. The firm is located in Ahmedabad, Gujarat state. Messrs Prateek Shah and Mayank Shah are the founders-proprietors of the firm.
Tulsi Corporation deals in nets such as insect nets, flooring nets etc., apart from promoting agriculture in Gujarat state. It also educates farmers that in agro shed net which crop they should grow and in what percentage, the colour of the net they should use for their nethouse and greenhouse and the benefits of these nets.
Tulsi Corporation was the first company to introduce green colour nets in Gujarat state. In Bangalore or Maharashtra the nets are used for floriculture cultivation whereas in Gujarat state it is used in vegetable cultivation.
Mr. Prateek Shah is a commerce graduate. Since, he was raised among farming community he naturally took interest in agriculture field.
The firm's R & D facility do a complete research on the type of nets required, how to increase the life of a net, and percentage of material used in the net. Quality of the net is tested in the testing laboratory before it reaches the end customers. Tulsi Corporation uses only 100 percent virgin materials for manufacturing the nets, reprocessed materials are never used.
Mr. Prateek says "there is a big difference in lifespan of a net.  The one made with virgin materials are made using UV stabilizers and using right kind of machinery. People who make these nets have knowledge about the technology to be used. Since they are working in agricultural field they also know that in which area which kind of nets would be required.
They are also aware of the reasons why a net tears up soon, so they keep all
these matters in mind while manufacturing a net.
The nets made by using reprocessed materials tears up soon. Since the reprocessed nets tears up soon, the cost of the structure and labour increases and farmers suffer loss.''
The firm plans to bring aluminate, a better quality insect nets. At present farmers are using monofilament nets. Aluminate will give the required protection to the greenhouse from sunlight, so the firm is launching this new product in 2-3 months.
Our Correspondent
For more information, contact : Mr.Prateek Shah,  Tulsi Corporation,
1st Floor, Kansara Dehla, Opposite Old Railway Station, Railway Pura, Near Reva Bai Dharmsala, Kalupur, Ahmedabad, Gujarat – 380 002.Mobile: (91)-9898167068, 09898193195.Email: netvel@vsnl.net
Source : Agriculture & Industry Survey