To live a unique lifestyle that is stress free and worth preserving for coming generations, to provide consistent access to nutrition rich food and to take care of the environment, three Mumbai based friends- Mr. Vipul Sanghvi, Ms. Purvita Kapadia and Mr. Gaurang Barrot became first generation farmers. Three of them share the same mission and vision towards life hence they bought farmlands close to one another in Wada taluka, Palghar district, Maharashtra to pursue chemical free farming.
Three of them are principled organic farmers who are engaged in farming with a goal beyond monetary targets. "We do farming all the year round strictly following the hard core rules of organic farming irrespective of size of the farm such as not removing the weeds, mixed cropping, using desi seeds, land rotation, farm-produced agri inputs etc. We jointly invest and utilize our resources for farming such as machinery, seeds etc. We value-add our farm produces to the best possible extent like process oilseeds into oil, turmeric into powder, pulses into hand-pounded dals etc. As the quality of our produce is superior and limited in quantity we collectively sell all our farm products directly to the end consumers in Mumbai. Although our farms are still not financially self-supportive yet we do farming and will continue farming because for us the happiness to grow food for others in alliance with the nature is invaluable," they affirm.
A self-learned farmer Mr. Gaurang Barrot, earlier worked as sound engineer in music industry as well as served in IT industry but left it all to work and live life close to the nature. "I was always inclined towards farming hence on experiment basis I first bought 2 acre farm that I was managing along with freelance projects in IT. However convinced and contended being a farmer, in 2010 I became a full time farmer. As I stepped into commercial farming I bought a new farm of 5.5 acre in Ambiste Khurd village. Soon I was joined by Vipul and Purvita in adjoining Ghodmal village. We are located 100 km from Mumbai, Maharashtra," he adds.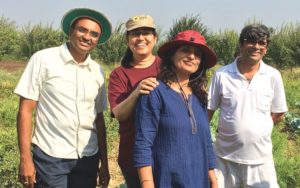 Mr. Vipul Sanghavi joined his family business of manufacturing plastic packaging material soon after completing his engineering (chemical). He did very well in the business but closed it to become a farmer. "We can't put legs in two different boats as neither of it can be justified so I took the decision to take up agriculture. After joining an urban farming group in Mumbai I became more conscious about the natural resources, food we eat and environment. I met like-minded people and decided to live the second inning of my life close to the nature hence bought the farm and started farming. Today for me, agriculture is the prime religion and a stress relieving profession," he describes the drive to close down a well-flourishing business for agriculture. His 7 acre farm is in Ghodmal village. He bought it in 2013. He has named it as 'Vaatsalya Farm'. "To get hands-on experience in farming for one year every week I used to go to my friend Venkat Iyer's farm. He continues to help us still in the hour of need."
Ms. Purvita Kapadia shares her journey of becoming a farmer, "I studied home science and worked in different fields from many years but then finally quit it all to explore what I enjoyed the most so that I can pursue it for the rest of my life. Somehow I got introduced to terrace farming and grew different kind of food on my terrace for 6 years. It assured my interest in farming so I bought 2 acre farmland in 2014. It is located near to Vipul's farm." Ms. Kapadia's farm has two kinds of soil, rocky soil ideal for tree plantation and alluvial soil for growing routine crops. "The rocky soil supports the deep root systems of trees so I opted for cultivating primarily fruit trees."
Soil Rejuvenation
Farmlands of all three friends had poor quality soil as earlier it was under conventional farming. With continuous use of chemicals the soil had lost its fertility and nutritive value. "The soil was very hard. In my farmland the top soil was totally missing. In order to revive it I fed the farmland with huge quantity of biomass that included decomposed farm waste procured from other farms and cow based manure," shares Mr. Barrot.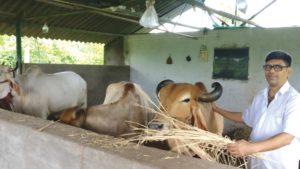 "The day I took over my farm it had been a continuous process to rejuvenate soil. Initially for first two years we grew mainly nitrogen fixing crops such as moong. Post harvesting these crops, the farm residue was mulched back into the soil to improve soil fertility. Now the soil quality has improved quite a lot so we follow mixed crop cultivation," says Mr. Sanghavi.
"In addition to cow based manure, we never interfere with the nature therefore wild grass and weeds are allowed to grow freely and later the same are returned to the soil at the time of ploughing. With these measures now the soil quality has improved magnificently," informs Ms. Kapadia.
Land Preparation
To prepare the land for agriculture it is imperative to understand the land topography. The most suitable time to do so is monsoon, "When it rains it is easy to understand the architecture of the farmland as in where the water flows, where it stagnates, which part of the farm doesn't holds the water etc. We had keenly observed the farm before progressing with any plantation or seeds sowing," shares Ms. Kapadia.
After understanding the topography of the farmland with respect to flow of water, soil texture and amount of sunlight received they created small plots within the farm to grow diverse crops. "In my 7 acre farm area I have made 12*12 plots. Each plot size varies between 0.25-0.75 acre depending on the topography and soil," says Mr. Sanghavi.
"0.25 acre is totally rocks in my farm so I made it into a mini-forest having 150 wild trees. There will be roughly around 15-20 different varieties of wild trees," informs Mr. Barrot.
Agri Inputs
Dung and urine of desi cows is the base of agri inputs of an organic farm. Mr. Sanghavi and Ms. Kapadia source desi cow dung and urine from the gaushala (cow shed) in their village while Mr. Barrot has three cows in his farm. "I have 2 Gir and 1 Tharparkar. Although these are raised only for dung and urine yet milking is done solely for personal consumption. My first Gir cow is aged 10 years and its female calf is 3 years while Tharparkar cow is 7 years. Breeding is done through natural mating at nearby gaushala (cow shed). Entire requirement of cow dung and urine is met from these three cows," he shares.
"Leaves shed from the trees, wild grass and weeds are regularly mulched back in the soil. Also the green waste obtained after pruning our gliricidia and moringa trees is decomposed and mixed in the soil. It is excellent manure. Oilcakes obtained after oilseed extraction is also thrown in the soil as well as fed to the cows. With the consistent application of these chemical free agri inputs the soil quality has improved hence the crop yield has increased," shares Ms. Kapadia.
Crop Production
Only after understanding the environment and weather conditions crop production must be planned. Mr. Barrot finds indications from nature about the climate change to be much more accurate than the predictions made from weather apps and meteorological department. Sharing the example, he clarifies, "If crow makes nest in April-May end on the top of the tree (higher branches) then it indicates it would be less windy and less rains. Conversely, if the nest is made in the middle of the tree surrounded by leaves then it would be heavy rains and extremely windy. Accordingly I will plan my crop production. Similarly, I have few wild trees in the farm that point to weather conditions in coming months through its flowers. The tree flowers just 15-20 days before rain. If the flower stays intact for 8-10 days then it implies rain shall be uniform and good else it will wither away indicating not-so-good rains. This is red bulb- onion shaped flower," he clarifies. He doesn't support 100% use of technology in farming because he believes nature cannot be controlled instead it has to be understood with keen observation in and around the farm.
"Secondly we grow what sells. We survey the market and then plan the crop production. Like in our region cashew grows very well but there is no cashew processing factory within 300 km radius hence there would be no sales so we do not grow cashew," he says.
"There is lot of adulteration in food products in the market so we try to grow the crops that give food security. Also we plan crop production in a way that every month some or the other produce is harvested except for monsoon period," informs Mr. Sanghavi.
"Although we grow same crops but the time would slightly differ. For example, I cultivate turmeric 15 days later than grown Vipul's farm. This 15 days time gap also makes a lot of difference. We learn about these small but important factors from experience. For instance, last year when I sowed urad before monsoon the plants grew very tall but during flowering and fruiting all the pods fell down because it could not withstand the weight. I then learnt that urad has to be grown only in between the monsoon hence we need to consider suitable time for crop cultivation," emphasizes Ms. Kapadia.
Seeds
All seeds used in these three farms are desi seeds collected from multiple sources. "Now I have my own seed collection so I don't need to depend on anyone anymore. So far moong has been the highest yielding crop in my farm. Moong seeds were given by my friend Venkat Iyer," says Mr. Sanghavi and adds, "In addition, a new variety of paddy is added to my collection each year. It is done for the purpose of saving seeds because desi seeds are depleting at a faster pace from India and I want to secure it. Unfortunately, these days even a senior farmer prefers to buy hybrid seeds so we have to conserve these desi seeds for our coming generations."
Irrigation
In three of the farms irrigation is done through river water that flows near to their farm. "We water as per the plant requirement," they share.
Main Crops
Three of them are primarily focused on growing pulses (urad, moong, tuar), grains (paddy, wheat) and oilseeds (mustard, sesame, groundnut). "The produce of all these crop variants have long shelf life and can be stored for a longer period of time so we selected these as main crops. We do cultivate vegetables as well but in limited quantity due to its' short shelf life. Our customers are residing 100 km away from the farm therefore harvesting and delivering fresh vegetable is always a challenge because it is perishable in nature," explains Mr. Sanghavi for preferring pulses, grains and oilseeds over vegetables. He cultivates three varieties of traditional rice every year.
"As land suitable for growing paddy in my farm is small I grow Wada Poolam and Indrayani traditional paddy varieties in alternative years," informs Ms. Kapadia.
Apart from paddy Mr. Barrot also grows millets. "Some plots have soil suitable for millet cultivation so these plots are exclusively used for growing millets. In the same plot I do the crop rotation with different millets. For example if I grow finger millet (ragi) this year then I will grow foxtail millet in the next season followed by pearl millet and so on.
Intercrops
Mostly vegetables are grown as intercrops with main crops but in small quantity. The vegetables selected for cultivation are seasonal. "Right now my farm has all the creepers as it is best grown during monsoon. Few to name are bitter gourd, bottle gourd, cucumber, ridge gourd, and so on. We put temporary structure for creepers as we do land rotation. Apart from creepers I favor growing okra, chili and brinjal together. These three crops complement one another as they differ in terms of nutrient required from soil for its growth while the water requirement is same. I also cultivate urad or moong in between these vegetables to fix the nitrogen in the soil," explains Mr. Barrot. In paddy no intercrops are grown but on the bund, "I grow pigeon pea (tuar) or sweet potato. In case if paddy plants grow tall then on bund I would grow bajra or jowar. It is so because when wind blows then bajra will give protective shield to paddy. It implies, crop grown on bund should always be taller than the paddy plants."
Ms. Kapadia adds, "When the fruit trees are small and there is sufficient sunlight available then we cultivate pulses such as urad and moong. It fixes the nitrogen in the soil that boosts the growth of fruit trees. Other crop combination preferred is turmeric and pigeon pea along with a special variety of okra. Turmeric likes a little shade so when pigeon pea grows it gives required shade to turmeric and both crops grow well. In this way crops grow inter-dependent on one another."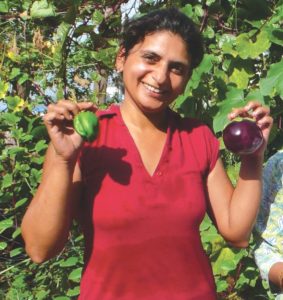 Fruit Trees
Farm diversity is much dependent on fruit trees thus there are 10-12 kind of fruit trees in each of the friends' farm. All fruits grown are seasonal that keep their plate full of fruits all 12 months in a year. Few to name are mangoes, sapota (chikko), lemon, pomegranate, guava, amla, custard apple etc. "We have transplanted the fruit trees in planned manner after understanding the topography of the land depending upon the sunlight received and soil conditions," shares Ms. Kapadia. She has 11 varieties of mangoes in her farm, "Mangoes grow well in our region and my farmland soil supports it so I decided to have as many as variety possible. Besides, I have transplanted all my terrace fruit trees here in the farm. Although these are 5+ years old trees yet fruiting is awaited as the trees are now growing in abundance of soil, water and air. Mangoes and chikko are fruiting and rest yet to yield fruits."
"Grafted saplings of each fruit variety has been sourced from various nursery based on trust for the quality," informs Mr. Sanghavi.
At Mr. Barrot's farm there are 50-60 fruit trees and every month he harvests atleast 2-3 different kinds of fruits. "We have selected the fruit varieties that are locally found in our region and are seasonal. As the season changes the fruit harvest also changes," he says.
Crop Rotation
"I repeat the crop in the same land only after 4 years," highlights Mr. Barrot while Mr. Sanghavi says, "With diversity in crop rotation the health of soil is taken care of naturally and it never runs out of the nutrients."
Pest Management
Three of the farmers have not faced any severe attack from the pest as they follow the rules and regulation of organic farming diligently. They spray the commonly used bio-solutions as preventive measures such as extract of neem, garlic, chili etc. Marigold, the pest trapping plant is grown in different segments of the farm. In between two crops they grow turmeric or ginger to strengthen the soil for resistance against pest and disease attack. "We are not inventing anything new but actually using the already existing and proven knowledge of farming. We follow it meticulously therefore the farms are attacked less by the pest or diseases," highlights Ms. Kapadia.
Further, they are prepared for 10-15% loss in every harvest due to pest, "It is not possible that farm will be 100% pest free just because we use organic bio-inputs. It is natural that pest will come to our farm looking for food. Nevertheless we have observed, fellow farmers in our respective village who spray chemical pesticides actually face more issues of pest attack than us while in our farm as these attacks are minimal we are able to absorb it," they insist.
Mr. Sanghavi adds, "Even though the soil of our farms was under conventional farming earlier but after we moved in and started practicing organic farming we never had any big loss/damage that we would like to document it for reference. It proves soil co-operates with the man in best possible way thus we should look after it very well."
Value Addition and Sales
All the farm products of three farms are value added as much as possible then sold in Mumbai to the end consumers through direct sales. Few products are value-added on the farm while few are outsourced. For example, oil extraction from oilseeds produced at the farms has been outsourced as there is no cold-pressed facility in the village. "Presently the oil processing is done through machine but we do not filter it instead we keep the oil stagnant for a month so that entire residue settles down. Later we pack the oil in 5 and 1 litre packs. Dals are processed in-house like yellow moong dal, green moong dal, tuar dal etc," says Ms. Kapadia.
The products are sold to the known circle of people in Mumbai as well as direct sales orders are collected from social media. "There are people who appreciate high quality and nutrition rich food. We get in touch with these new buyers through our facebook page. As of now, entire produce is sold through word of mouth references without any hassle. We inform the scheduled harvest to our customer network through WhatsApp, collect the orders and the products are delivered accordingly. The entire selling process is streamlined. The quality of all our products is excellent thus when we receive testimonial by the end consumer it is the ultimate certificate of encouragement and contentment for us," affirms Mr. Sanghavi. Products are priced competitively with a slight premium of 10%.
Challenges
The only challenge in farming is labour. "It is expensive and quite draining to get the work done from the labour. It is one of the major expenses that increases the overall production cost of the farm. Nevertheless we are still not trying to fully automize farm production because it will then consume more fossil fuels so we are trying to strike a balance," emphasizes Mr. Sanghavi.
Government Intervention
"Government should look into farming sector in a better way. Lot of things need to be reformed because there are many farmers who have misused the funds while there are still many more farmers who have not got the funds at all although they require it utmost. With rightful involvement of Government in introducing the policies and schemes and appropriate use of public fund definitely agriculture industry can be upgraded in our country and farmers can lead a dignified life," asserts Mr. Barrot.
Positive Change
Seeing these educated farmers in the village working hard and smart, other farmers are showing interest to try out new crops unlike earlier when they only grew paddy during monsoon and rest of the year the land was left fallow. "Although they are growing pulses namely moong but they are still skeptical about leaving 100% use of chemical fertilizers and pesticides. Hopefully soon they would switch to organic farming practices," states Mr. Sanghavi and adds, "Moving to village and doing farming has improved my health substantially. There is totally a different air in village than cities and that is magical! Further in village we have stress free life so all is good."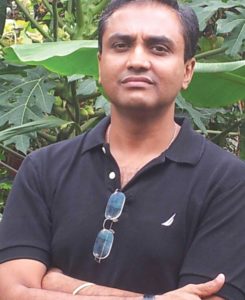 Future Plans
In time to come Mr. Sanghavi and Ms. Kapadia plans to get a desi cow for their respective farms. They are keen on getting the local breed of cow that is native to their village/region so that it is self-sustainable.
Mr. Barrot's immediate plan is to make his farm profitable but is still patient because he believes, "It takes minimum four years for an organic farm to become profitable so we have to wait for this period. Besides, for me organic farming is not only about making money but healing the environment and all living beings. Based on these principles of farming I want to create low-cost farming models that farmers can replicate easily and improve their farm productivity." He also offers training to the farmers on organic farming practices.
"It is imperative to respect and be close to nature instead of running behind money because money will be with the person as he/she is destined to rest will be spent somewhere else. We know everyone cannot do farming but atleast everyone can support the farmers. And those who can come back to farming definitely they should get back to the roots," Mr. Barrot signs off.
"I feel everyone must get into farming in their second inning of life precisely post 50. The damages done to the environment and nature must be repaired and rectified. I wish atleast farmers in our village should switch to organic farming and secondly in urban India, people should make their kids realize the value of food, importance of a farmer, and environmental issues. Everyone should contribute for this cause as much as possible to secure the natural resources for future generations. Based on these thoughts and with a conscious effort to not use the share of natural resources of our future generation I changed my profession. Better late than never, today I am extremely satisfied to become a farmer," Mr. Sanghavi concludes.
Ms. Kapadia wraps up, "People must be conscious of what they are eating. We came into farming so that our families and friends can have a regular access to chemical free food. Consumers who cannot grow food themselves must ask for chemical free food then farmers will have to grow food without any use of chemicals. Visit the farm, spend time with farmers and understand the growing process. Get back to the nature because all said and done everyone needs proper meals two times a day for their survival so invest in food. Lastly, farming is always work in progress that demands time and energy so appreciate the farmers in the best way possible."
Contact details:
Mr. Gaurang Barrot
Farm Address: More Pada, Ambiste Khurd Village, Wada Taluka, Palghar District, Maharashtra
Correspondence Address: B/301, Vedant Building, Off M G Road, Unnat Nagar 2, Goregaon West, Mumbai 400104, Maharashtra
Email: gaurangdb@yahoo.com
Mr. Vipul Sanghavi
Email: vips982@gmail.com
Ms. Purvita Kapadia
Email: purvita10@gmail.com