Proffers new lease of life to Vidarbha region with dates cultivation
"Vidarbha is dry area and has extreme climate. During summer the temperature goes up to 46 – 50o C while in winters it drops below 10o C. In the entire region the water level is going down. Being a farmer myself I wanted to help the fellow farmers by giving some concrete solution. Once having read an article on dates cultivation and visiting my relative's dates farm in Salem Tamil Nadu I was convinced dates can successfully be grown in Vidarbha. Thus the experiment began in 2009 with 125 plants cultivated in 2 acres. After four years we reaped the success as we started getting fruits," shares Mr. Sevi Thangavel, founder, Thangavel Dates Plantation.
Mr. Thangavel holds post graduation in law and hospital administration. Although he was working for different organizations all his life yet he always stayed connected to his roots by continuing farming. However, post retirement he finally moved to Mohegaon village, 26 km away from Nagpur, Maharashtra to resume farming full time. At his 20 acre farm he grows different varieties of vegetables organically. "Earlier we were using chemical fertilizers and pesticides but since past seven years we have switched to completely chemical free farming process," he adds.
Date is an easy to cultivate plant and requires no maintenance or constant monitoring. It has responded well to the climate and soil in Vidarbha region. It starts from two feet on ground and grows as high as a coconut tree. The life span of every date tree is 150years. It starts flowering and fruiting after four years. It is a disease resistant plant. As date is a desert plant it is grows naturally and does not need any human intervention for feeding chemical inputs. It withstands all weather conditions," says Mr. Thangavel. The prospects of date fruit are good as presently almost 97-98% dates are imported. "If it grows in abundant within India then it will be win-win situation for farmers as well as consumers," he avers. To improve the quality of dates Mr. Thangavel suggests reducing the flowers and fruits to increase the size, quality of the fruit.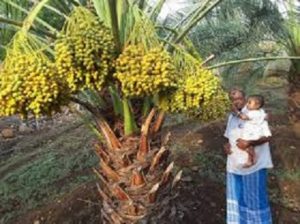 The only problem with this crop is that the capital investment is more. "Farmer must only transplant tissue culture plants. As of now the plant comes from England and the price is Rs. 4000/plant, which is very expensive. It is the only pinch with this plant. Further as the plant is not listed in our Maharashtra horticulture list the farmers are not entitled for any subsidy unlike in Rajasthan where state government gives 90%subsidy on this plant cultivation. Rajasthan state government wants to convert their desert area into date plantation. Gujarat government too gives more than 50% subsidy," he highlights.
When asked on planting tissue culture plants, he responds, "Tissue culture plants yield fruits uniformly. The pollination is done manually. The female plants give the fruit and male plants gives only the flowers. The seed plants are not recommended at all. The seed plants costs somewhere between Rs.500-2, 000/plant but fruits are not guaranteed. Conversely tissue culture plants surely yields good quality fruits."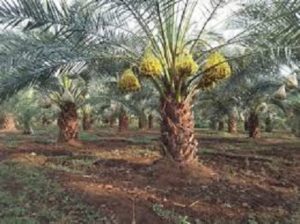 Entire stock of dates is sold from the farm gate every year to the traders. "However we have received few enquiries from nearby cities so we are considering selling directly to the consumers in the coming season. Dates are packed in half kg packs and sold at the price below the market price," he shares.
Thangavel Dates Plantation attracts many visitors. "Farmers no more want to listen to any agriculture officers' advice or suggestions instead they want to see results with their own eyes. Thereby every day we have more than 50 farmers visiting our farm. Many return back to their farm and start the cultivation. Moreover we have observed constant rise in demand of dates so selling will not be a challenge. We are hoping that dates will change life of Vidarbha farmer for good!" asserts Mr. Thangavel.
He is contended with the returns earned from dates plants and plan to expand the cultivation on additional 10acres. In addition in future Mr. Thangavel wants to grow all kinds of fruits in his village. "These days' children don't know from where the fruit comes. We are planting the fruit sapling in such a way that the farm turns into an informational hub on fruits where school students can come, see and take a small tour on the entire cultivation of fruits. They can physically see and harvest the fruits too," he shares.
Mr. Tangavel and his son Mr. Sawarn are dedicated to make agriculture rewarding thereby keep experimenting with different crops. They have attained success in strawberry cultivation too. "Although the climate is hot yet we were able to grow strawberries organically in our farm. We sold it directly to end consumer who visited the farm and plucked their own strawberries. In this four months crop we earned Rs. 3-4 lakhs/acre," he says and concludes, "Agriculture is our roots and we cannot live uproot from our base therefore it is mandatory to make farming sustainable and introduce it to every child!"
Contact Details:
Thangavel Date Plantation
Green House, Near Zilpi Lake, Zilpi Mohegaon – P.O, Hingna –Tasil, Nagpur – 441110, Maharashtra
Phone: 09822743228
Email: kutchit@gmail.com
Web: http://www.datesnagpur.com/