Growers and suppliers of milky and oyster mushrooms
"Mushroom is a healthy food having good and steady demand as these days people prefer to eat low calorie and nutritious food. We ventured into mushroom cultivation only after intense research and getting success in the pilot project," says Mr. D. Jayakrishna Reddy, partner Thaja Mushrooms. The farm was established with the capital investment of Rs. 23 lakh. It is more than a year the farm was
set-up to grow mushrooms precisely milky and oyster. It is the venture of three friends cum partners Mr. T. Vamci Krishna Reddy, Mr. N. Mahendra Kumar Reddy and Mr. D. Jayakrishna Reddy. The farm is located at Nayudupeta, Nellore district, Andhra Pradesh. Mr. Jayakrishna Reddy speaks with us to share the details on cultivation process, selecting the mushroom varieties and future plans. Excerpts:
We decided on growing milky and oyster mushrooms because it has steady demand and apt for the weather conditions of our region. Production capacity of the farm for oyster is 35kgs/day and milky 16kgs /day. Capital investment required for growing button and shiitake is more therefore we opted out of it! In summer we grow milky mushrooms while during monsoon and winter we cultivate oyster mushrooms. In order to have better practical knowledge on mushroom cultivation three of us underwent training at IISR, Bangalore and NG Ranga University, Hyderabad before setting up the commercial farm. We also visited many existing mushroom farms to get practical
know-how.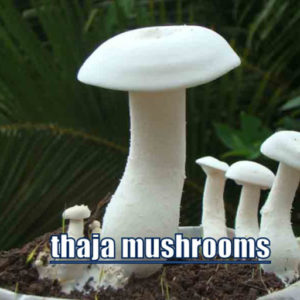 We buy spawns from IIHR, Bangalore at the price of Rs. 62/kg. The cost of spawn is same for oyster as well as milky mushrooms. We are not interested at the moment for making spawns within the farm because of high investment cost.
Cultivation Process
We take paddy straw and chop it 3-4 inches small. It is then sterilized by chemical method using formalin and bavistin. To do so we take 200litre capacity drum, fill it with 100litres of water, add 250ml formalin and 10g bavistan. Mix thoroughly and put 8kgs of paddy straw. Put weight on the straw. Cover the drum. Soak it for 16-20hours. After soaking, remove the water, dry the straw for removing excess water
inside the room yet it is ensured the straw remains moist, atleast having 40% of moisture.
To prepare the bed, we take 12x22inch polypropylene cover. We have to fill the cover with approximately 1kg of straw. The bottom of the cover is tied with rubber tightly, which ensures the proper size of the bed. Put little quantity of spawns then a layer of straw. Keep filling the spawn and straw alternatively such that there are 7-8layers of straw. Approximately 120 gram spawns are used per bed. Make about 20 holes on the cover for aeration to help mycelium to grow. Keep the bed in dark for 20 days.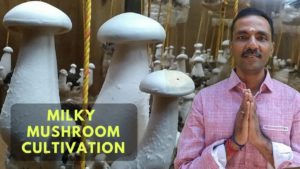 Darkness is required because there will be more carbon-dioxide that helps to grow mycelium properly. After 20days, mycelium covers the bed. Take the bed and cut into half. Push the mycelium 1inch inside the polypropylene cover and cover it with casing soil for 1 inch. Casing soil is mixture of 750gram clay sand with 250gram river sand + 20gram chalk powder. Properly mixed and sterilized by autoclave. After
putting casing soil, the bed is moved to lighting room. In lighting room, bed will there for 6-8days and we sprinkle water daily (to maintain moisture in casing soil). In summer, we sprinkle water 2-3times while in monsoon and winter water is sprinkled on need bases as the moisture reduces.
The mushroom sprouts after 8th day and takes 3-4 days to come out the cover. We follow a calculation that is – we make a bed of 1kg straw and to produce 1kg mushroom. We get 98% of produce for 1kg straw.
In the lighting room five things are important namely temperature, humidity, air, lighting and cleanliness. Electric bulbs are needed to give all the beds uniform light. In dark room, temperature and cleanliness should be maintained. Temperature for oyster mushroom is 24-28 degrees and milky 28-35degrees. Humidity for oyster is 80-90% and milky 85-95 %. As in summer the temperature rises upto 45 degrees, we put dry straws on the cement sheets of the farm shed. We sprinkle water on straws periodically to control the temperature.

Harvesting
It takes 60 days for mushroom to grow and then it is harvested. 20days in dark room, then putting casing soil and transferring to lighting room takes about 40days. There are three flush from 1st bed. First flush weighs 500gram which comes out in 3-5days. After 5days of first flush, in 2ndflush 300gram (takes 3-5days). Again after gap of 5days, third flush is 200gram (3-5days). We will put the date on each
bed to keep the track. Before putting the next batch into each process, the room is sterilized with formalin and bavistin with powerful sprayer. We use 20litres of water with 500-600ml of formalin and 40g of bavistin. We have different rooms for each process including drying 1 room, 3 dark rooms, 5 lighting rooms. Shelf life of oyster mushroom is 2 days and milky mushroom stays good for 7days. We keep milky mushroom in refrigerator but oyster if remain unsold is put back in the soil for making compost.
Entire mushroom produce is sold from farm gate to caterers and direct consumers. As we are located on bypass road, passerby come and purchase 15-20kgs mushroom/day. We do not sell in super markets or wholesale markets. To attract customers we have put banner. Mushroom is sold either at Rs. 250/kg or Rs.50 for 200gram pack. In future we want to increase our production capacity .
(As told to Mamatha S R)
Contact Details:
Thaja Mushrooms
Kalahasti Bypass Road, Opposite Balabharthi School, Nayudupeta, Nellore District,
Andhra Pradesh – 524 126
Phone: ✆ 08985032416
Email: jayakrishnamsi@gmail.com