70% of Indians are dependent on agricultural income.
We can't see the growth in the country if the government neglects 70% of our people.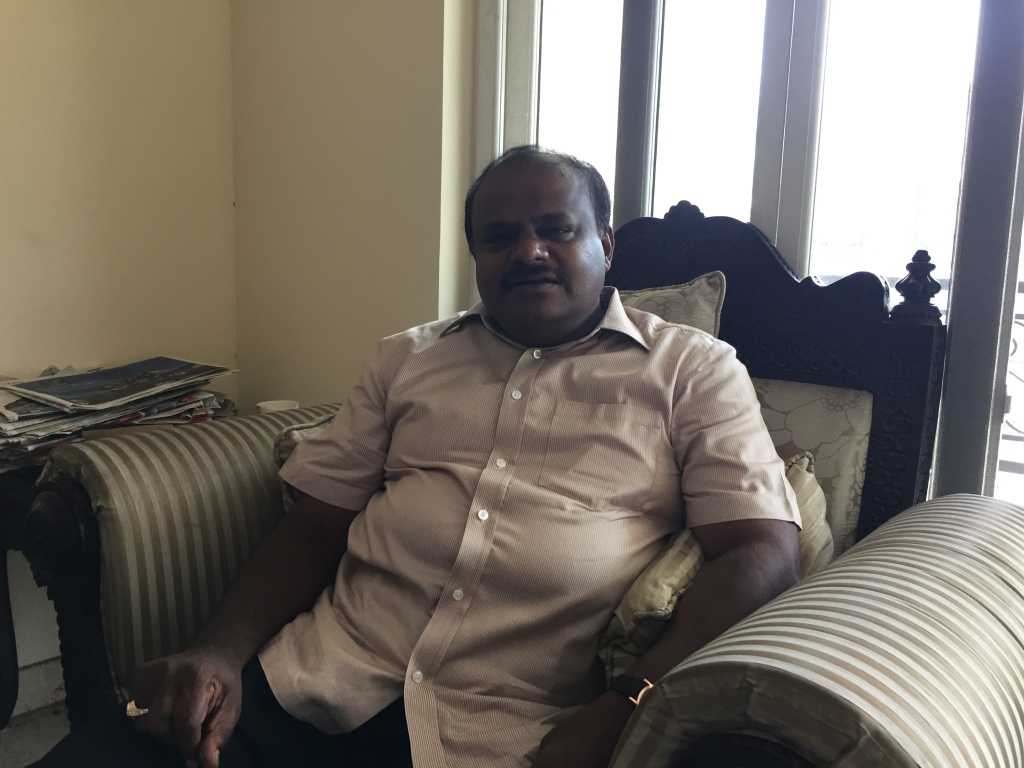 "I have a belief and faith that keeping my 20 months work to the state I can fight the Congress and BJP"
H. D. Kumaraswamy was the 18th Chief Minister of Karnataka from (3 February 2006 – 9 October 2007). He is currently President of Karnataka State Janata Dal (Secular). Excerpts of a recent conversation we had with him.
Farmers are Our Back Bone
Our party, Janata Dal Secular (JDS) from the beginning is telling farmers are our back bone.  My point of view is if the farmer becomes strong economically, then the country will also grow stronger. There is necessity of different sectors for the development of the country and agriculture is one of the major sectors amongst all.  70% of Indians are dependent on agricultural income.  We can't see the growth of the country if the government neglects 70% of growth here.   My father, Mr. H.D. Deve Gowda became prime minister before I held the chief minister position for 20 months.
During the tenure of Mr. Narasimha Rao as prime minister, Mr. Man Mohan Singh was finance minister, Congress government decided to take off the subsidy on manure.  At that time my father, Mr. Deve Gowda said in the parliament, "If you take off the subsidy which has been given to the farmers on manures, then your party will have to face a big penance later. So don't neglect the farmers!"  Then within 2 years of time he only got the opportunity to become prime minister.  The first decision he made was to give subsidy on manures to the farmers.  He also took many beneficial decisions in farming sections.
Rural Visits and Farming Programs
When I became chief minister I keenly observed the farmers difficulties.  I started rural visits to give importance to rural areas.  I saw the difficulties of rural areas personally and in 20 months period I conducted many programs related to this. We did one assembly where all farmer leaders from 30 villages participated.   It started at 9 in the morning and ended by 8 in the night.  I took all the information about their corresponding villages and what development has to be done.  I formed a committee.  The committee has given us a report too.  But the report was given when I descended my post of chief minister.  They have given the route map for the budget of Rs. 8500 crores in next 5 years for farming sector in Karnataka state.  If we had implemented that we could have brought many changes in this sector and would have solved many problems which we are facing till today. Next government in power did not notice this at all!
One economist is there in that committee, His name is Mr. Deshpande. Recently he met me and Mr. Krishna Gowda and spoke to us about that report. He wants to study it. This is fabulous as there is a way to give strength to the farmers! The former government decided to get that kind of practice. He mentioned us that he has told the government not to neglect and follow the report now.
When I was in position, I wanted to wipe out the loans for farmers but I got many oppositions.  But at that time we forgave the loan for Rs. 2,500 crores.  People will think still today.  All co-operative banks had financial crunches to give loans to farmers.  But they also became alive because of the decision I took.  I wanted to give one new type of program for all 30 villages educating them for group agriculture, infrastructure building, sharing the information as what crop has to be grown in which village, what weather is suitable for certain crop, and which cultivation to be carried on.  Still I have that in my mind.  If our party comes in power, then I have few plans to give a big program related to agriculture.  Just forgiving them with loans is not the permanent solution.  It is one time relief!
Farmers' Suicide 
When there was drought during Mr. S.M. Krishna time many farmers committed suicide.  So only to build confidence in farmers we forgave all the loans of farmers.  Now again farmers are dying every day.  I think now around 1500-1600 farmers have died in just 8 months. They don't have any kind of support from the government.  The farmer has to get a proper rate for the crop he grows, with marketing facilities.  There should be an environment to stock the crop which the farmer has grown atleast for 2-3 months.  That infrastructure should be built.  We don't have any such kind of facilities in our country.  They grow maize, but they don't have godown to store for 3-4 months.  There is demand for it outside India.  The government has to give the programs and support them to atleast send to the other countries where there is demand.  But they won't give any support!  No farmer is living peacefully today.
In Koppala district, Gulbarga and Bijapur side they grow grapes and pomegranate.  Due to various diseases in the farm all plants died.  Approximately Rs. 850 crores loan is there on the farmers.  To take off all the plants and sow the new plant, they don't have enough money.  Though the farmer is on loan or whatever, he does not stop working in fields.  He does not see profit or loss.  He just goes to fields to grow the crop.  But we being the government what protection we are giving him?  We do give support and encouragement for industry, we do give them tax rebates, 10 years holiday period.  But what we are doing for the farmers in our country?  This is the main important decision where the government has to consider and follow.
Karnataka Politics
I don't want to discuss about country level! But I want to talk about the state level.  Though we tell our party is national party, we are limited to Karnataka and Kerala.  Only in these two states, it is difficult for regional parties with limited economic status to fight the national parties.  No one will come to give money any time, during election also.  We have to run the election with our own resources.  We are forced to fight against these two parties regarding the subject matter.  BJP government was there for 5 years and Congress is there from past 3 years.  But the people are bored with both these two parties administration.  They are feeling that both the national parties are neglecting our state and they are not responding to people problems.
Let's take an example of Bangalore city only.  When it comes to infrastructure, in 5 years span what programs did BJP conduct?  We are not seeing anything here!  Congress is in administration since 3 years and what new programs are they conducting for infrastructure?  Nothing is done!  There is competition within these two parties to loot the money in the name of development.  We are not seeing any development but money is being spent.  We are not seeing the development in reduction of expenses.  They are just looting in name of development. When I was in the administration, there was no power shedding at all.
During my time, in just 20 months, I had many plans to bring many programs.  I wanted to construct elevated roads on drainage.  We have haphazardly grown Bangalore.  There is no necessity of demolishing the building and constructing roads.  It is opposition from people.  We wanted to construct elevated roads for 140 kms. It was one of our main projects.  No one carried it forward and the project died as soon as I left office.  Another elevated road for inner ring road and it was a signal free road.  There was another project from Korean company.  They came telling that they only invest and collect the toll when I was in power.  It went till tender process also but could not proceed further.  It is a core ring road for outer ring road.  Till today they are still talking about work on that project.  I had processed everything for land acquisition and other requisites. At that time the total cost was Rs. 1800 crores, now it is almost Rs.12, 000 crores.  Implementation is missing here!
These two parties are not giving any solution for these big and major problems.  They are not showing the interest in power generation like how they are showing the interest to buy the power.  It might be MRS or Koodli Plant, or Edlapura also and even Udupi thermal power plantation, the local MP should not be against to it.  I took the police protection and then started the work.  If I had not worked thousands of households would have been with without power! I am sharing few examples. So these two parties are not giving any attention to infrastructure.  Our wealth is not developmental oriented today.  This is our present situation.  I have a belief and faith that keeping my 20 months work to the state I can fight with these two parties.  I will make a road map to make it ready in the future!
As told to Kartik Isvarmurti, Managing Editor, Agriculture & Industry Survey. Tel: 080-46621600. kartik@vmg.net 
Profile:
Mr. H. D. Kumaraswamy is an Indian politician. He was the 18th Chief Minister of Karnataka from (3 February 2006 – 9 October 2007). He is President of Karnataka State Janata Dal (Secular). Prior to becoming the politician he had been a noted film producer, distributor and exhibitor in the Kannada film industry. He is popularly known as 'KumarAnna' amongst his friends and followers. His is son of former Prime Minister Mr. H. D. Deve Gowda.   He was born on 16 December 1959 to Mr. H. D. Deve Gowda and Mrs. Chennamma. His birth place is Haradanahalli, Holenarasipura Taluk, Hassan District, Karnataka.  He completed his entire education from Bangalore, schooling from MES Educational Institution in Jayanagar, PUC from Vijaya College and B. Sc from National College in Jayanagar.