Could you give us a brief introduction about what you are doing?
My name is Prateek Tiwari. I am an agriculture engineer by education and a pass out from Indian Institute of Foreign Trade. I started my corporate career with Mahindra, then started a organic farming company in the year 2003, in which we were working with 1,00,000 farmers. But then we had to shut shop because at that time organized retail was not there. Then I went to work back at the corporate sector with Reliance Fresh, ITC and finally with Walmart. I gave up my job with Walmart in the year 2011. I started working on this assumption that if the farmers are not willing to go organic, should we wait for the farmers to go organic or is there a possibility of the consumer becoming a grower himself. So, I started working on that assumption. Then I realized that the rooftops can be converted into organic farms. Unfortunately, that time there was no portable product that could be installed in the rooftop for doing organic farming of vegetables. So, I started innovating on that. I founded Living Greens in 2013 with funding from Indian investors in the Silicon Valley. All of them are NRIs from the Silicon Valley. So, in 2012 when we registered ourselves, we were the first Urban organic company, specifically working on rooftops. Since then we have covered more than 50,000 square feet of rooftop area. We have almost 400 customers which are spread across 15 cities, primarily most of them are in Jaipur, because it is our headquarters. Then there are many of them spread in various cities like NCR, cities of the North, and we also have clients all the way upto to Selum and Chennai in the South, in Kolkata in the East and the Bikaner in the extreme West.
Our offerings are divided into four parts, we make portable farming system, which can be installed on the rooftop of any person. This portable farming system comes with its own segregation system. It is filled with about 500 kgs of a unique soil-less organic medium, which can carry on upto 7 to 8 years without any replenishment. The other accessories that come with the portable farming system is called an organic gardening kit. In the organic gardening kit you have organic sprays and organic root applications, which have to be applied to the vegetable plants at a regular frequency. Besides this we offer onsite and online service support. The onsite service support is offered by agri experts by physically traveling to the site of the client. The online support is also offered by our agri experts. First a Whatsapp group is created with the client, and the client can send across pictures to us. Then the agri expert can recommend solutions from within the organic kit, which has been supplied to the client at the time of installation itself. At the moment, we are already six years old. We have worked with smart cities, we have worked on government projects also. We are now at a stage when we are scaling up and our scale up model is that we are looking for, developing dealers and franchises in different parts of the country.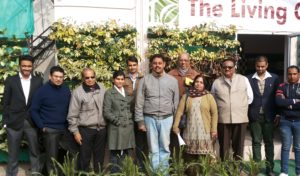 Who would be your typical customer?
We have got two kinds of clients. We have retail clients, which are those people who are interested in growing their vegetables, and the motivation to grow the vegetables could be a combination of negative as well as positive. The negative motivation could be the threat on their health and the positive motivation could be spending time with plants and even reconnecting their children back to nature. So, that's a retail client and a retail client typically has a rooftop space of 300 to 400 square feet that is sufficient to feed a family of four people.
At the same time, we are also working with institutional client. Very large clients like Medanta medicity in Gurgaon, who have set up the largest rooftop farm and they are producing almost 5000 kgs of organic vegetables for their own consumption in their hospital canteen. We are also trying to develop another kind of institutional clients who will be building owners who have got large rooftops. It could even be the government, if interested in commercial production of organic vegetables inside the city, and subsequently either selling it themselves or selling it through Living Greens. So, Living Greens is also planning to offer an additional service of aggravating the vegetables being grown by Urban growers and selling it to Urban consumers. So, that will be the third kind of clients.
 I am assuming the main income revenue generating activity would be from the institution clients, at this point?
When we started our journey, definitely retail was how we generated our revenue. But as I have shared with you, creation of direct retail clients is going to take a backseat. We would rather support channel partners to develop their retail client in their respective cities. But definitely as far as the institutional clients are concerned, whether they want to grow for self consumption or they want to grow for commercial sales, institutional clients will be connecting with them directly.
 Why do you feel the retail market has not gone on the way you initially thought about it?
I think retail client market is growing, but since we do not want to restrict ourselves to just the city where we were born, and we want to develop a channel partner, we would like to now handover the formula to making retail plans to our channel partners. So, for example, we have a franchise in Lucknow. Although we are based in Jaipur, we have a franchise in Lucknow, Delhi. So rather than developing retail client in Lucknow and Delhi ourselves, we are enabling our channel partners to develop their retail clients.
In other words, the retail model is proven in Jaipur, and when we want to then expand it, instead of doing it ourselves, we feel we could do it with a channel partner.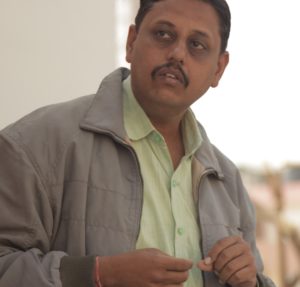 What is the cost of a retail customer?
Suppose you are a person in Jaipur and you have this 300 sqft rooftop on your house, and you are interested in this. Let us analyze what does it take for you as a customer, what is your initial expense and what is your recurring expense with me.
We can deal with this in two ways. One is that what is it going to cost you, and the other is what is the vegetable going to cost you, after you have made the investment what is the cost per kg of the vegetable. Let's assume you are a family of about four adults. So a family of four adults would be investing anywhere near Rs. 80,000 to a Rs. 1,00,000. This is a onetime investment that includes the cost of the material, and it includes the cost of organic gardening kit for at least the first season. It includes the cost moving the material from Jaipur to about a 1000 km from there, and also includes the onsite maintenance support for the first four months. So, basically when you are investing Rs. 1,00,000, it is coming and getting installed for the next four months. Our agri expert is going to visit to your site twice a month and offer free online service support. So, that cost is about Rs. 80,000 to Rs. 1,00,000.
But when we flip it, and if we see what is the outcome going to be from that, the economics works out in such a way that the cost of vegetable hovers between Rs. 70,000 to Rs. 80,000 per kg. Why I am saying hovers because the freight and installation is primarily dependent on the location of the destination. Basically, what this means is that by making a one-time investment of Rs. 1,00,000, for the next 7 to 8 years you are able to grow your fresh organic vegetable, which is going to cost you anywhere from Rs. 70 to Rs. 80 per kg. Besides the fact that they are grown by you, it is also important to consider the fact that are being grown on a space that is basically redundant. So you are converting a redundant space, which is your rooftop, into an extremely useful space. So, if you look at the costing this is the way it looks like – four adult members Rs. 1,00,000 freight cost, one time investment of Rs. 1,00,000 and then you are getting vegetables of which the cost of production is coming out to be anywhere from Rs. 70 Rs. 80 per kg.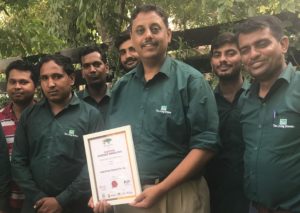 This is also an employment area for so many, right?
I would happily like to inform you that we have become associate members of the Agriculture Skill Council of India and we are in the process of developing a skill development course called rooftop gardener, which will enable people to receive a skill India certificate, which will make them even more employable. Because till now the only person ever known in a city dealing in plants is an illiterate gardener. We want to break that image. We want to call our people organic technicians and we want to equip them with Government of India certificate and that dream is already in process with the agriculture skill council of India.
Can you explain more about the soil-less work and how does that work?
Our 100 percent cultivation is done in soil-less medium. We do not work with soil and the development of the soil-less medium takes a long time. So, the first thing is that the soil-less medium is very porous. Its permeability is not just important for the aeration of the roots of the plants but it is equally important in rooftop farming. This is because if you have a medium which holds water for a long time then the weight of the medium is going to increase. So, specifically for rooftop farming, you require a medium which is extremely porous, and lets go off all the water. It is extremely light weight. Being light weight is a crucial characteristic when you are talking about rooftop farming because rooftops are not heavy structure. So, the permissible load is about 25 kg on a rooftop. Hence, we are spreading 550 kg on 40 sqrft area, so it comes out to be 30 kg per square feet. This is almost half the permissible limit.
The next important characteristic of a soil-less medium is it consists of living organisms, both in terms of microbial cultures and in terms of micro-eza and also some live fungi. So the good thing is that, as the medium receives irrigation and humidity on a regular basis as a grower is growing his vegetables, the multiplication of the live organism goes multi-fold. So, what that basically means is that the fertility of the soil-less medium actually becomes better, and the nutrient capacity increases with time. So, unlike soil which needs to be recharged regularly with fertilizers, this medium does not require a regular recharge, because it already has microbial cultured living organisms inside it.
Then the fourth important thing is that during the preparation of the soil-less medium, we also realized that even if you are able to put a lot of organic nutrients into an organic medium, it still does not reach the roots of the plant, unless two things are in place, first is the pH and the EC of the medium, which should be such that the growth or the movement of nutrients to the medium to the roots is conducive from the process of osmosis. But generally what happens is that people make the mistake of developing a medium where the electrical conductivity is high and the pH is also high. So, what that basically means is that they are putting the plants into a medium where the plant, instead of absorbing the nutrients from the medium, will actually lose the nutrients through the process of reverse osmosis! Our medium has got EC, which is close to one electrical conductivity and in order to maintain the pH we are using organic pH stabilizers, like wood, ash, etc. All these features did not exist in our soil-less organic medium on day one. It is only by facing multiple challenges, in multiple locations, did we realize that these attributes need to be worked upon and created inside the medium. It is in the process of five years that we have created a medium which works beautifully in Kolkata, Selum, Dehradun and Bikaner.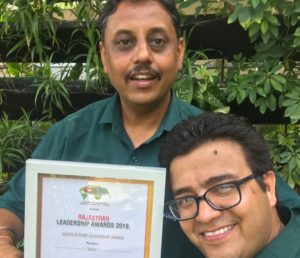 Is this a profit generating activity at this point?
When we started this journey, we started at absolute point zero. The product itself did not exist, the services, the accessories did not exist. So, over these six years majority of time has been invested in first developing all this things. It is very recently that we are in process of scaling up. We have reached month on month profitability which is not what we desire. What we desire is a channel of network partners and start rooftop farming in multiple cities and supporting our channel partners in the right way.
CONTACT :
Prateek Tiwari, Founder & CEO
THE LIVING GREENS
583/584, Nirman Nagar AB, King's Road, Jaipur, Rajasthan.
Ph – 08890600999
Website – www.thelivinggreens.com