Let us get an introduction about you.
I am Shivendra Singh. We started Barton Breeze in 2015 to provide clean food to our customers. There is a long story behind how we zeroed in on this venture. Barton Breeze started with small client pilot projects in Dubai. In 2016, we built two commercial farms for a customer. Post that, we realized that India is a far better place to build this concept. In 2017, we started in India, at Gurgaon. We set up our own R & D centre there, in which we experiment producing all sorts of new crops. In 2017 and 2018, we built around 8 hydroponic farms in India within a span of one and a half years. Post that, we have gradually added in more team members.
I started with Dr Rantnakar – a horticulturist who worked in the US for over 15 years. His total experience spans over 28 years.
We have Mr. Brahma Singh – who is a Padmashree awardee by the Government of India for his work in the agricultural field. He is mentoring us for the technical aspects and designer instructions come from him.
We also have with us, Mr Sudhanva who was serving commercial giants like Flipkart for more than 25 years. Now, he has joined us to work on our operations and marketing section. We have a few new projects in the pipeline, including the data centre, which, Mr Sudhanva is taking care of. We also have a couple of core team members along with 14 ground staff who take care of installation and commissioning.
That is about my team.
We have around 35 varieties of crops, which we are growing right now. 42 of those are our own in-house made nutrition solutions. The nutrition content in these solutions are by far the highest in the market.
In terms of production, we produce around 5 lakh kg per year from about 1 lakh sq. ft. area, as of last month. With respect to the plants which we have, we are planning to start a data centre which is the project that is taking priority right now. We have 8 farms and 2 more getting built. We are planning to combine all these farms within one data centre wherein we get to know exactly what seed is being used in which farm, what nutrition is being used in which farm, what is the production in each farm, etc. All such data will be captured in this data centre and from here it will be churned and used to increase the efficiency of individual farms.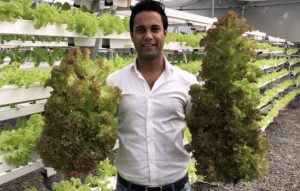 You are a graduate from IIM Ahmedabad, right?
Yes, I am.
From that field how did you connect with Hydroponics?
Good question! I had my own personal reasons, wherein found that there is an extreme need for clean food in the market. While studying at IIM Ahmedabad itself I was already into this project. One of the gentlemen whom I met at IIM Ahmedabad was working on a similar project, but organic farming based. So, we both had our brainstorming sessions. We were trying to find out the current problems that persist in the agricultural system and the possible solutions that can be implemented.
It was evident that traditional farming was unable to achieve the target we aimed at. Hydroponics was a perfect fit for the need at hand. The idea was to provide our customers with clean food throughout the year. We started with those ideas.
I was once a victim to food poisoning, which made me want to work on this project at a personal level as well. But yes, I took it as a business and then we kept exploring for 6 months. I found Hydroponics to be a perfect solution for these problems.
Do you have any agricultural-related background?
Nope, I don't. That is the reason we have Dr Ratnakar who is a partner to the company. Like I mentioned earlier, he is a horticulturist and has 28 years of experience in US, out of which 15 years was exclusively dedicated to Hydroponics. He is our backbone for the agricultural part of the project. I am the one who takes care of the technical and management part.
You yourself not having experience in agriculture is a hindrance or a blessing?
Perhaps, like you mentioned, Dr Ratnakar cannot see certain things the way I do because he is core into the technicalities of agriculture. So, I do not feel that anyone who is fresh into this field need to worry of any hindrances except that yes, you need the right kind of support/training because there are times when things go beyond your understanding.
On the whole, technology has made things very simple. Right now, in the data centre that we are working on – we are developing software which will help even beginners to understand issues that has affected the crop. Gradually, we are trying to replace a physical mentor with technology. One can get pictures clicked of the product and get to know the issue related with the crop.
I don't think there is a challenge as long as you have your facts and finances in place. But if you are not an agriculturist yourself, agriculturist support – physical or via software – is a must!
Who are your customers?
Our customers are varied, starting with salaried service people to corporates of government agencies. The cost involved is quite high, so, not many farmers. Having said that, recently we are starting a new farm for a farmer employee who has around 120 acres of land and he is medium sized farmer. But a small farmer, at the moment, cannot afford it.
Do you target individual customers as well or just organizations?
Like I mentioned, we have a mix of customer genres. I have had people who have been working with a bank or a corporate, etc. Recently, we have had a person who doesn't have a job. He is exploring at this point. For him, the system is smaller. He doesn't have to go for 5 acres of land. He started with a smaller farm. The size of the farm is their choice. So, we have developed small units which are not very expensive. So, that makes it affordable for individuals as well.
Small -time farmers are not our customers at this point because the cost involved can be quite taxing for a farmer.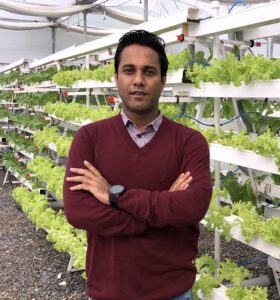 If you provide a small unit to a farmer, what is the approximate cost involved?
The smallest unit, for you to understand how things work, is Rs 1500/-. We also provide support for the nutrition and the growth media at later stages. But this is about a very small unit. Predominantly for someone to understand what hydroponics is and what it is about.
What is the cost involved for a large unit?
To set up a hydroponic unit on an acre of land costs around Rs 52 lakh. That would be affordable only for commercial farmers, corporates or individuals who can spare that kind of money. I believe that it would be too much of a stretch for a farmer to invest that kind of money.
You are probably looking at corporates and entrepreneurs who want to set up a business, right?
We are in touch with government agencies and we are also working on bringing up policies with them in which we are working out how we can bring this as a viable option to the farmers. We are researching on whether we can bring down the cost by changing the components of the system, wherein farmers can put more effort. So, we are reducing the cost also so that farmers can explore this option. So, yes, we are working on this aspect with government agencies on how to make it affordable for farmers.
Yes, the reality is that at the moment it isn't a viable option for small scale farmers. Right now, I would look at people or bodies that can afford at least Rs 52 lakh.
Is there a way to deal with hydroponics without a cooling system?
That is something we can't really help with, unless we grow things that can be grown in 45 degrees. For example, dragon fruit, which is part of the cactus family, can be grown in such temperatures. But, if you want to grow strawberries by providing cooling system, it is not possible. Even if you try growing lettuce in that kind of temperature, it will not grow for sure. Whatever cooling system you use, you can bring down temperatures that high by a 10 or 15 degrees. If that has to be done, you need to use systems that will cost you way higher than what you are growing and then it becomes an unsustainable project.
What if we tried growing it in small portions like on half an acre?
We have done a 10,000 sq ft commercial farm with advanced cooling systems. In fact, the system was a combination of many types of cooling systems. That way we could achieve bringing down the temperature to 28 degrees which was quite near to what we needed.
What cooling system you used?
We have multiple ways of doing it. We used water based cooling, roof cooling as well. Then we had other means as well. Every component was instrumental in bringing down the temperature by 8-10 degrees. The main component was the roof cooling and water discharge during peak hours.
With this kind of cooling system, what kind of return on investment can we look at?
One thing I want to clarify is that some people have this idea that hydroponics will lead to products that will fetch you the value of gold. But, that is not true.
We are able to grow hydroponic food at a reasonable expense. Yes, having advanced cooling systems will affect the cost of the produce. For example, I can't grow strawberries in Delhi at Rs. 28 per kg. But, it still works cheaper than imported products, from other states or travelling to buy the product. So, in that perspective, it still comes out cheap.
When we speak in terms of money, the current ROI period, which we get, is 22 months to 26 months. What I mean is on an average, you can get the money you have invested in about 22-26 months.
Do you also help with the marketing of the produce?
Yes, we do buy back from all our customers at pre agreed rates or we work on an assured return basis, in which we ensure that investors gets assured fixed income on their investment.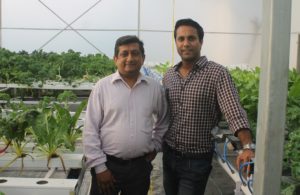 Isn't that a big risk?
No, it is not. It is very well calculated because we understand the market. Whenever we fix an agreement for buy back, we simultaneously fix a contract with the buyer as well. We know our buyers.
How do you know that the market you are getting is the best market you can get?
There is nothing called the best market. There can always be someone who can pay you better. But, we always keep an ROI threshold.
For example, for a given produce, we map that if my cost is Rs 60 to produce it, and my margin is Rs 20/- then my end cost is Rs 80/-, which means any buyer paying me more than Rs 80 is my buyer. That is, according us, the most beautiful way of doing it.
Are you trying to pitch the idea of terrace farming and vertical farming to people living in urban areas – promoting them to grow their own vegetables?
No, we are not doing that because, I mean obviously, taking it up as a hobby, anybody can grow it at their homes. But that is not commercially viable. To put in a commercially viable project, the growing has to be done in a proper commercial farm wherein the cost can be worked out better. We plan to do this on our own rather than asking people to do it in small pockets. We will do it in a bigger pocket where we can grow efficiently and use our expertise in growing the crop. We will do it ourselves and then pass on the products to consumers.
So, the market you are looking for, is trying to tell people to set up large units, right?
We are going to set up micro farms on the residential and commercial towers. At the same time, we will have a big commercial farm within the periphery of 20 kms from that place, because the micro farm cannot fulfil all the needs of the customers there. Micro farms are to make one understand how things work, how the big commercial farms work.
Why would a salaried person want to know that?
For all these commercial and micro farms, we are in touch with investors. We are going to invest into all these farms. We will then provide the produce to the end user.
They will get fresh food, this way, on their roof top, in a better way than what they get in the market.
Contact :
Shivendra Singh
Barton Breeze Pvt Ltd
Office Pass, 5th Floor, Vipul Trade Centre,
Sector 48, Sohna Road,
Gurgaon -122018
Haryana
Mobile No: 8529726141
E-mail: info@bartonbreeze.com