How did you get into this venture?
My academic background has no relation to wind energy or even engineering for that matter. My company, Avant Grade Innovations, was built purely on the passion to create a sustainable project which contributes towards the development of our country.
My company started back in 2016 once we launched our prototype. We were fortunate that United Nations Organization picked our project as one of the top-rated skilled innovations in India. We went through a lot of ups and downs to come up with a good product that would be relevant to and affordable by the market.
This year, I am happy to say that it is, finally, going to be available in the market. It is first being made available in India and then it will evolve from there.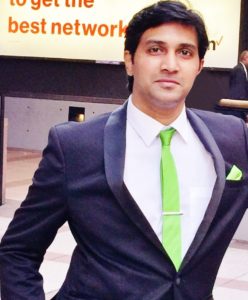 Can you touch upon Arun George prior to 2016?
I spent almost 4-5 years in Australia, doing my MBA. Even before I left for Australia, I was very sure that I wanted to come back to India because I have always wanted to do something that would help escalate India's growth. We have a lot of opportunities to make India a better place and we have a very privileged country. At this point, the country is in great need of a lot of developments and it is up to us to get India bracketed in the First World Countries.
I always had this passion but I wasn't sure what I needed to do. Prior to my MBA, I did my graduation in English Literature. And post my MBA, after my return, within a couple of years, I had started working towards this project.
Did you already have some business background prior to this?
In India, we had a very low scale trading business after I got back from Australia. It was a lucrative business which reaped good profits too; but, I wasn't satisfied. I wanted to do something which could bring about a change in people's lives and in the society at large.
There is a philosophy behind the formation of my company. I believe that making money should be a byproduct of a satisfied piece of work that you are doing. Money shouldn't be the sole reason for your satisfaction. That philosophy is what germinated into the company I have today.
Where are you located?
We had started the company in my hometown, Trivandrum, in Kerala. At the moment, our production is based out of Gujrat. So, I am based out of Baroda in Gujrat right now.
Are you rolling out your project this year?
Yes. The first installation we did was for the Indian Navy on 15 August, making the Indian Independence Day even more special for us. That was our B2G project.
Yesterday we had our first B2B installation. B2C installations will start by the end of December.
How did you zero in on choosing this idea and how did you form your team?
When I started this company our thoughts were around how we could start something new and unique – something that was not done before. We looked into various energy technologies. Solar energy is now widely available and popular everywhere. So, we looked into the wind sector, and realized that although wind is all around us, it is not really tapped to its true potential. Our research led us to realize that this was because the small wind turbines that existed in the market are either very expensive or they aren't efficient enough to operate at wind speeds we get in cities and towns across the country. The existing technology needed much more stronger winds to start generating power. These two were the stumbling blocks for the lack of modern wind turbines in our country and even across the globe for that matter.
Having understood the gaps, we started working towards closing them. We started researching on how to tap wind energy at lower wind scales – one which can be much more affordable by common men across the country. That was our final goal.
Did you develop this product here? What about its technical aspect?
Yes, this is a national indigenous technology project, which is part of the Make in India initiative. In fact, we were upraised by the UN, and the government of India, highlighted us at the Make in India International Media campaign that they conducted with the CNN. So, yes, this is entirely a Make in India project with nil foreign collaboration.
When talking about foreign collaboration, it is a matter of pride that we have foreign companies from US wanting to collaborate with us. We even had a German University, with a special department dedicated to wind energy, contacting us saying that they wanted to get involved in our project and they want to have a joint collaboration with us to develop the wind turbine. We responded that we have already developed the turbine. But we could look into collaborating on something new in future with respect to wind energy management. So, that is still on the plate. So, yes we do get a lot of foreign international collaboration requests.
Have you developed this technology by yourself?
No, absolutely not! The prototype was developed by my brother – Amit George. We further developed that with the help of the wind energy experts in the country. That was how we got coached to further develop the turbine. It is called Avatar.
What does Avatar do? How expensive will it be?
It is as simple as that – the farmer can buy it and put it on their land. It will start generating power as soon as it is installed. When it comes to the installation itself, we have done a lot of renovation and made it much simple. The whole idea was to make it much scalable.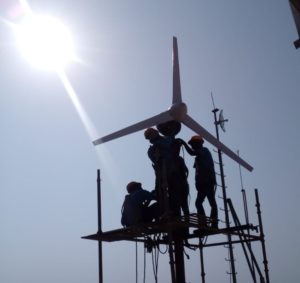 Would there be any particular regions for this product to be effective?
Once we are approached, before we advise the enquirer to go ahead with this product, we have a cool technology in place to ensure that you are taking the right path. We have multiple wind maps which can help us identify the wind speed around the world. We look into that for checking the wind speed at a particular height, in the area requested. We will look at the wind speed trend at a height of 10-30 meters. We can generate data that runs up to 30 years prior. Based on that data we advise if this is feasible for a particular location or not.
Ideally, we would prefer a site which has an annual average wind speed of 4 metre per sec and above. That will help the functioning of these turbines. However, the turbine that we have developed is capable of generating power even for a wind speed of 0.5 meter per sec. But, yes higher the wind speed, higher will be the power generated.
Will it be a simpler version of a windmill?
Yes, this can be established as a one single unit or multiple units like big farms that you must have seen in some places. So, those with more power requirements can have multiple towers.
Different models come with different power capacities. A 1 Kilowatt (kW) small wind turbine gives around 5 kWh units of electricity/day approximately. An average house would need anywhere between 1-10 kW capacity wind turbine depending on their power consumption. Small wind turbines come in various kilowatt power capacity choices of 1 kW, 3, 5, 10, 20, 50, 100 kW and higher especially for industrial plants.
The wind turbine is smaller in size than the ones we normally see. The diameter of the blade is just about 3 meters.
Does Avatar keep running 24 hours generating electricity?
Unlike solar cells, it is advantageous because we are harnessing the wind. It can generate power at any time of the day or night. Whenever the wind blows, it will generate power and it will be either be stored in the battery or one can exploit the power. So, yes it is a 24 hour power generation scheme.
Another aspect is the space utilization. For example, if you compare it with solar energy, which requires 100 sq. ft of space dedicated for every KW the wind turbine doesn't pose such an issue. In fact, whether it is 1KW or 10 KW or whatever, all you need is 3×3 sq. meter space to set up the turbine.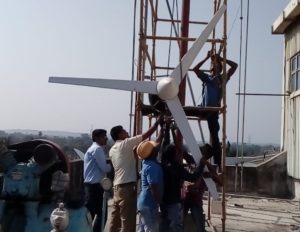 What type of farmers are we targeting here?
Anyone! This turbine hardly takes the space of an office table. The space wouldn't be a problem especially for farmers because they have their land.
In case of solar, the solar panels need space and that particular area cannot be used for cultivation because the panels will cover the land. Whereas in case of wind turbines, it is like having a tree on your land, you can grow your crop around the wind turbine and it doesn't really take up much of your land.
Do you have a demo unit of this put up somewhere?
We have installed this product at the Kochi Naval Base and we have also done an installation for Unilever. We will have demo structures for customers to get a look and feel of the turbines. The demo unit be located at Gujarat.
Where do you have your manufacturing done?
At Anand in Gujarat.
If someone wants to come and see it, Anand is the place?
Actually from next month on, we will be supplying it across the country and it will be available in every state. People will not have to travel all the way. They will be able to see an installation in their own state.
Currently, a farmer has electricity supplied for free. Why would he adopt your product?
Yes, but this electricity will be available all the time. The power that is now being generated for you comes from coal and similar power plants. With this you have much cleaner and renewable source of energy. You are utilizing power generated on your own farm in reality. Once this is set up you do not have to actually depend on the government or subsidy or anything like that. The greatest advantage is that it is a decentralized unit. Once set up, the farmers can be self-sufficient.
Just the wind blades rotating are sufficient to run the lighting, motors, pump sets etc.?
Yes, you just need to have the right type of wind turbine – that's all. Choose the right capacity one and you are done. Lots of farmers contact me. I have spoken to almost 100 farmers across the country who stated their requirements. So, we have to match the correct capacity turbine based on the requirement.
What may be the cost of the unit for the minimum configuration?
With the existing plants supplying electricity, your investment will be somewhere between 2-3 lakhs for 1 KW. So, we have worked on bringing down the cost factor and we can provide this at Rs 60,000/- per KW. This is for the small wind turbine. And then the additional accessories will depend on what kind of installation the customer wants. There are two types of installations – on grid and off grid.
In on grid, you can directly power your equipment or divert the power back to the grid. This is advisable if you need to have a backup power as well, you can have it stored in batteries. So, the cost will vary with the accessories per requirement.
Are other small wind turbine projects in the market Indian or foreign made?
Most of the others are actually imported from outside India. And imported products will scale up the cost and maintenance. Also, service support may not be readily available. So, these products haven't really taken off, owing to the cost, support maintenance issues, and turbine efficiency at low wind speeds etc.
How is your project funded?
When we started off, we funded it ourselves. Gradually we had numerous distributors across the world who came on board as our authorized dealers. So, we generated income in the form of deposits for distribution. Right now, it is our own funds and money from our distributors. Our distributors have started paying for this.
What are the main concerns you have at the moment?
One of the main challenges we face is scaling up and installation across the country. What we are doing is to have smaller companies across the country associated with us, get people trained and be responsible for the distribution in their state. Right now we are in the stage of allocating and awarding contracts to various companies. That is a big challenge though and we are getting there. This will ensure that the end users are serviced locally and it will avoid us having to travel all the way from Gujarat to another corner. This way we can also ensure that customers get speedy support and installation as per their requirement. So, yes, identifying these companies is a challenge that we are tackling at the moment.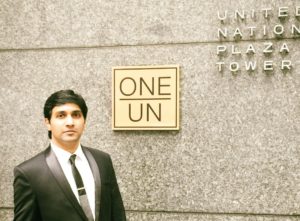 Are you worried, that there may be people bringing in similar products?
Well I don't say this is a difficult project but it is not easy as well. But yes we do foresee competitors. Recently, a Chinese company used one of my videos in which I was talking about wind turbines linking it to their product. They kind of made me their brand ambassador without my knowledge. These things happen and we do envision all these things. But the efficiency of the turbines we have built is something unmatched so far. The technology speaks for itself and we have goodwill across the world with all the international recognitions from UN, the Whitehouse etc. So that does give us tremendous momentum to start with.
Quality and reliability is something we wouldn't compromise on. I have strived to create a product of international quality at a local price.
Anything that you want to add before we wrap up?
It makes me happy when I think that I could, to some extent, match up with a product that is in line with the Mahatma's vision – have something swadesi which will serve the people at the grass root level. It makes me proud that this is perhaps a product that would make the great Mahatma proud.
I feel disappointed about Startups nowadays to some extent. We hardly see any new and unique products coming up in the country. I am so glad and feel blessed that we could come up with something unique.
Contact :
Arun George
Founder, CEO
Avant Garde Innovations
Trivandrum
https://www.avantgardeinnovations.com/
Mob : 099950 99488