Opts for farm integration for monetary stability instead of focusing exclusively poultry farming
"I choose to become a poultry farmer because my two generations were into this business so I had good know-how of the managing and running a poultry farm. However I included few changes to make it stable and profitable. Farm integration is one the prime activity I have inculcated in the system. Man cultivates vegetables, produces food for animals and waste is put back into soil to make it fertile. It is one complete circle. I like this circle and integrating different elements of farming definitely allows consistent cash inflow. So I decided to practice integrated farming instead of keeping it only poultry," says Mr. T.Siva. He hails from Ramanathapuram district, Tamil Nadu.
Mr. Siva's farm spreads in 3.5acres. There are 200 country chicken, 20 native goats and 5 desi cows in the farm. "The livestock excreta is decomposed to make manure that is used for growing wide assortment of horticulture crops. All the breeds of livestock and crop seeds are indigenous as it is in alliance with chemical free farming practices. I believe in sticking to the traditional roots of farming as it is more enduring. For example country chicks in my farm are reared in open instead of well-structured shed yet it is able to survive high temperature during summers without much effort from my side. If it is hybrid breed then certainly mortality could be high and it would lead to loss," he adds. There are 60 coconut trees in the farm that maintains the natural shed in the premises and control the scorching heat during summers. Chicks are developed in the farm itself.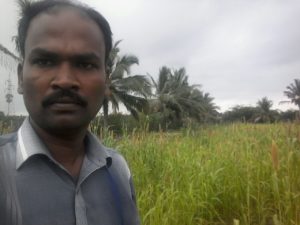 6 months old hens start laying eggs and continue till 4 years. On an average 50 eggs are obtained per day. As the farming practices are 100% natural egg is sold at the price of Rs. 11-12/egg. "The unsold eggs are hatched for producing chicks. If chicks remain unsold then it is reared to be sold as chicken. If adult birds are not sold for meat then it is allowed to lay eggs. Then it follows the same rotation. In this way whatever remains in the different stages of poultry farming is pushed next stage. It is like a cycle. Further we do not buy chicks from market because when we buy chicks from outside people feel that even country chicken is also like a broiler where the health of the birds is boosted by giving medicines and growth promoters. Local people like meat of chicks reared in open farm instead of closed shed. Many people do not like chicks reared in enclosed farm structure. So I get a stable market all the year round," he elucidates.
Usually after 2 years age chicks are sold for chicken. It grows well in 2 years and once it becomes 3years it doesn't taste soft and tender, it becomes hard. It weighs around 1.25 – 1.5kgs. "We sell 2-2.11years old chicks at the fixed rate Rs. 250/bird. After three years the weight of birds become stable and doesn't increase/decrease much," explains Mr. Siva. Chicks and eggs are sold directly to the end consumer from farm gate. The cocks are also sold from the farm at Rs.400/bird after it matures at the age of 6 months, prior to this the cocks are sold at Rs. 250/bird. Generally there is high demand of cocks as it is useful in religious ceremonies.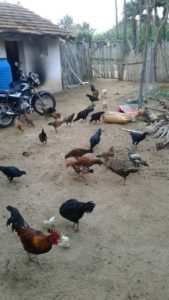 Vaccinations given to the chicks are Lasota (dosage for 5days) and RBV2 for a month to the chicks to control infection like chicken pox and tiredness. "We give jeera and turmeric boiled in water for a month," he shares. Rest close monitoring on the growth of the birds is must to safeguard the flock from any disease breakout. Most of the feed for livestock is grown in-house and rest is bought from the market.
Chicks are fed with azola, corn, pearl millet and sorghum. "We grow corn solely for chicks. It is grown as fence to the seasonal vegetable crop. As corn is rich in nitrogen content it enriches the soil. As a result vegetable yield is good in quality and quantity. Azola is grown in the farm. After chicks become one month old azola is introduced as feed to boost their immunity power and growth," he states. Millets and concentrates are bought from the market. "Concentrates are given to fulfill the requirement of micronutrients."
In the farm horticulture crops cultivated are 5-6varieties of leafy green vegetables, 5-6varieties seasonal vegetables like ridge gourd, bitter gourd, bottle gourd, brinjal, chilies, tomatoes, millets, corn etc. "We cultivate small quantities but more varieties because it is very easy to sell smaller quantities than the larger quantities. Logistics is always a challenge when producing bulk quantities. In addition as we cultivate more varieties we have space for price negotiations and risk of losses is also less. In case of less or no production in any one crop the loss gets compensated by sale of the crop. It gives lot of stability to the business. I neither got affected because of price fluctuations in the market nor experience price exploitation from middlemen," he asserts.
Advising the farmers Mr. Siva concludes, "First-time poultry farmers must take training before starting the farm and also arrange to grow feed to lessen the production cost. Next they can buy the flock of 100 birds having 80 hens and 20 cocks. Poultry farming is lucrative and requires work of only 2-3hours but a close supervision is must. Next if possible include farm integration to make it more profitable and enduring!"
Mr. Siva holds diploma in Computer Science.
Contact Details:
Mr. T. Siva
11/1501, Muttumariamman Kovil Street, Vazhuthoor, Valaantharavai PO, Ramanathapuram District – 623 536, Tamil Nadu
Phone: 09489274427
Email: muveshsiva4252@gmail.com