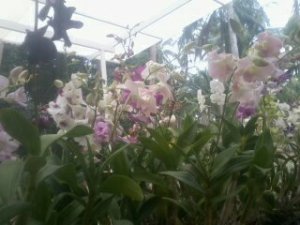 Establishes hi-tech farm to grow vegetables after experiencing success in flower farming
Passion for flowers motivated Ms. Sushila Krishnakumar to set up Swathi Orchids 15 years ago. Contented with the growth and inclined towards hi-tech farming, she established 'High Tech Farm' in 2013 to grow vegetables. "I opted for growing vegetables so as to provide fresh and poison-free produce to my family and the society at large," she shares.
Flowers namely Dendrobiums, Phalenopsis, Oncidiums, and Cattleya are grown at Swathi Orchids. "We grow English cucumber, yard long beans, capsicums, chillies etc. in our hi-tech farm," says Ms. Sushila. About 10 to 15 tons of vegetables are the annual production at the farm.
The farm is located near Guruvayur, Thrissur Dt. Kerala State. Initial investment made for orchids was Rs. 2 to 3 lakhs while Rs. 7 to 8 lakhs for High Tech Farm set-up. Ms. Sushila always seeks help from Kerala Agricultural University and State Agriculture Department for the knowledge and farming techniques as needed in the business. Hence she never felt the need of taking any help of agricultural consultant.
Only organic farming inputs are used at the farm like cow dung, coco soil, rice husk, neem cake, bone meal, cow urine, coconut water etc.
"Good sunlight, water, seeds, manure, timely advices, and above all good labor are very much needed for vegetable and flower farming," avers Ms. Sushila. Marketing and selling of flowers and vegetables are not difficult as there is good demand in the neighborhood as well as in nearby supermarkets. She informs, "We sell cucumber at Rs 50/kg and all other organic produce are sold well. We are getting a fairly good margin."
To get acquainted with the latest farming techniques and implement them successfully are the future plans of the company.
Ms. Sushila Krishnakumar is a commerce graduate and has done a short term course in orchid farming from KAU.
Contact details-
Swathi Orchids and High Tech Farm
Kunathully House
PO Paluvai
Thrissur District, Kerala State Pin-680522
Mob: 94976 54147
Email: neenukrishna@yahoo.co.in