Departs from software industry to start organic farm near Bangalore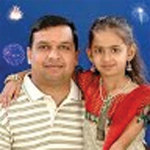 Sri Sharada Farm is situated at Sannenahalli village in Magadi Taluk. Betel nut (Adike) is grown in one acre and another one acre has coconut and banana trees. Mr. Sridhar Satya owns the farm. These crops were opted for cultivation as it has high value in market.
Mr. Satya served in corporate world for 20 years and was successful but later changed his field completely and started farming to lead a simple life.
Farming Challenges
Acquiring good quality banana plants was the challenge initially. Mr. Satya shares, "for betel nut we need to provide water regularly which is difficult during summer due to common power problem and for coconut it is the labor problem at the time of selling."
Farming Method
Organic farming method is adopted which is completely free of chemicals. "In Arecanut, we get huge bio waste from the tree itself which is used for making compost manure along with neem seeds. We use drip irrigation method and plow twice or thrice a year. Recently, we have started using some "Nasugunni" seeds to avoid weeds, a technique learnt from IIHR, Hesaraghatta Farm," informs Mr. Satya. Same method is used for banana as well.
Market
Entire farm produce is sold to middleman at the price fixed by him. "Small farmers cannot go to market directly due to quantity issue so we have sell our produce to middleman," avers Mr. Satya.
He further adds, "Middlemen are making more profits than growers. This is true in all districts/states. We all know but none wants to step in and solve this bigger issue. As a pilot project we should start some kind of collection centers at Taluk level or a district level like how we are doing with regard to milk. If it works well we should multiply in other places.
Secondly, people are stopping agriculture now-a-days. We should have single-window cell for all farmers' problems/concerns/issues which must be attended surely at least at village level."
Future Plans
Mr. Satya plans to get solar power for his farm to solve the power issue and percolation tank (ingu gundi) to solve water problem. He wants to be focused on being small farmer and grow quality products.
Our Correspondent
Contact Details – Sri Sharada Farm
001 Shalimar Park Apts, 10th Cross, SP Extn, Malleswaram, Bangalore – 560003 Mobile: 99019 96300 Email: sridharasatya@gmail.com
Source : Agriculture & Industry Survey