Pursues farming and software, two different professions with ease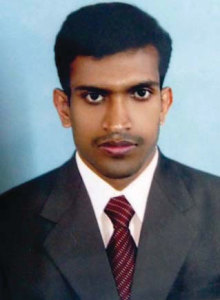 Mr. Sahu inherited 12 acres of land in Orissa where he carries out paddy cultivation. "This land has been with us for the last 30-40 years now.
We do paddy cultivating using traditional method on this land. It is not so beneficial but due to the lack of awareness and resources, people tend to stick to paddy cultivation.  We get the harvest only once in 2 years," adding, "The approximate production of paddy per 5 acres of land is around 5000 kgs that comes to around 5 tons per annum." He sells only 50% of the produce in the market.
Contract Farming
Mr. Sahu has partnered with local farmers for contract farming of his land. "They work for us and take their share from the produce. If the produce is around 1000 kg in 1 acre, they take around 200 kg, around 1000 kg per annum, apart from the maintenance charges we pay," he maintains.
Organic & Chemical Farming
A combination of organic farming and chemical farming is used on the land with higher usage of organic farming. "Organic manure, especially cow dung and cow urine is used extensively. Herds of cows are collected in a particular area in the land for 10-15 days and we collect their urine which is used as organic manure. We use chemical fertilizers such as urea once a year," says Mr. Sahu.
Scientific Method
Mr. Sahu follows traditional farming practices and has never got the soil and water tested. "Provisions are there from the government and there is an office in our village for water and soil test but the office remains closed most of the times. First of all awareness is not there among local farmers. They do not understand why they should follow all these tests, when it has to be done, and what are the benefits. Agricultural university is there, agricultural government offices are there, but nobody takes time to educate the local farmers."
Alternate Profession
Commenting on software professionals opting for farming as an alternate profession, Mr. Sahu says, "One of the reasons people switch to farming is the lack of job security in the IT sector.
We can become jobless anytime so everybody needs a better plan. Second reason could be that IT jobs become monotonous and they need a change from the same environment.
Agriculture is the only sector which gives them some satisfaction in terms of physical activity and security.
The demand of agriculture will never go down, so they know that this field will always be beneficial for them. Many of them jump into this without any proper knowledge thinking that they will earn profit, but without a proper plan and knowledge it fails. There is a learning curve in every sector."
Our Correspondent
For more information, contact : Mr.Ashok Sahu, S/O: Saratha Chandra Sahu, At/Po: Jagadal Pur, Via: Nimakhandi,Dist: Ganjam, Near Town: Berham Pur,State: Orissa,Pin: 761001 Phone: (802) 360-1745, Mobile: (934) 213-5267 Email – softwareashok@gmail.com
Source : Agriculture & Industry Survey