Producers and suppliers of Amla and Aloe Vera based agro products. Located at Jatwara, Rajasthan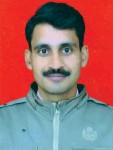 Shri Rala Agro Bio Tech was established in 2010 in Jatwara in Rajasthan state. Mr. G.P. Choudhary (Director) is the founder and Mr. Hanuman Choudhary is the Manager (Marketing & Production) of the company. Shri Rala Agro is into processing of amla and aloe vera based agro products. The company has also got its own Aloe Vera farm. The products' Brand name is "Tan Sukh'' and is sold primarily at Delhi, Punjab, Tamil Nadu and Jamshedpur. The shelf life of the products is one year. The annual turnover is Rs. 6 lakhs (approx).
The objective of the company is 'providing natural health solutions' to the clients for this the company has received great appreciation from them.
Mr. Hanuman Choudhary is a Bachelor of Arts, Bachelor of Journalism and Mass Communication, MBA and Masters of Social Work, Diploma in Computer Application.
Mr. Hanuman Choudhary says "through website and trade fairs, we create awareness of our products in the market. We appointed salesmen in local areas who sell it in local fairs and outside. We have also appointed distributors who supply our products to retailers and looks up the marketing. In India, there is dearth of institutions where we can get training of processing different new agro products. Due to this farmers and small industries are not progressing.''
"Challenges are Quality Production as well as attractive packaging. For this we produce pure and best quality and try to give it best packaging. We also offer sale of small quantity for trust of customer. For marketing we search buyers through internet and trade fairs,'' adds Mr. Hanuman.
He suggests, "I would like to draw the attention of Govt. as well as Private Institutions to start more diploma programs in Food Processing technology in each districts.''
Our Correspondent
For more information, contact:  Shri Rala Agro Bio Tech,  Vill. & Post- Jatwara, Via- Banskho, Tehsil- Bassi, District- Jaipur, Jatwara, Jaipur, Rajasthan. – – 303305.
Phone: 91-992-8579410,  Mobile: 97854 00509/97854 00835, 93090 9687.
Email: srabt2010@gmail.com
Source : Agriculture & Industry Survey