Overcomes pest attack in grapevines with natural pesticides. Ensures sweetness and taste remains intact in grapes
"Grapes are more prone to pest attack so I graft grape vines on dogridge root stock and spray natural pesticides," says progressive farmer Mr. Shivraj Hanamant Kotagi. He owns and manages Shivling Farm, located at Kumathe village, Solapur district, Maharashtra.


As zero-budget natural farming is practiced at Shivling Farm the grapes are very tasty as claimed by Mr. Kotagi. "Our grapes are very sweet too! Chemically grown grapes contain 18-23% sugar and grapes of my farm contain more than 30% sugar," he adds.
The farm spreads in 42acres, "We have cultivated grapes in 3.5 acre while in remaining area we have sugarcane, onions, jowar, cotton, red gram, black gram, papaya and other crops," he adds. Grape varieties grown are Clone 2 and Manik Chaman. "Clone 2 was the first variety that came to India. After cultivating clone -2, then came Thomson red variety. Thomson red is round and clone 2 is little long about 0.5 inch in size and oval in shape. Manik Chaman grape is 1inch long. These are seedless varieties of grapes."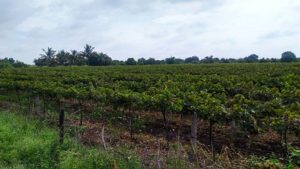 Mr. Shivraj strictly practices zero budget natural farming. Natural techniques and pesticides are used to safeguard the crops from pest and disease attack. "After completing MBA, I started farming in 2013. Since then I am following zero budget natural farming methodologies. I didn't had any loss and always got good price for the grapes as it is grown naturally without chemicals. Ghanajeevaamrutha and jeevamrutha are sprayed regularly to provide strength and immunity to the plants. To enhance soil fertility we do mulching with sugarcane grass," he shares. Pest management is done with dogridge root stock and natural bio-solutions.
Dogridge plant is pest resistant and has fungicidal properties. Besides its' rootstocks help in mitigating the problems of salinity and drought. These plants are resistant to all disease and grow well with less water and in any climatic conditions. First dogridge is planted and then grape vine is grafted on to these rootstocks in April and October.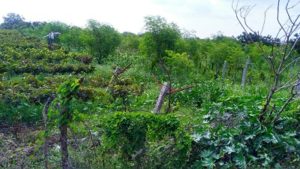 "I do grafting myself. When dogridge plants attain 6 inches height, we graft grape vines of same 6inches on it. 4 years back I bought dogridge plant for Rs. 3/plant while now it costs Rs. 15/plant. When there is less supply and more demand the price even goes upto Rs. 20/plant. This is grown only to graft the grape vine. Usually grape vine is chocolate coloured that is grafted on dogridge plant. Within 8-10days, it starts to sprout," explains M. Kotagi.
Speaking on natural pesticides, Mr. Kotagi says, "When sweetness or sugar starts developing in the fruit we spray a natural mix, 4 litres tender coconut water mixed in 200litres water. This natural liquid pesticide is sprayed 2-3 times approximately from December to January. Post monsoon, in October when the vine starts to spur, fungal attack is more. So we spray butter milk as fungicide. It is prepared keeping the ratio as 3 litre buttermilk mixed in 100 litre water. It is a good fungicide. We spray jeevaamruth and buttermilk alternatively in 15days interval. It is sprayed consistently till 15days before harvesting. Buttermilk also helps in increasing the size of the fruit."
When asked about prevention of grapes from birds' attack, Mr. Kotagi highlights, "We allow birds to eat the fruits! Whatever is left it is for us. If we drive birds then we would get more birds therefore we allow birds to eat and the attack reduces slowly."
Once grafted the grape vines yield fruits till 30-40 years. "Further it largely depends on the way we take care of the plants! We prune the vine after harvesting leaving the matured stem for next produce. From October the matured stem starts flowering and fruiting. Harvesting is done in February," he elaborates. One vine produces approximately 20-30 kg grapes per year. 90% of the produce is sold to a Hyderabad based trader and rest is sold in the local market.
"I am cultivating grapes without any chemicals therefore I fix the selling price of my farm grown grapes myself considering my expenses. I am not dependent on market price. Ensuring entire production expense is repaid and Rs. 50/kg profit is earned I fix the price," he highlight.
"I got connected with our trader through facebook. He is our first buyer and the relationship is good so we are continuing with him. He takes care of harvesting, packing and transportation. He promised to give a hike of Rs. 5/kg every year and he is fulfilling the same. First year he gave Rs. 61/kg, second year Rs. 65/kg while this year I am expecting Rs. 70/kg. In the local market I sell the grapes at Rs. 5 more than the price given to the trader," shares Mr. Kotagi. He is also doing value addition on a small scale. Grapes are processed into dry fruit 'raisins' (called Kishmish in Hindi). "This year 3.5tons raisin was produced and sold at Rs. 350/kg," he says.
In time to come Mr. Kotagi and his family plans to diversify in dairy farming and polyhouse cultivation with floriculture. As since efforts are put in for the production farmer need not to worry about sales! "We never look out for buyers instead buyers come to us on their own. We will continue with our farming venture and stick to our principle of working in alliance with nature. Thereby loss or selling never haunts us!" he signs off.
Contact Details:
Mr. Shivraj Hanamant Kotagi
At Kumathe Village, PO Korsegaon, Taluk Akkalkot, Solapur District, Maharashtra – 413219
Phone: 09595946161
Email: shivrajkotagi496@gmail.com