Innovates new techniques to boost vermicompost
Develops a new low-cost method to turn waste into manure, formulates neem based vermicompost manure, uses recently introduced 'Jai Gopal' earthworms instead of African origin Eisenia fetida. Besides, he is working on a variation in vermicompost manure that shall safeguard the farmland from the termites. All these inventions and positive changes in existing techniques are being done by a young lad, Mr. Prateek Bajaj. "Vermicompost manure is certainly a boon for the soil and environment. It is now being accepted by farmers across the country. Yet I wanted to make it even more impactful and accessible to the farmers so that they get as many benefits as possible from vermicompost," he adds.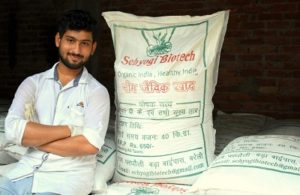 Mr. Prateek, started his entrepreneurial venture Sehyogi Biotech in 2015 after taking a formal training at Krishi Vigyan Kendra, IVRI Izatnagar. His farm is located at Pardholi village, Bareilly district, Uttar Pradesh. Sehyogi Biotech is one stop to meet all the requirements related to vermicompost such as training, guidance, vermiculture, vermicompost manure and research. "We sell our vermicompost manure under the brand name 'Ye-Lo Khaad'.
In the beginning to prepare vermicompost Mr. Prateek was using hybrid earthworm Eisenia Fetida but later when IVRI Izatnagar developed Indian earthworms 'Jai Gopal' he was quick to make the switch. "It is always better to use Indian breeds over the hybrid varieties. Jai Gopal (Perionyx ceylanesis) earthworms are developed by Indians, for Indian soil and respond well to the Indian climate. I find it more beneficial over the foreign origin earthworms as its reproduction rate is much higher, sustains well upto 43o Celsius, longer lifespan, voracious feeder and performs extremely well in summer as well as winter," he asserts.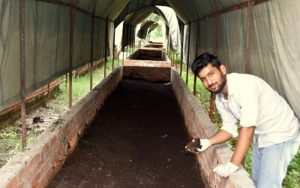 Jai Gopal earthworms are sold by Sehyogi Biotech at Rs. 180/kg. "We sell the worms at the price lesser than the Government price because we want more and more people to take up vermicompost. I want to create a chain of vermicompost producers and users with the ultimate objective to replenish the damages in environment and put a stop to the use of chemicals in farming. So that the health of our countrymen improves and farmers earn more," he states.
Every Indian farmer should prepare vermicompost manure on their respective fields strongly feels Mr. Prateek. Considering financial and space constraint of small and marginal farmers, he invented 'pot method' for making vermicompost. In this method he uses an earthen pot instead of a bed thus the capital investment is bare minimum that includes cost of worms and pot. Besides earthen pot is ideal for preparing the compost because the worms get complete darkness and the required moisture level is maintained without any hassles. "To prepare the compost we fill the pot with 10 kg mud press and add 300-400 gram earthworms. The mouth of the pot is covered. Once in a week diluted neem extract/water is sprinkled to keep it moist. After 45-60 days fine vermicompost manure is obtained that doesn't need any filtration," he elaborates. In this system any kind of bio-degradable waste can be used.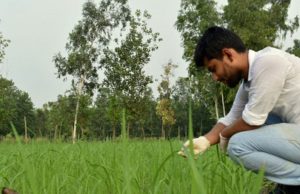 In order to make vermicompost manure a self-reliant farming input, "I thought of inducing neem in the compost. I wanted to utilize the medicinal properties of neem in vermicompost so that crops get the required nutrients for routine growth as well as protective cover from the pests and diseases. To do so in 90% cow dung, 5% wholesale market waste and 5% neem leaves and seeds are added to make vermicompost," he says. In one quintal mix of compost 3 kg earthworms are added that prepares the manure in 2 months. In one kg there are approximately 800-1000 worms.
In one month, at Sehyogi Biotech 100 quintal vermicompost manure is produced and that gets sold out completely. It is sold at Rs. 8/kg. "We have more demand than the supply. Therefore we are now working on increasing our production capacity to 150 quintal/month. We pack the manure in 40 kg bag and it is sold as produced yet the orders are left pending! We are selling it all locally. We produce vermicompost all round the year," he highlights and adds, "We have set up the model unit for all four methods of vermicompost to provide the practical outlook to the farmers. The four methods are permanent bed, artificial bed, flooring bed and pot method. We use permanent bed method for producing vermicompost for the commercial sales."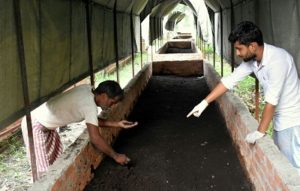 Vermicompost promises good supply of nutrients to the crops and also improves the resistance through neem but "I wanted to add some more features to it. Commonly we see termite is major threat to the crops. Therefore to resolve the issue of termite with vermicompost I have added a friendly and natural bacterium in the compost. This bacterium infused vermicompost manure shall safeguard the crop from termites. It has been tested and results attained are excellent. Soon it shall be launched commercially," he reveals.
Mr. Prateek doesn't confines himself for earning money by selling the vermicompost manure and Jai Gopal earthworms instead he wants more and more people from farming community to join the movement. Therefore he provides 2-days training on vermicomposting and stays connected with all the participants forever. "We are just a phone call away! We want to wipe out the use of chemicals in the farming and to do so we will keep improving the vermicompost process and expand producer network. Vermicompost has all the potential to bring the desired change!" he signs off.
Contact details:
Sehyogi Biotech
100 Greater Akash Colony, Near Hartman college, Bareilly – 243122, Uttar Pradesh.
Phone: +91 84398 07519
Email: sehyogibiotech@gmail.com