Kolkata based consultants for organic farm development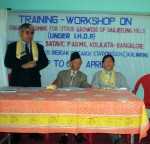 Satavic Farm was established in the year 1999, by Mr. Vikas Chadha, Chief Consultant. From 1999 till 2003 they were providing free of cost services to farmers, in 2003 they went commercial with proper and formal institutional training programs.
Motive and service :
Satavic Farms main aim is to provide safe, pure and nature friendly farms as most farmers are using chemical fertilizers which are harmful to land as well as the production in the long run. "I was working with environment for a very long time. While traveling in the interiors of our country 15 years ago, I have seen the kind of chemicals affecting the farmers, not just on the end product but even on them." says Mr. Chadha.  He further adds, "We provide training and consultancy in organic farming, we are a private organization. If somebody is interested in organic farming and if they do not know how to do it we will help such people."
Advantages of Organic farming :
Organic farming is nothing but farming without using chemicals. "Benefit of organic farming is tremendous. First big benefit is the health benefits for the grower themselves and the labors. Most of the farmers suffer a lot from using pesticides. Second is environmental benefits, the third benefit is our food which will be unadulterated poison free food." says Mr. Chadha
Future plans :
To help farmers they are planning to set up permanent demonstration farm. The project is under process and is located about 200kms from Kolkata.
Myth about organic farming :
"One big myth is using organic farming is lower than the chemical farming that is not true. The second thing is that the organic farming is not economical. The third thing is the common argument that we cannot supply enough nutrients only by using compost. That is true because in organic farming we don't feed the plants we feed the soil, if the soil is healthy it in turn nourishes the plant." says Mr. Chadha.
Our Correspondent
For more information contact – Satavic Farms, 4A, North Tower, 2/3 Judges Court Road, Kolkata, India – 700 027 Phone: 0 98300 53601,033 22401446 Email: vikas@satavic.org
Website: http://www.satavic.org/
Source : Agriculture & Industry Survey