Mr. Sasi Kumar, Senior Banking Manager, Corporation Bank, has for the 19 years he has been associated with the bank's agriculture finance activities.
He has redefined, or rather travelled to the depths or what his role demands. This passion, has benefited the farmers, his career and the bank as well.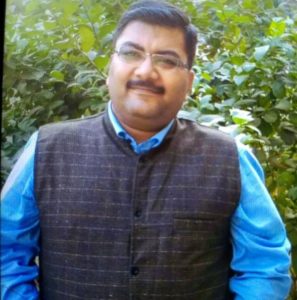 Let us start with you – what is your background – who are you, where are you located and what is your interest in agriculture?
I am a post graduate in Agriculture from the Extension department. The extension department is the department ensuring transfer of technology from the lab to the ground. That is what I have been into.
After my post-graduation, I joined Corporation Bank in 1999. We analyse farmers' needs and give them technical advice and collate different activities.
I have been working with farmers mostly on the field. We cater to their short term and long term needs. From development of their land, bore well digging, water pump installation, drip irrigation, dairy farming etc. we help in everything. We have been very successful in helping farmers. We have set up 5-6 cooperative societies with buy back facilities. We also get specialists to visit farms and check on animals.
Sometimes we support farmers financially as well. Around 600 farmers were benefited with animal feeds. We normally give it out in a 1+1 cycle to maintain the continuity of milk flow. It was a win-win situation. We could recover loans. This was in 2003-2004.
That was the peak time for paddy harvesters. I realised that when we catered to their needs with a sense of urgency, they reciprocate in the same manner to close loans. I have a clear understanding of ground level reality. We should understand the needs of the farmers and help them in a quick manner.
The issue is the farmers cannot communicate what they really want. We should be tactical to understand or extract information from them. I have gained tremendous amount of knowledge through various interactions. I bring with me 20 years of service. I am now training my fellow bankers in various fields of agriculture.
I am basically from a small village near Pondicherry and I did my schooling over there. I hail from an agricultural family. After my schooling, I did my UG from Karaikal and PG from Orissa University of Agriculture and technology. Then, I was selected by the ICIR for my fellowship programme.
I did my PG in Agricultural Extension and am gold medallist.
When did you join Corporation Bank?
I joined the Corporation Bank in 1999.I was a field officer till 2006. After that, I was heading the branch.
I have been at several districts in Tamil Nadu. My interest has always been into how anything we do benefits farmers. I had some objections when it came to my seniors in RBI. I had been there for some training. At that time, I had some ideas on how the declaration on rural credit happens.
I discussed my ideas with my seniors at RBI after my training session, and they decided to help me. We successfully planned some surveys and delivered it through public sector banks. We have been doing that and it revealed some shocking facts.
So what has been some of your observations about farmers?
My main observation is that farmers do not how to plan at all. The second thing is that their repayment is based on a gamble, like with monsoons etc. That is what they speak about when we call them for repayment. The issue is that they are not the ones fixing the price of their product – it is somebody else. That, in turn, depends on many market factors. Ultimately, the farmers bear the whole burden.
What I have come to understand is that farmers are not very keen on power subsidies, where subsidies are supplied. They actually want the right price for the right product – that's all. Once you give them that, they will take care of themselves.
For example, tomatoes at times is Rs.50/kg, sometimes lesser than that. But in a regional market you never get it less than Rs. 2 or 3. From 20p to Rs.2 per kg, where is the remaining money? The poor fellow doesn't even have a harvesting pattern, then how is he expected to pay up?
He has his family too to cater for. Once his families and his needs are met, I am sure he will focus on paying debts. I feel we have to understand their plight and support them in the right manner.
When I was a field officer, I have observed that farmers who got the proper support when they need it, turned highly successful. What actually happens is, when we keep pressurizing for money, they will borrow money from private agents which will be at a higher interest rate. These things have to be taken into account. There are no problems that get solved. I have written articles based on my interactions and research on farmers. These articles also takes into account a lot of data.
How has agriculture banking changed over the years?
I think now it is far better than what it was earlier.
Earlier the farmers were not comfortable going to a bank, asking for a loan etc. Now at least they have the basic knowledge of all these things. They have at least reached a stage where they know they can approach certain institutions for support.
Having said that, there is a lot of scope for improvement in this field. I can't say that only lip service is given to them – that is not true. But, we have a long way to go.
Think of farmers who do not know how to approach a bank. What I feel is that the procedures have to be made simpler. We say or feel it is very simple. For instance, getting a land kaatha, we say it takes hardly a valuation certificate. But to be frank, the expense involved for the farmer for all this is really leaching the person out.
When I discuss these things with farmers I have realized that for one kaatha, they have to spend Rs.250-300 and for a valuation certificate it will come up to about Rs.500. These amounts are not small amounts for a farmer. For him, it matters a lot.
These things, I feel, should be permanent records. What is wrong in digitalising these things? There is so much paper work that can be avoided. I don't think there is nothing we can do about all these things. There are many things we can do for farmers so that procedures can be cut short, made simple, economical and effortless for farmers. Once such changes come about, there will be a lot of improvement.
Also, what I feel is that farmers should be comfortable with banking procedures and finances rather than opting to go to a private money lender. I think that will be a great achievement in the banking sector.
When you compare the 90s until now, there has been a sea of change – undoubtedly! All I am saying is we have a much longer way to as well. I feel supporting agriculture should not be target oriented.
We get targets from the RBI for a certain amount of loans to be sanctioned at a minimum. I think it shouldn't be target oriented, but should scale above that.
Once you get into the trap of achieving targets, I think you are pulling out the human and personal touch. People don't get involved from within, and human experience matters.
Agriculture is the primary sector of the country. When it is the primary sector, I feel we should focus much more on it than we do now. And this deep level understanding should become a culture among bankers. That is something that can take the farmers to another level.
How are the younger generation field officers in banks these days? Do you see the same passion?
The thing is back then and now, we are moulded into the role with a mind-set pattern of how we should do things. This is hammered into us and that needs change.
The thought that a banker's role is only about sanctioning of the loan is something which needs change. I don't say that everybody is like that. But, there is a general attitude that the role of the banker is just to sanction the loan. That is just a part of the role.
The field officer's involvement with the community matters a lot. You should be bound between the farming community and the bank. Sometimes, when the field officer and the bank manager goes, the field officer tends to get more attention on the field than the bank manager. It is not that they don't respect bankers, they just feel more attached to field officers.
I feel somewhere down the line, this personal touch has taken a downward trend.
Unless you feel involved there is no question of commitment. During my field officer times, while leaving the field, the farmers would inquire if I had my meal or not. We used to have lunch with farmers, on their fields.
The feeling was mutual. We should work towards them feeling that the bank is theirs and we are their people. That is my kind of banking.
See, field officers should do a technical viability analysis because you have to market in your area. You should have knowledge on the kind of work that goes into it. The farmer, you must remember, will be acting as per somebody else's advice who perhaps is not very bothered about the farmer himself.
The field officer should be able to guide him to continue/do away with whatever he is practicing till date. They should be able to get them off a payment trap before the farmer sets foot in it completely. Field officers should be able to advise what suits them and what doesn't.
Now, for instance, there is organic farming all around. That is another area which should be advised from a sustainability point of view.
I feel it is our duty to advise them on where we were, where we are now and where we can get to, in terms of the agricultural sector. We must tell them how they can make things profitable. I admit that I do not have much practical experience. That is why I am planning to work on it practically so that I can advise better. I have read a lot but nothing can match a practical approach.
Field officers, according to me, should be in touch with the farmers. It is important to communicate with them, understand their needs and assist them. I feel that being a banker and a field officer, one should leverage the information that they have and put it to good use. Yes, I did do it out of passion too. But, in depth I think that is what the role demands.
I can see the passion, Mr Sasi Kumar.
When we support them, they also get motivated to close out the loans. It becomes a win-win situation. To sanction money at an authoritative level is easy. But it is not transfer of emotions, of strength. It doesn't even pass on goodwill.
When you go beyond what is demanded on paper, it nudges people to do better. Each of us has a vocation to fulfil, many of us may not meet opportunities to fulfil them and there are people who shy away from taking it. I used mine and will continue to do so.
Thank you for this time and conversation, Mr Sasi Kumar. It was absolutely delightful talking to you. All the best!
Thank you, Kartik.
Mr.Sasi Kumar
Corporation Bank
Flat No.307, B Block,
Exotica Apartments
Mangalore 575004 India
KARNATAKA
Tel : 0824-4267742 / 9779230742
sasicorp15@gmail.com