Engaged in breeding and selling four goat breeds
Goat farming brings wealth for two brothers Mr. Yahiya and Mr. Irfan in couple of years. It is so because they work in an organized way be it designing the shed, growing fodder or routine operations. South African Boer, Sirohi (Rajasthan), Jamunapari (Maharashtra) and Thalacherry (Kerala) are four breeds reared at the farm that spreads in 7 acre. Amongst all these breeds, South African goat (South African Boer) is preferred most for meat as it grows fast. It can grow up to 70kgs in 1year. Farm is located at Dodderigrama village, Chitradurga district, Karnataka. It was established in the year 2010.
The brothers started goat farming in planned manner. First on market research and survey they found goat farming is prospective business than sheep and dairy, "Cow rearing is labour intensive and sheep are prone to diseases that lead to higher mortality. On the contrary goats are easy to manage, eat inedible grass too and give 3 kids in 2 years. We found it more profitable," clarifies Mr. Yahiya. Convinced to take up goat farming as profession they took training at Goat Research Centre in Phaltan, Maharashtra. The training focused on rearing, preventing and curing diseases and feed management. After completing the training, "We started the farm with 25 female goats and 1 male goat. Within 6months we got 50kids. The herd size became 76 goats. In this way the process continued and today the total strength of goats in the farm is 200!" he shares.
To keep the farm running smoothly brothers ensured more than one ways of earning money. Fodder is grown in-house, goat droppings are sold as manure and herd is vaccinated free of cost under the Karnataka Government goat scheme. Protein rich grass is cultivated for the goats all the year round. "Buying fodder is always expensive than growing it in the farm. Besides we have planned the fodder cultivation in systematic way in different segments. We ensure the supply of grass is always harvested fresh and keeps growing in other areas. As we grow the fodder within the farm the quality is superior thereby the goats are healthy," states Mr. Yahiya. Dropping of 200 goats is sold to coffee estate owners at the price of Rs. 6, 000/ton. "We get 12-13tons/ 3-4 months. This income takes care of labour and maintenance expenses in the farm."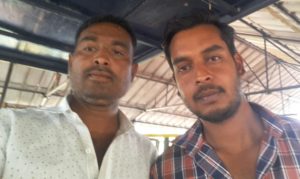 Breeding is more gainful than selling it for meat. Healthy and fertile goats are retained in the farm for breeding while handicapped, weak, infertile or aged goats are sold for meat purpose. "The goat kids in our farm are fed on mother's milk so are healthy to breed further. We sell the kids to other farmers for rearing and buy back after it attains 20 kg weight. Usually in a span of 6months the goat gains 20 kg weight," he informs.
In order to assure the wellbeing of goats proper records are maintained at the farm. It also helps in avoiding in-breeding and disease attack. "Every goat is tagged in our farm and the pedigree is documented properly," highlights Mr. Irfan. Goats are ready to mate after 6 months. At the farm natural mating is preferred over artificial insemination. "25 -30 female goats and one male goat are left together in the shed. As the goat comes to heat, it will mate and conceive," he says.
Speaking about the fodder, Mr. Yahiya says, "We grow different types of grasses namely Lucerne (high protein), COFS 29, Gini Grass, CO4, Subabool and Erythrinaindica grass etc. Along with these grasses we also feed husk of maize, sorghum, groundnut cake, hay (should be compulsorily given to goats) 200g/day. Green feed is given twice at 8 am and 1 pm. Later at 3 pm groundnut cake mixed with water is fed to the goats and dry fodder at 5 pm. Clean drinking water should also be provided to the goats. We provide water in plastic basin 24hours."
Cleanliness plays a vital role in goat farming. "We have constructed shed on the first floor with the wooden flooring. The floor is such that it is made up of reapers leaving a gap of 1inch, such that excreta and urine falls on the ground. It avoids diseases, pests, bad odour etc. Animals feel fresh as the surrounding is clean. Also the water basins are washed twice every day," he adds. Raised platform is ideal in a goat shed because the new born kid is safe from all the infections. If it is on the ground then it eats soil and could end up dying. "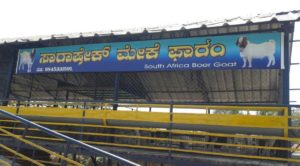 Entire herd is vaccinated as a preventive measure. "We vaccinate the goats for HS (cold, cough) in rainy season and ET (disease spreading through grass) twice in a year. PPR vaccine is given for disease Peste Des Petits Ruminants (PPR – viral infection). In December 1st week, we give vaccination for blue tongue (viral infection, contagious). We also have to deworm once in 3months. All vaccines are given free from Karnataka Government, We pay the vet for his service charges," shares Mr. Irfan. In case of mortality a detailed post mortem is done to find the cause of death. "If the death is due to some contagious disease then the herd is treated accordingly."
Goats are sold to direct walk-in buyers for breeding and selling for meat. "Goats are sold for Rs. 200/kg most time of the year but during festival time it is sold at Rs. 250/kg. Goat above 6 months weighing 20kg plus can be sold for meat. In case for breeding the selling price of female goat is Rs. 10,000/animal thus we earn Rs. 40lakhs/year," reveals Mr. Yahiya.
Recently brothers have started paid training programs for Rs. 500/day. The session provides complete know-how on rearing goats and complimentary sample of fodder seeds. Approximately 50 people come for training in one month at the farm.
Sharing the future plans brothers-duo concludes, "We want to increase the herd size to 1000 goats in next 2-3months to meet the growing demand. Goat farming is surely money-spinning business provided farmer makes his farm self-sufficient. One who grows fodder for his animals will succeed because he has all the control in his hand. Stay independent as far as possible and reap the rewards!"
Contact Details:
Sarasheikh Goat Farm
2nd Cross, SR Road, Gandhinagar, ChellakereTaluk, Chitradurga District –577 522, Karnataka
Phone: 09845331591