Improves farm revenues with grapes cultivation
"Due to climate change our region faces hot and dry climatic conditions. It is a challenge for many crops therefore I selected grapes because high temperature is suitable for grape cultivation. In my village few farmers were growing grapes so I prepared myself well taking assistance from them. All the efforts invested were worth as my farm revenues doubled with grapes," shares Mr. Santosh Sambhaji Kalane, progressive farmer from Belwandi village, Ahmednagar district, Maharashtra.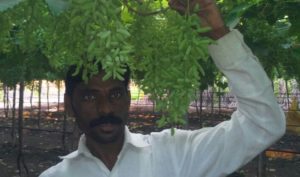 Mr. Kalane is doing farming on 12 acre farmland, 8 acre self-owned while 4 acre is taken on lease.
The 8 acre farm has sugarcane, seasonal vegetables and grapes cultivation. "Post harvesting sugarcane I shall be growing wheat. Change in the crops not only helps the soil but also enables me to expand my knowledge on farming," he adds. 4 acre land on lease has moringa and grape cultivation. "Being a son of a farmer I could very well relate with the soil and understand about the plant growth therefore soon after completing schooling I started farming in the year 2000. I began my life as farmer with sugarcane and moringa cultivation. However, inspite of having good demand of moringa and it being a sturdy crop I had to discontinue it because the pesticide sprayed on sugarcane affected moringa badly. Therefore, I took another farmland for growing moringa."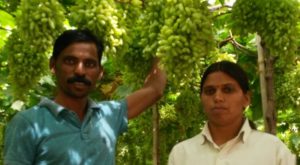 Sonaka (white, seedless) variety of grape is grown in the farm. Mr. Kalane cultivates different crops in the farm because monocropping has been proved to be risky! "I am now focused on grape cultivation as it is a new crop while rest of the crops' cycle and routine operations are standardized. On an experiment basis I grew grapes in 1.5 acre in June 2016. The plants grew well and now I am harvesting the crop. The first production is satisfactory and encouraging. The first batch is already sold and it was profitable," he states. The berries are firm, evenly spaced along the stalk and well attached to the stalk.
Dogridge rootstocks planted in the farm were sourced from nursery in Sholapur at Rs. 6/piece. Along with support of hard wood cuttings the rootstocks are raised on flat beds. "Each wood stick cost Rs. 10/piece. After ploughing the empty land thoroughly we dug the pits of 90 cm x 90 cm x 90 cm dimension keeping row-row distance as eight feet and plant-plant five feet. The pits were filled with desi cow dung and well decomposed bagasse (sugarcane fiber waste left behind after extracting juice). After transplanting the rootstocks it is covered with the soil. We then irrigate the entire plantation with drip system," he elucidates the process. Rectangular system of planting is adopted for growing grape.
As the plants grow the trellis (pandal) is prepared enabling the vines to grow consistently. "I have used bamboo for creating the pandal as it is cost effective and hard," he says. Once the rootstocks are 1 foot high, the shoots are tied with jute twine on the structure. The plants were fed with biofertilizers namely azatobacter, phosphate solubilizing bacteria(PSB) neem cake and vermiwash. Quantity of trichoderma,
azatobacter and PSB required for each plant was 20-25 gram/plant. Neem cake used was 1.25 t/ha.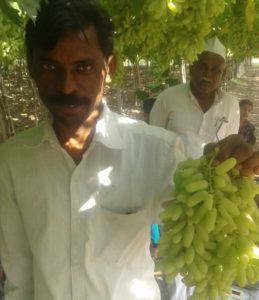 Unseasonal rain is the biggest threat to the grapes as it causes diseases and the plants become susceptible to pest attack. "In grapes we have to use little pesticides as the plant is extremely delicate. As I use only bio inputs in the growing stage of the plant it has the resistant and sturdy to withstand the pesticides and doesn't absorb much. Besides, pesticide is sprayed as preventive measure so quantity used is minimum and less harmful. Yet we ensure to stop all chemical pesticide spray 3-4 months prior to harvesting. These it makes the fruit residue free," he reveals. Weeding is done manually.
Pruning is important for health of the grape vines. "We pruned the canes in September 2017, almost a year later for good flowering and fruiting," he avers. With these numerous efforts the fruiting was very good. Per plant the yield obtained in 13-14 kg. Once planted the vineyard yields upto 15 years. The production of grapes is expected to increase more than 20 kg/plant after first year harvest then after the plants are required to be changed as fruiting stops after 15 years. If the soil and plants are nurtured well then plants continues to yield till 15 years.
As it is first year grape sale for Mr. Kalane he sold the produce to the traders. "We receive many traders from metros. As the produce of my farm was good selling was difficult in terms of selecting the trader because most of them quoted similar prices. We harvested and packed the grapes ourselves. We sold the boxes to the best price offered by Mumbai based trader," he shares.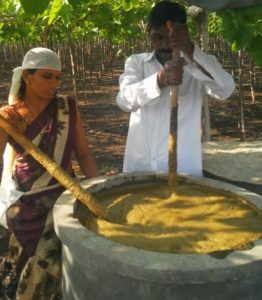 Sharing future plans he concludes, "We are convinced grapes are good for our soil with the results obtained thereby we shall be developing another vineyard in 2 acre from this June on the 4 acre farmland taken on lease. The risk taken for grape cultivation paid off well. In addition this year the attention would be on moringa plants too. I will make sure everything goes well this time and confident to earn better and higher!"
Contact Details:
Mr. Santosh Sambhaji Kalane
AT Post Belwandi (BK), Shrigonga Tehsil, Ahmednagar District – 413702, Maharashtra
Mobile – 09960611855