Mr. Sagar Waghmare from Modern Ponics is an expert in hydroponics. He is located in Belgaum in Karnataka.
What is your background ? How did you develop this interest in hydroponics?
Actually I am a Geology graduate. I am also pursuing my Ph D in Geology at the Visvesvaraya Technological University, at the moment and am a native of Belgaum.
I have always had an inclination towards farming; my grandparents have been agriculturists. So, I wanted to take this trend forward. India, is after all an agriculture-based country. So, I was clear that I wanted to do something in agriculture. Also, today water usage is an issue and generally people talk about water more than anything. So, combining my agricultural interest with the water crunch we have, I started thinking on the lines of agriculture with less use of water – agriculture in arid and waste lands.
I got introduced to Hydroponics about 4-5 years ago. Then, I started a small experimental hydroponic farm at home. Later on, almost 2 years ago, we started with community-based projects.
My firm, Modern Ponics, focuses on growing fruits and vegetables and extends hydroponics consultancy. When I say consultancy, we are not just about giving advice, we build the entire system for them. Today, we are the lowest priced centre when it comes to hydroponics systems and provide services across the country – Mumbai, Chennai, Bangalore, Hyderabad, etc.
We have our own plant as well. We have our farm where we grow almost all kinds of vegetables including exotic vegetables and strawberries – strawberries in a non-hilly place like Belgaum! It is possible only because of hydroponics. This also makes us supply strawberries at during any season.
I am not growing it for demonstration purposes. I market and sell the produce as well. I sell some of my produce at the local market, some goes to supermarkets, some of it goes to hotels, etc.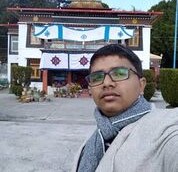 So tell us about your main business in hydroponics?
If you talk about our main business line, I would say we started by building our own nutrients, we build systems for others who are interested and we sell vegetables in the market too. To put it in a nutshell, we have an end-to-end solution in terms of hydroponics.
Modern Ponics has been in existence since the last 2-2.5 years, since 16 August 2016.
I am also working as an Asst. Professor at an Engineering College in Belgaum. I have got two friends who work at the farm as well. Modern Ponics is a team of 7-8 members who build these systems under our guidance. When we get the time, we go to the site and tell them what to do. I have built a team of people aged 20-25 years.
I have been associated with a company for 4 years before I started this venture. Over there also, I worked to build hydroponic systems. From my experience there I realized that building it in square foot is a waste of money. It is better to build it in round pipes.
So we have deals with a company supplying pipes and with them we build a separate grid. It is best not to use usual PVC pipes for this. Hence, we get customized PVC pipes, which is best suited for hydroponics. That is one modification we bought about and this is why we are able to sell it at a lower cost than the ones available in the market.
If someone approaches you for guidance, what is the process?
I will give you an example. If you have a 20ftX6ft space, you can grow almost 600 plants. To create this unit at 5ft height, we charge around Rs. 40,000/- – Rs. 50,000/-. This amount is inclusive of GST. The transportation cost will have to be borne by the client.
In the initial days, people used to get themselves trained, appoint a consultant etc. We have not done anything like that. When we started, there was no training surplus and the ones that existed were expensive. So, we started our office, started from scratch and learned it using the trial and error method.
So, when you say an investment of Rs. 40,000 – Rs. 50,000, did you mean you provide the unit with the plant seeds, etc.?
For the amount you pay us, we will give you the unit, we install it for you and you get the vessels to place the seeds. You will have to purchase the seeds, plantings etc.
First thing is different people have different purposes and different plants in mind. So, the plants you have in mind, may or may not be at my disposal. So, the plants part is left to the purchaser.
Is this cost a one-time cost?
Yes it is a one-time cost.
Who are your base customers ?
We have smaller 4ft X 3ft units as well, which people can use to grow their own vegetables. Depending on the purpose, we suggest and build the unit. Basically there is an interest in hydroponics by people in cities wanting to grow their own vegetables. The bigger ones are for the commercial purposes.
Do you also provide support on how to grow these plants etc.?
Yes, we do. We provide paid trainings as well. These are one or two day trainings. Our next trainings are due in February.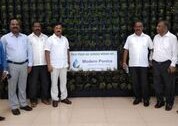 Are your customers all from the Belgaum area?
No, not at all. We have clients from Mumbai, Bangalore, Hyderabad, etc.
Mostly city-based people, I suppose.
Yes.
Mr. Sagar, per your experience, research and study, can hydroponics be used as an alternative method to farming?
Yes, it can. People from villages are also gradually approaching us. We also do awareness programmes and promotional activities in association with NGOs. As a result, we do get enquiries from farmers. We are currently building a farm in a village called Beldandi, near Belgaum. We have enquiries from another farmer hailing from another village. We will be starting work there in the next two weeks.
From a farmer's point of view, what is the main advantage he will enjoy with this type of farming? Does it have valuable commercial potential for a farmer?
See, I am also a hydroponic farmer. The biggest advantage is that you require very less water and minimum labor.
We have a 2 acre farm and 3 helpers to manage that whole hydroponics farm. So, when I say minimum, it is bare minimum labor that you require in this methodology. So, you save on water and labor charges.
How big is your farm?
I have 3 40X40ft farms. A 2-acre farm is getting ready. We have sown the seeds and the plantation is going on.
Are you employing hydroponics for the entire two acres of land?
Yes, I have stopped thinking of any other kind of farming. Farming for me means hydroponics now.
Mr. Sagar, is there any difference in the produce we get using this methodology in comparison with the ones reaped from soil?
The main disadvantage of the soil-grown plants, today, are the use of pesticides. In this technology, use of pesticides are nil. The max we use is, perhaps, cow's urine which is poured around the farm only to avoid pests – very far from the plants. Non-usage of pesticides enhances the taste. In this methodology plants are grown with nutrients. The nutrients are supplied in a particular manner in the optimum volume. So, the nutrient value is also enhanced.
That is a great blessing for the end consumer.
Yes. The end product is high in quality.
Now, how do you tackle the market? The market doesn't care how you have cultivated the plants right? Are you able to make a profit?
Again, we have tried everything like selling our produce to vegetable vendors and selling it via other sources. These didn't fetch us good rates.
So, we built our own network for selling our produce. We supplied it directly to the market. We started supplying to the end users. We do face minor issues but nothing major off late. We are also building a community of hydroponics farmers. We are starting a payback system. We take their produce, we manage the sales and pay them.
In short, identifying your market is crucial.
In that scenario, what is in it for you?
See, when it comes to hotels, they like a single point of sale rather than dealing with multiple vendors. In this arrangement I won't make a huge amount of money but I can lead the supply and widen my reach to all hotels.
I am open to getting into contract farming deals as well. In such deals, I will provide everything, they have to grow the plants and we will take up the produce. This ensures keeping up the quality. See, there are many vendors to supply seedlings and nutrients. But, in this case, I can supply all of it to ensure consistency in quality.
Got it! So, what are your plans going forward?
I am not a resolution person. I build relations and keep up my work. I contribute for the betterment of the farming community. I will continue my research on how best I can reduce the prices of the systems I build so that even normal farmers can afford it.
The people you speak to, are they also moving at your speed of thought? What are the hurdles you are facing, if any at all?
As part of any business, there are many good people and there are fake people as well that you come in contact with. The fake ones are also doing well, sadly. That is one thing.
Another hurdle is convincing people. It took almost a year to convince my own family. Then, you can imagine, how difficult it can be to get through with others. Changing mindsets is a herculean task. People are not willing to experiment. In this case, people are skeptical about the quality as well because plants are not grown in soil – it is quite alien in concept.
CONTACT :
Mr.Sagar Waghmare
Modern Ponics, # 170, Budhwar peth, Opp. Abhishek Pan shop, Millenium garden road,- Belagavi,590010
modernponics@gmail.com
7899917078
https://www.facebook.com/modernponics