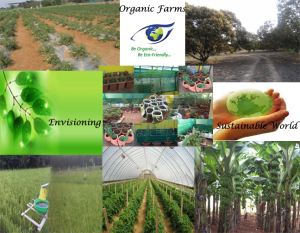 We offer Organic Farming Consultancy to the clients all over India. Based in Puducherry, We are having organic expert team of well trained Agricultural and Biotechnology professionals to support the farmers end to end to build confidence on the Organic Farming systems. We offers the Organic Farming Consultancy Services, is committed to provide end-to-end consultancy and support services conversion of non-organic chemical usage farming to organic farming. We are committed to analyze the soil fertility level in a state-of-the-art modern laboratory and provide scientific approach of improving productivity of crop. Our Organic Farming Consultancy Service will ensure that the soil fertility improves without losing any productivity yield during the transition period.
Organic Farming Consultancy Services Include
•    Chemical to organic farming conversion consultancy.
•    Crop based growth promotion consultancy
•    Soil and water test and analysis
•    Lawn and landscape building and support
•    Home garden design
•    Organic pest management service in agri sector and home garden
Head Office:
SAFS Organic Enterprises,
No. 169, Vazhudavur Main Road,
Kaundanpalayam,
Puducherry- 605 009.
Phone: 0413 – 2271915
0413 – 2271915.
Branch Office:
SAFS Organic Enterprises,
No, 1, Gandhi Street, Vanpakkam Road,
Nellikuppam-607 105.
Mobile: 04142 – 271915
04142 – 271915.
Email: safs.orgmm@gmail.com
Website: www.safsorganic.com