Develops new variety of Arabica coffee exclusively to be grown as intercrop in rubber plantations
"Ours 'Roys Selection' coffee can be grown under 80% shade. It yields more in the shaded area hence is apt to be grown as intercrop with rubber and areca nut. It has tap root system so during summer it survives easily and does not compete with rubber roots. The bean size is big. 1kg beans can be obtained from a 4-5 years old plant. It is a yearly crop, free from pests and resistant to leaf rust disease," affirms Mr. Roy Antony. This coffee variety can be harvested after 18 months but it is ideal to take the first harvest in 3 years. "After 18 months, it starts flowering but we remove the first flowers to make space for the secondary branches to sprout. Next season we allow the flowers for pollination. Finally by third year, coffee is harvested."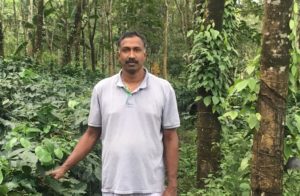 Mr. Roy's 24 acre farm is located at Pulpally village, Wayanad, Kerala. "Our ancestors were farmers. I have inherited the property. Our ancestors were not growing coffee but were engaged in cultivating rubber, areca nut, pepper and coconut. In rubber plantation, usually no other crops are grown because rubber gives shade but through keen observation we could spot one variant of Arabica coffee that grew well under the shade. It was first spotted in our coffee plantation in Tamil Nadu 12 years ago. It was giving good yield even in shade hence we decided to multiply and cultivate. Using the Mother plants of those coffee plants we developed saplings and grew as intercrop in 1.5 acre rubber plantation on experiment basis at our Kerala farm. Through research and close monitoring, we successfully developed this coffee variety that could be intercropped with rubber plantation as well as with areca nut. As suggested by National Innovation Foundation, our discovered shade loving coffee variety is named as 'Roys Selection'. It is now quite popular amongst the farmers in Kerala," he shares his journey of finding a new coffee variety. Roy Selection coffee plants to be grown as intercrop varies in different plantation. "In rubber plantation, we transplant 1800 saplings but in areca nut plantation, 2000 sapling can be accommodated."
Crops grown in the farm are rubber, coffee, areca nut, coconut, pepper, ginger, turmeric, tapioca, yam etc. "Every year we change the crops. Right now we have cultivated ginger and tapioca. Next year it would be some other crop," he adds.
Speaking about the unique feature of the farm, Mr. Roy highlights, "We are into 100% organic farming. Many people feel managing big farms without chemicals is difficult and it is loss but it is untrue! Ours is a certified organic and profit making farm." Different organic manures are used in the farm many times in a year in little amount. "We use cow dung, layer poultry manure, bone meal for calcium regularly. Apart from this, as per the situation and climate we change the manure for example farm prepared bordeaux is used in rainy season."
According to Mr. Roy, intercropping is the key to increase their farm yield. "We grow intercrops with every main crop. Coffee and pepper are intercropped with rubber and coconut trees, cocoa with areca nut along with pepper. We must depend on crops and not a single crop. To select the right intercrops the nature and requirement of crops have to be closely checked for example Arabica coffee is grown with rubber and areca nut while Robusta coffee with coconut," he explains.
With increase in demand for saplings of Roy Selection the nursery was established in 2014. "We started nursery to help farmers. The saplings are prepared from best quality seeds. We choose the seeds of high-yielding plants. We can develop saplings from the seeds of 8 year old plant. According to the availability of seeds saplings are prepared in trays. Usually we develop around 3-4 lakh saplings/year. Small saplings are more prone to fungus attacks until it grows up. This year due to heavy rains we have lost many saplings," he informs. Selling price is Rs. 11-12/sapling. "We directly supply saplings to farmers in Goa, Kerala and Tamil Nadu. The saplings are delivered through our special designed vehicle."
Annually more than 20 ton coffee is produced at the farm. Most of the farm produce is sold through organic farmer's organization namely Wayanad Social Service Society (WSSS). "WSSS give us better price for our organic produce than the market price. They buy only organic coffee, coconut, pepper, cardamom etc. Price of all products is fixed by them," Mr. Roy states.
Presently Mr. Roy is not processing coffee beans but he plans to start the parchment soon. "Many people think agriculture is not profitable. I want prove it from my life as a farmer that farming is profitable if done appropriately," he signs off.
Contact Details:
Mr. Roy Antony
Kavalakkattu House, Sasimala PO, Pulpally, Wayanad – 673 579, Kerala
Phone: ✆ 09447907464