Non-farmers can try their hands in organic farming with unique model to rent a land and grow the food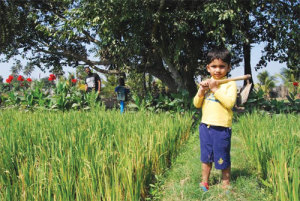 Rent-a-cent is a package offered by Weekend Farmers – an innovative forum for people willing to try farming while being involved in their respective fields. Weekend Farmers enable employees from IT, Telecom, and various other industries to connect with farming during weekends.
The forum was established in the year 2011. Mr. Venkatesh, a professor of Fine Arts with Annamalai University and Mr. Prabhu, an architect by profession are the founding members. The forum is currently cultivating crops organically in over 60 acres in various parts of Tamil Nadu.
Rent-a-Cent is a starter pack for people keen on farming. In this model the members get a 1500 Sq ft piece of land, seeds that they want, manures, pesticides and labor help for 1 year. "Our land bank for this project is in very close proximity to Chennai, so the members get to experience a complete crop cycle throughout the year," Mr. Venkatesh adds. People get to eat what they cultivate and harvest.
The forum started with 1 acre of land and has now expanded to over 60 acres over the years. There are 10 active members in the weekend farmers' core group, and over 50 people have experienced farming through Rent-a-Cent program. The forum estimates that members can harvest veggies worth Rs. 15000 a year, if sincere efforts are put in. Hands-on experience in farming is an added advantage.
"Love for organic farming is the only prerequisite," says Mr. Venkatesh while discussing the prerequisites for Rent-a-Cent program.
A nominal fee of Rs.15000 per year is to be paid and the member is expected to dedicate at least one weekend every month for the activities related to the farm. People are given 1500 sq.ft of land, seeds, manures, bio pesticide and maintenance of the patch for the cost. Apart from training from experts, participants who wish to take farming to a bigger level are taken into the Weekend Farmers' core group. Mr. Venkatesh lists the following benefits of being associated with the program:
• Farming Basics can be learnt
• The member is free to take all that he cultivates within his 1500 sq. ft patch
• Membership enables family's participation too, thus making weekend time with family enjoyable
• Family participation helps introduction of farming to children
The program is exclusively involved with organic farming. Panchakavya, Agni Astra, Jeevamruth and other bio-organic manures are used by the members. All products produced by the members are also marketed with the forum's assistance. It also plans to open up its own Weekend Farmers retail outlets in Chennai and Coimbatore soon.
Water scarcity is a major challenge within the state. To face the issue, the forum dug small rain water harvesting pits. Labor was another challenge, which they overcame by active participation from the members. Working on a tight marketing budget, the forum uses sites such as Facebook and agricultureinformation.com to create awareness of its model.
Rent-a-cent has been receiving very good response from people. Most people having realized the value of going organic opted for the program. With expert help, many members have successfully grown their own veggies.
"A community that cultivates at least 100 acres in every district and markets it directly to the consumers across the country is the dream," says Mr. Venkatesh about the future plans of Rent-A-Cent. The forum hopes to cultivate at least 1000 acres of farm organically with a minimum of 400 active members by 2020.
Mr. Venkatesh is a commerce graduate with Masters in Business Administration. He works for a broadcasting company as a sales manager handling the business of Tamil Nadu. He holds over 13 years of Sales & Marketing experience.
Our Correspondent
Contact details: Rent-a-Cent, 34, First Main Road, VGP Selva Nagar, Velachery, Chennai, Mob: 9790099660 Email: s.seshagiri@gmail.com
Website: http://rent-a-cent.com/
Source : Agriculture & Industry Survey