Provides education and training in various agricultural fields such as organic farming, dairy technology, water filtration and rural education.  Located in Padu Prakasham District AP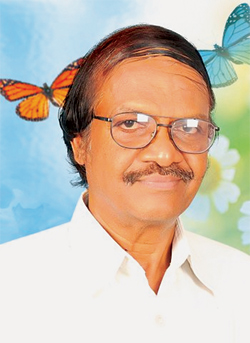 Krishna Ramakoti, Saraswathi, Ramakoti, Padmavathi and     Ramakoti     Venkataramana founded Ramakoti Nivasam in 2007. Ramakoti Nivasam has since strived to provide education and training in various agricultural fields such as organic farming, dairy technology, water filtration and rural education.  Located in the Padu Prakasham District AP, the company's main objective is to aid agri-based poor rural folk and promote better farming in India.
Leading the company is their Chief Organizing Officer, Mr. Ramakoti Venkataramana, an electronics and communication engineering major from the Coimbatore Institute of Technology. With 30 years of experience as a scientist for the Indian Institute of Chemical Technology, Mr. Ramakoti has had the privilege of visiting countries such as the UK, USA, Germany and Switzerland. He has since moved to Santanutalapadu in order to make himself available to village people.
Ramakoti's Mission :
he motto of Ramakoti  Nivasam is indeed a bold one: "To stop urbanization and commercialization of agriculture lands and to promote better farming." The motto was born out of the realization that many farmers in the rural community are being forced to leave their villages in order to pursue better financial opportunities. Mr. Ramakoti was realistic but hopeful in his explanation of the company's motto.
"Yes, the goals and objectives or Ramakoti are very tall, wide and heavy to achieve. We want to stop agri-based families moving from their villages [because of] financial and economical problems. We assure that we will achieve our goals. Hence, we want to bring awareness to the agri-based rural population that they can live in their own villages by adopting various new technologies to their traditional farming. And if they can add multiple channels of earning along with their traditional farming, they can improve their earning capacity per capita and hence rural areas can be urbanized and vice versa."
Programs Provided and Benefits :
Ramakoti Nivasam believes that the key to turning the situation of the rural communities around is to provide them with education and training. Mr. Ramakoti admitted that there have been little activities and programs executed to date. However, they are working hard to streamline programs for individual farmers in cultivating organic products such as vegetables, horticulture, meat produce and dairy farming. He said, "We have started one demo lab or demo yard in the outskirts of Hyberabad and we are planning one at Prakasam district of Andhra Pradesh, where we want to show how a poor farmer can achieve relatively better living."
Mr. Ramakoti believes that many farmers fail to utilize resources that have been available to them for years due to lack of education. He said that should farmers join their training programs, farmers will "gain confidence about their living conditions as they would understand that they should educate their children at any cost. They will learn how to utilize the resources available to them for decades."
He also believes that by "adding farming activities related to mini projects or jobs like mushroom cultivation, dairy, vegetable growing, and fish ponds depending on the availability of [land] and water resources," he can stop farmers from having a such a bleak outlook on life.
Efforts in Dairy Farming :
The company pays special attention to dairy farming in particular because of the spectacular growth prospects in the country. According to Mr. Ramakoti the prospects are "very good and there is no saturation, at least for one more decade."
Dairy farming, however, is no walk in the park. Farmers in the dairy industry need to acquire and sharpen a wide skill set to be successful. Mr. Ramakoti named a few skills and strengths saying that dairy farmers need to be "[involved] with the animals, [involved] with laborers, keep in touch will fellow dairy persons and establish good acquaintances with veterinary doctors in other areas too."
Mr. Ramakoti also advised that dairy farmers should be proactive. They can help sustain the health of the animals by practicing cleanliness via daily maintenance practices. "A personal touch is very much needed for success," Mr. Ramakoti said.
Unfortunately, the company has not yet framed a syllabus for dairy farming, however various organized setups have already been establish in several cities and are currently in use. Mr. Ramakoti also shared that dairy farmers to concentrate on bettering their facilities rather than increasing their cows.
"They should concentrate on self sustainable add-ons in their dairy farm instead of increasing the number of livestock, thus avoiding the market risk along with others. They should invest on improving their infrastructure rather than numerically increasing the number of cows."
Success in Water Filtration : When talking about the success of the company, Mr. Ramakoti was very transparent and said, "since inception the goals achieved are very minimal because we have yet to do our homework for funds."
However, the company has enjoyed some success in the establishment of water filtration units in remote villages.  "So far, we were successful in establishing one RO filter water plant in a village in Nalgonda district two years back from where 20 liters of purified water is supplied for only Rs. 2. The second one we established was last year in Chadrapadu Village of the Prakasam District and is supplying 20 liters of filtered water at Rs. 2," Mr. Ramakoti shared.
Future Plans :
One of the main concerns for the company's future is an increase in funds. In order to achieve more of their goals, a steady flow of money needs to be secured. Mr. Ramakoti, however, remains confident for the company's future. "We are very sure that funds will flow after seeing our noble concepts and when it flows we are ready to deliver our unique goals to the rural society. Jai jawan. Jai kisaan. Jai vigyan." Farmers that wish to contact Ramakoti Nivasam are welcome to do so via mail and telephone. Information on their consultancy fees will be posted on their website as soon as they are framed.
Our Correspondent
For more information, contact :
Mr. Ramakoti Venkataramana, Chief Organizing OfficerRamakotis, Ramakoti Nivasam, College Road SN Padu Prakasham Dist AP Phone: 9849749740 Email: ramakotis2k9@gmail.com
Web : www.ramakotis.com
Source : Agriculture & Industry Survey