Constructs permanent trellis structure to increase vegetable production
All twinning vegetables have good demand in the market and proffers higher profit margins to the farmers. However growing these twinning/creeper vegetables namely bitter gourd, pointed gourd, ridge gourd and bottle gourd etc requires support for growth. To provide this support to the vegetable plants farmers could construct permanent trellis structure just like a progressive farmer, Mr. Rajnikant Vithalbhai Patel. He hails from Nariya village, Baroda district, Gujarat. He is reaping good profits by cultivating vegetables in permanent trellis structure.
These are special structures used for increasing production of twining vegetables. The weak climbers utilize this support that protects the produce from spoiling and increases exposure to sunlight and aeration. Consequently the number of flower buds boosts and superior size and quality vegetable is produced. It is also called pandal system for growing twinning vegetables. It is a one-time investment for the farmers then after it is used for all 12 months.
Initially Mr. Patel was growing regular crops like cotton and grains. However seeking the solution to solve the problem of water shortage and less revenues he visited different agri exhibitions, agri universities and other farms. "I found the solution in permanent trellis structure. I constructed the structure in 2.5 acre in the year 2008. My first crop was pointed gourd (called parval in Hindi). I got the bumper crop and sold the produce for Rs. 11.60 lakh in the first cycle itself. Then after there is no looking back as I am consistently cultivating different vegetables as per the season like bitter gourd, oka and ridge gourd," he adds. Convinced with the income generation through permanent trellis structure Mr. Patel later expanded it to 5 acres and also continued to grow cotton in the rest of the farm land.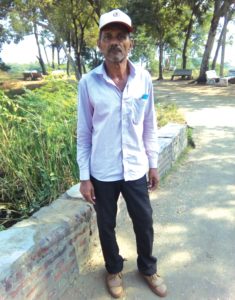 Cost of construction of trellis structure varies with respect to the materials used. If the farmer opts for cement poles then it is permanent trellis structure and cost is above Rs. 1 lakh/acre. On the contrary if bamboo poles are used in place of cement then cost is approximately Rs. 80,000/acre and it is known as semi trellis structure. "GI wires are tied to these poles in straight lines horizontally, vertically and diagonally. The vegetable creepers then move around these wires. The flowers when turned into fruits get lot of free space to grow as it hangs down from the wire. This system is boon for cultivation of creeper vegetables," asserts Mr. Patel. Drip irrigation system has been installed across the permanent trellis structure as well as in open cultivation to have optimum use of every drop of water.
Once the saplings are transplanted it yields for three years. First two years the production is high while the third year it drops that signals the farmers to change the crop. "We change the vegetable crop variety every three years in the trellis structure. The soil nutrients need to be replenished with crop rotation," he states.
All the vegetable produced in the farm are sold in Vadodara APMC wholesale market. "We send our produce four times in week. I have maintained amicable contacts with the traders who help selling the veggies in APMC market. Cotton is sold to the trader from the farm gate however as this year the price are low I am going to sell in the auction market where Modi government has fixed the minimum selling price and we will be paid some subsidy too," he reveals.
Next Mr. Patel wants to diversify in fruits cultivation. "Permanent trellis structure is well stable for creeper vegetables. I want to now expand in the fruits segments because to have trees in the farm is vital for enhancing the bio-diversity. I already have lemon trees but my next venture would be custard apple or VNR guava. I will choose either one of the fruit variants and grow it in 2 acre. Farming needs constant modifications then it upholds the interest and income raises constantly," signs off Mr. Patel.
Contact details:
Mr. Rajnikant Vithalbhai Patel
Nariya Village, Taluk Dabhoi, Baroda District, Gujarat
Phone: +91 97275 44885