Grows and processes aromatic plants. Planting material and technology transfer provided with buy back guarantee to interested farmers
"Farming of aromatic plants is profitable for the farmers for more than one reason. First, these plants have no threat of any pest or disease attack. Even when there is no caretaker in the farmland there is no danger of theft or the crops getting ruined because no animal eats these plants. Change in climatic conditions also doesn't affect the growth of these plants as it is adaptable to the alterations. Lastly the
end produce of aromatic cultivation is sold at per kg not at per packaging bags as in wheat or rice," asserts Mr. Harsukh Ranabhai Hirpara speaking about benefits of aromatic plant cultivation. He started cultivating aromatic and medicinal crops in the year 2000. He owns and manages 45 acre Raja Farm at Dhoraji, Rajkot district, Gujarat.
"It is been 17 years now! I have consistently grown in this field. I began adding different crops one after the other. Besides cultivating I also started processing of my farm produce that increased my revenues by many folds. Today my 45 acre farmland is not only a farm but also a research and training center open to all the farmers who are genuinely interested in cultivating aromatic and medicinal plants,"
he adds.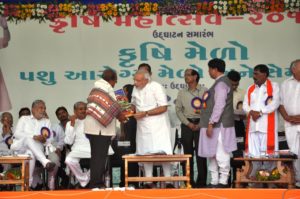 Aromatic plants cultivated at Raja Farms are patchouli, sarpagandha, satawar, kalmegh, coleus, palmarosa, citronela, mentha, stevia and ashwagandha. Medicinal plants grown are brahami, safed musli, aloe vera, lemon grass and tulsi etc. "I have experience in growing and processing all these crops," he states.
Highlighting the cost-benefit ratio of aromatic plants farming Mr. H. Hirpara says, "By and large in any of the aromatic plantation, once in every three months from one acre I produce 25 liter essential oil. Wholesale market price of essential oil is approximately Rs. 1000-2500/liter. It is secured and steady income. In addition, once planted the plantation yields produce regularly for five years. There is no
need for repeated cultivation. All it needs is little water and manure for uniform growth. Further if manure is made in-house then expenses are reduced. Also the production and operational cost is very less. Calculating all these factors growing aromatic plants will surely fill farmers' pocket like no other crop!"
These days demand and price of aromatic plants is excellent in all states of India.  "The processed products made from aromatic plants are used in seven different industry namely incense, perfumes, pharmaceuticals, cosmetic, personal care, aromatherapy and disinfectants. Applications of aromatic processed products is increasing day by day as people across the world are quite concerned for good health and these products are beneficial for living beings and environment. I strongly recommend every farmer to grow atleast one aromatic plant in his farm," insists Mr. H.Hirpara.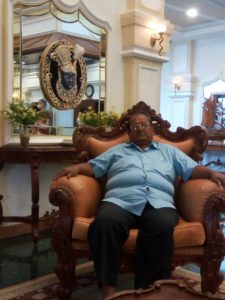 At Raja Farms along with cultivation of aromatic plants processing is also done. "I knew value addition would fetch higher profits than selling the farm produce in the wholesale markets or traders. Moreover there was a constant anxiety of price exploitation by middleman. Therefore, I took a risk of investing in small processing unit for extracting the essential oil. The results attained were encouraging hence I
expanded my processing plant. The risk was worth the try for opulence," he shares. Processing of aromatic plants is simple and effortless activity. The production capacity of one oil extraction machine is 1500 liter. "I have three such machines and one boiler in my farm premises. Within the span of 4-5 hours essential oil is extracted in one machine."
In the beginning years of establishment Mr. H.Hirpara used to take his farm processed value added products to Mumbai market for selling. However with 17 years of hard work now he has crafted an esteemed recognition for himself in the industry. "I continuously keep getting orders. Selling is no more a challenge for me now but to fulfill the demand the cultivation within my farm is insufficient so I have to look for the produce of other farmers." He encourages other farmers to grow aromatic plants. He provides hands-on training and guidance as well as buys their produce at higher price than the market rates. "I also provide them with best quality planting material, technology transfer and financial assistance."
Mr. H.Hirpara is contended with his life experience, learning and returns attained from aromatic and medicinal plants farming. "I am happy and satisfied thus I want to contribute for the well being of other farmers. Farmer must first look for the buyer, seal the sale deal and cultivate. As he gains expertise in farming he can expand in processing. There is no loss ever incurred in the farming of aromatic
plants because the market prices are appreciating and will continue to increase. Take the step towards bright future!" he concludes.
Contact details:
Raja Farm
'Samruddhi', Behind Garden, Beside Asopalav Apartments, Railway Station Plot,
Dhoraji, Rajkot District, Gujarat -360410
Phone – ✆ 09426269100, (02824) 220842