Manufacturers and supplies HDPE Tarpaulin covers and sheets. Located at Hyderabad, Andhra Pradesh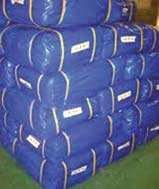 R. G. Poly Tarp Industries came into existence in the year 2011 in Hyderabad, Andhra Pradesh state. The company was founded by Mr. Krishna Vyas. It's a proprietorship firm.
It deals in HDPE Tarpaulin covers. Tarpaulin covers are used for protection from rain, dust and for covering. The company opines that their tarpaulins are cost effective, light weight and sturdy. Its turnover is Rs. 40 lakhs (approx).
The company uses virgin raw materials which are procured from reliable and established local source. Product range offered by the company are user friendly, rot and rust proof, easy to repair, portable and UV stabilized. The products offered are in compliance with international and national quality norms. The company is in the expansion mode and in the coming years it is setting up LDPE sheet plant.  Mr. Krishna Vyas is a commerce graduate and has got 10 years of experience in the same field.
Mr. Krishna Vyas says "quality and service are our top priority that made us to stay in the competition. All our customers are satisfied with the quality. We create awareness about our products and services to our customers mainly through communication.''
The company boasts being a new entrant in the market, we are giving a stiff competition to our competitors and have emerged as one of the prominent manufactures and suppliers of all types of LDPE sheets, Tarpaulin covers and Tarpaulin sheets.
For further information, contact:  R. G. Poly Tarp Industries, 15-5-654, Ashok Bazar, Afzal Gunj, Hyderabad -500 012, Andhra Pradesh. Phone: 040-66469781 Mobile: 9885063377, 9290989468 Email: r.gpolytarp.hyd@gmail.com
Source : Agriculture & Industry Survey