One stop for 5200+ varieties medicinally rich plants and organic kesar mangoes
"I believe in safeguarding the treasure of India that lies in the herbs, plants and trees. To do so I conduct intense research and find out the unique features of numerous plants. Then the plants are brought in my nursery, multiplied and given to other farmers. Also as the world now needs superior quality food and not huge quantity of poisonous food I maintain 100% naturally nurtured kesar mangoes trees. Every single mango of my orchard is sold after being signed for its quality," says Mr. Gaffarbhai Qureshi, founder, Qureshi Baug and Nursery. He is based at Ramlechi Gir village, Junagadh, Gujarat. His 10 acre orchard has more than 500 'kesar' mango trees. Other two traits that make Mr. Qureshi stand apart in the crowd is that he trains the farmers and students for free and has been actively participating in Shodh Yatra since its first tour.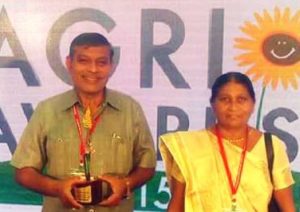 Shodh Yatra
The yatra was initiated by Prof Anil Gupta who decided to walk through farms and forests throughout the country to safeguard the indigenous varieties of medicinal plants and herbs of our country. In addition as green revolution had begun and risked the future of Indian soil and farming the team also decided to encourage farmers to continue and adapt natural/organic farming practices. The first Shodh Yatra was started in 1998 from Mr. Qureshi's farm, went through the interiors of Gir forest and ended at Gram Vidyapith, Gadhada, Bhavnagar district, Gujarat. It covered three districts, five talukas, and 47 villages. Since then the 7-8 days tour on foot is being organized twice in a year in different Indian states. It is conducted once in winters and summers when the temperature is at its core. "I have been part of every single Shodh Yatra since 1998 and it had been a great experience. We have covered 19 states so far. While walking in the interiors of rural India we interact with many farmers and tribes who are practicing natural farming inspite of numerous difficulties and challenges. We learn about their distinctive measures for crop protection, livestock rearing, increasing farm production and grassroot innovations. I collect many medicinal plants and herbs during every yatra and try to multiply it to best of my ability in my nursery," he shares. The yatra is attended by many agricultural and nature enthusiast from within and outside India.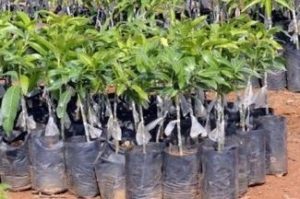 Mango Orchard
"As I have been part of every Shodh Yatra I developed good contacts with people living in different parts of the world. Through close interactions during the yatra they all were aware that I have 'kesar' mango orchard where only natural farming is practiced. Therefore before the harvest I collect good orders for exports as well as sale within India and entire produce is sold. Also I ensure to keep up the good quality. I never compromise in quality and my recognition for short term gain!" he asserts.
Orchard has 500 trees aged between 10-123 years. "My 123 year old tree also yields same as a young age tree! Last year the tree produced 60 mann fruits. (1 mann = 30 kg). It is so because I have not used a trace of any chemical in my farm ever. All I use is natural farming measures to ensure the trees grow steady and healthy. The mangoes of my farm not only have exceptional taste but also are medicinally rich. Mangoes were sold at Rs. 1000 for 20 kg from the farm gate," he states.
To give a natural protective cover to the trees from pest and disease attack, Mr. Qureshi reveals his secret of Agni Kund (fire pit), "We have 10*12 feet agni kund in our farm. In this kund we put all the farm waste. After it gets filled in a month we add 5-6 medicinal herbs, pure cow ghee and honey. Then either at 4 am or 7 pm we put it on fire. Slowly the smoke spreads in the entire farm and the pest or virus if any gets neutralized. Next with the left behind ash we prepare bio-fertilizer by mixing it with cow dung and algae sourced from river and ponds. This fertilizer when fed to the tree stimulates the growth and enhances production."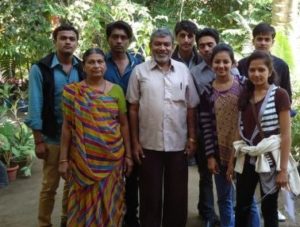 Nursery
Thousands of farmers from across the country visit Mr. Qureshi for purchasing medicinal herbs and plants from the wide array of his collection. He has secured 5200+ varieties plants in his nursery. Also every year approximately 5 lakh grafts of kesar mangoes are developed that are sold within the price range of Rs. 10-500. "The price varies depending on the age and height of the graft. We have developed and sold more than 23 lakh grafts since the establishment in 1998," he adds.
Free Training
Mr. Qureshi shares all his knowledge and expertise on farming and grafting for free with progressive farmers and students. "I don't ask for any fees because I want the knowledge to spread as far as possible. It must not be lost with my last breathe! If others are able to learn and apply my knowledge then it is only my fees!" he highlights. He even has a good understanding of curative properties of many herbs for specific diseases. He shares it for free as well.
Mr. Gaffarbhai Qureshi have assisted in transplantation of six crore plants that are naturally found in India till this date. "I want to plant atleast 10 crore plants before I die and make an appeal to every countryman to plant atleast one plants in their lifetime to protect our nation's environment and natural treasure," he signs off.
Contact details:
Qureshi Baug & Nursery
Ramlechi Gir, Talala, Gir Somnath, Junagadh-362150, Gujarat, India
Phone – 08049675721