Post retirement becomes full time farmer to grow food for family and friends
"We believe in growing our food ourselves so we planted different kinds of fruits, vegetables and grains that we like to eat and of course if practically possible to grow in our farm considering soil requirements and climatic conditions. Also we are concerned about health of soil, environment and ours therefore since 2004 we are engaged in 100% chemical free farming. The change of farming practice was mandatory for good health," asserts Mr. Puttappa.
Mr. Puttappa retired from PWD in Holenarasipura in 2001 and since then he is into farming. "While in job I was part time farmer but now I am full time farmer," he says with pride. His farm is small but packed with green cover. "Half of my land is dryland while remaining is wet land. Due to scanty rain it was not possible to grow paddy so I grew millets instead mainly sorghum and finger millet. It grows well even in less water," he affirms. Green gram, black gram and Bengal gram are grown after harvesting grains.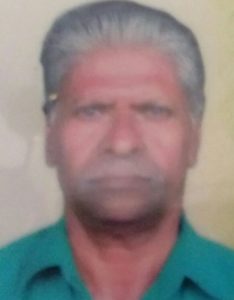 Different varieties of trees are the attraction of the farm. It not only enhances the bio-diversity required for natural pest management but boon for the environment as well. "We have wide array of tree collection. Few to name are 56 coconut, 20 arecanut, 3 mangoes, 8 jackfruit, 20 sapota, 30 Millettia pinnata, 10 neem, 50 teak, 30 silver oak, 30 melia dubia trees etc. We have 6-7 more fruit varieties. Some trees are yielding fruits while others are in growing stage. Altogether we get enough fruits for the entire year," he asserts. Approximately all the trees are 20-30 feet far from each other with the only exception of neem trees that are planted 8 feet apart. Coconut tree yields in 7 years while other fruits in 4-5 years.
Seasonal vegetables grown are green leafy veggies, bitter gourd, ridge gourd, bottle gourd, coccinea, chow-chow etc. 2 honey-bee boxes are kept in the farm for honey and improving pollination in the farm. Mr. Puttappa maintains a small garden (30 * 50 feet) in front of his house within the farm. The garden has ornamental and flower plants and even medicinal plants like insulin, aloe vera, basil, star gooseberry, guduchi (medicinal herb) etc. Trees, vegetable seeds and medicinal plants are all local varieties procured from multiple sources from different locations. "Whenever I travel to attend some program or seminar then I surely bring one or two varieties of plants. It had been a practice for a long time therefore I have such an assorted collection of plants and trees in the farm," he adds.
"I feel farming is impossible without livestock so we rear desi breeds of poultry hen and cows. I have local breeds of 5 sindhi cows. 20 litres excess milk is sold at Rs. 42/litre to the dairy. Feed for cattle is cultivated in the farm like paddy grass etc. The dung of cows is fed into gobbar gas unit to make cooking gas while slurry is again used as farming input," he shares. The quality of eggs is very good as the breed is desi thus not even a single egg is left for sale!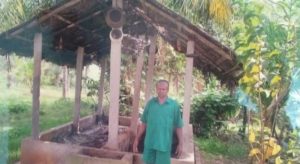 Mr. Puttappa has some unique features in the farm. Beetle vines are grown in support of jack fruit trees. "Our house is on the hill and farm is down the hill thus all used water of our house along with cow urine, shed washed water flows down to the biodigestor. Even the fermented water of Calotropis Gigantea, Millettia pinnata and neem leaves is pumped in the farm. By spraying this liquid our farm gets a protective cover from diseases and pest attack," he informs.
He switched from chemical to organic farming in 2004. "I received immense help from agriculture department for guidance. State krishi department gave 2 vermicomposting tanks and biodigestor. Cow urine is used for making different bio-liquid sprays. Also the litter of poultry is converted into manure. Green manure is grown in the farm too to enrich the soil with vital nutrients. With these activities we are able to produce 6 tractor loads manure every year sufficient for our farm. Some people might find organic farming practices as labour intensive and ineffective towards pest control but it is not true! " he adds. Irrigation is done through drip system.
Farm produce is sold only if in excess after the consumption at home. "We grow first for our family and friends and then sold if we can't consume it full! Fruits, vegetables and eggs are not sold in the market. We mostly sell milk, coconut, rice, pulses and arecanut. Every year 4-5 quintal rice is sold at Shankar guruji Ashram. "They pay us Rs. 200/quintal more than the price offered by rice mills or traders," he asserts.
When asked about agriculture prone to more loss than profits, he promptly replies, "It is not so! In our farm we sell limited quantity of products yet we sell all the year round. The revenues earned are sufficient for farm expenses if any and living comfortable basic life. Every week we get money from selling milk, once in 3-3.5 month from coconut, once in 3 months from pulses and annually from paddy and arecanut. It proves agriculture is sustainable for farmers if the farming practices are correct and dependence on external factors is minimum. Agriculture is not a miracle but a living profession that requires proper planning and management."
Mr. Puttappa concludes, "Presently most important thing in agriculture is to recharge the ground water and improve the level as much as possible. We collect the rain water not only for farming but also for drinking purpose! Past 10years we are drinking rain water collected from the terrace of our house. The water is filtered thoroughly before using. Further trees across our farm don't allow the rainwater to flow and it gets absorbed by the ground. We have to take care of our resources and restore the green cover for healthy future."
Contact Details:
Mr. Puttappa
S/o Hirannaiah, Thotada Mane, Kodangi Koppalu, Ward No. 17, Holenarasipura Town, Hassan District – 273211, Karnataka
Phone: 09035393680