Farm Rotavator manufacturer at Rajkot, Gujarat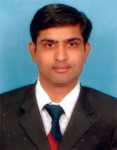 Promise Agro Industries was established in 2010 in Rajkot, Gujarat state. The company manufactures Farm Rotavator. The Agricultural Rotavator offered by the company is a rotator that is designed to suit both wet as well as dry fields.
Tiller Rotavator is also designed as per the latest techniques. The company is one of the leading manufacturers, exporters, importers & suppliers of agriculture implements spares, Agricultural Machinery Spares, Farm Equipments Spares, Farm Machinery Spares And Tractor Implements Spares Like Rotary Tiller Blades, Rotavator Blades, Power Tiller Blade, Rotary Tiller Spares, Rotary Pto Shafts, Agricultural Chains, Bolt & Nuts. Mr. Piyush Kyada is the owner of the company. The annual turnover is between Rs. 1 and 3 crore. It's an ISO 9001-2008 certified company.
Promise Agro has got its market share in Karnataka, Tamil Nadu, Maharashtra, Gujarat, Odisha, Madhya Pradesh, Uttar Pradesh and Punjab states. It also exports Rotavator to Nepal.
Mr. Piyush Kyada is a Mechanical Engineer and got 15 years of experience in automobile.
Mr. Piyush says "farmers are our target customers and we reach them by direct marketing and through our dealers. Our plus point is good quality products and after sales service.'' "The company's goal in the next five years is to manufacture maximum agricultural products and market them throughout India,'' adds Mr. Piyush.
Our Correspondent
For further information, contact- : Promise Agro Industries,
Ankit Industrial Estate, Plot No. 8, Near Gujarat Solvent Plant, Before Rolex Ring, Inside Railway Crossing, Kothariya,
Rajkot, Gujarat – 360 022. E-Mail : promiseind@live.com
Mobile : +(91)-9909919197/ 9586490250 / 9727795365
Web – www.promiseagro.com
Source : Agriculture & Industry Survey