Please describe yourself.
I am from Delhi. During my graduation, I had a small start-up. It was a Hindi website started in 2010 related to how media is very Delhi-centric – most of it relating to politics, the corridors of political parties and what is happening with respect to ministers etc. This start-up was about citizen journalism – people and our surroundings. It was localised news. As a result, many journalism students also connected with me. At that time I got an opportunity to visit Atta Gujran. There are two villages in Greater Noida which were forcefully evacuated by the then UP government.
That was my first exposure to a rural area. That was an incident where farmers refused to give away their land and the government opened fire targeting the farmers – a tragic incident. I visited that village, stayed there for a week in an attempt to understand what was happening. I discovered that there are a lot of issues that the media is trying to convey. These issues involved farmers who had possession of a good amount of land. These farmers are willing to sell their land but at a better cost. This was the time when the law got passed about rehabilitation and land acquisition. It was on the basis of this incident that this law was formed.
In that village, I met a farmer who didn't have any land. He was injured by a bullet when the police opened fire. It was ironical that a farmer who didn't own any piece of land got affected. Incidents and observations worked up my curiosity so much that I ended up taking up developmental studies at IIT Guwahati.
After my studies, I thought I would apply the knowledge that I had gained about policy making and what development is all about. So, I joined FBI youth for India Fellowship and I worked for one year with an NGO in Rajasthan. Over there I stayed with a tribal family in the village for a year and worked to solve their water-related issues. The fellowship was about staying in a village or district level and work on a project to solve a local problem. The set of 12 villages that I worked had high mortality rates because of diarrhoea, and so I worked on water-related issues, community participation and solving these issues.
Later, I joined a consultancy in Mumbai where I got involved in corporate CSR activities in rural areas. As a part of that job, I travelled to 7 different states where I looked after the implementation of various CSR projects in the rural areas.
In my last job, I was working with UNICEF through IIM Ahmedabad to understand the implementation of Swachh Bharat Mission Grameen in the district of Gujarat. We were assessing how well the initiative went.
Now I am here in the village. While I am here I realized that the contest between Harisal Tourism and the village is that Harisal is in a rural forest and comes under the tiger conservation project. The possession of land there is under the forest department – the panchayat hardly has any land in its possession. Also there are a lot of limitations on the livelihood that people can make. The focus of the project was to try and make the environment suitable for work for the people. Being in the forest means a good amount of greenery, and hence, the thought of tourism. Tourism is not new in this area, but the tourism activities are carried out by the forest department, and the entire money goes to the government treasury. The local people don't get any benefit out of these tourist foot falls.
This project started from the idea that people would participate, they would manage it on their own, and completely reap its benefits. This way none of the money would go to the government. People would reap the benefits. At the same time, the money can't go to a single person's pocket either. Everybody gets money for the work they put in. For example, the forest guide makes Rs 300/- for guiding you in bird watching and Rs 300/- is exactly what we charge people for bird watching. There are absolutely no cuts.
There is surplus in one or two activities. A percentage of these goes into the Harisal Tourism Committee bank account. This committee was formed by these people only. Around 40 people are working in Harisal Tourism out of which 8 people form the committee and two of them manage the account. This is the story behind the project.
Would it be right to call you an activist?
Whether or not it is a fair assessment, it completely depends on how an activist can be defined. The term activist brings with it a negative connotation in a lot of areas, but I have never been involved in any kind of harmful activities. I am trying to change the system by mobilizing people to demand for their rights. I have done it within the framework of what institutions can offer.
For example, even with Harisal Tourism, it is funded by the forest department. They had a scheme called Jan Van Yojna. All I proposed in that yojna is that the money it generates is for the people, and the people have the right to use it as per their desire. I proposed that tourism be run in a different manner. I tried to give it a shade of eco-tourism and get the people to earn, rather than raising the flag and going around fighting.
My thought around activism is not for gathering people and getting loud without discussing possibilities benefiting everyone involved. My thought was that people should benefit from the tourism.
Now that you are out there in the real world working all these things out after your developmental studies at IIT, does the real world institution structure look fine?
I don't feel that they are fine. I feel that there is a way out within the given institution. Whenever you try to do something which is beyond the scope of the existing system, in the name of innovation, perhaps, it most often has a lot of individual dependency. You will see that lot of these projects disappear when the individual teams fail.
This is because the institution doesn't have any ownership. There is no ownership from the community, and it was an individual's project, which gained people's support for some time. But the moment the individual leaves, the institution's support ceases. I am not saying that any institution is perfect in itself. But, I don't think any kind of force is needed to bring about change. There is always a learning curve for the institutions. At the same time, there are times when force is required. Honestly, there is no perfect answer to this.
The way I function, I try to figure out a way within the given framework of the institution so that initiatives remain sustainable. At Harisal, I have people there, I have the forest department's money that is invested, the district collector who has invested time and energy – all of these components became instrumental in the functioning of the project.
Even if I am not there, the support system, I feel, will still be there. On the other hand, if it was something I raised from crowd funding, for instance, we will have perhaps 100 people supporting me financially and once I am not there, the entire system would collapse.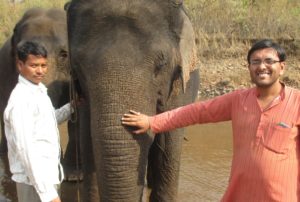 Who are the tourists visiting these places and what kind of tourist activities are currently there?
First of all, I was not the one who initiated this idea. My predecessor in the current job proposed this idea and I took it forward.
The idea was to make a space for urban people who want to take a break from their regular life, and give a different tourism experience to people.
It has home stays, pretty much like tribal houses made of mud. The only difference is that the finishing is to suit a tourist. So, they are more professionally designed but the raw materials are the same and it has bamboo furniture. Wood and mud are the basic raw materials used in the construction of these houses. It has western toilets inside. The bamboo furniture is made by the bamboo artisans of the village near Harisal. There is a community traditionally doing bamboo crafting for decades. So, all the furniture is manufactured by them.
As far as activities are concerned, we have bird watching. There is winter, monsoon etc. Hundreds of species of birds visit this village from other parts of India and other foreign lands. So, there is bird watching activity. Then there is jungle safari. We have taken special permission from the forest department for conducting night safari in Harisal. Harisal is the only place among 4 or 5 locations in Melghat where night safari is allowed. We have day safari as well. There are tourists who are interested in learning bamboo crafting. We have the artisans who help tourists make their own memento by learning a bit of bamboo crafting. Then we have a farm demonstration, which is related to agri-tourism. We take people on a bullock cart from their home stays to a farm in the village, where the farmer explains what farming is all about, how the food journeys from the farm to our plates. They explain the different phases and the value that gets added at each phase. They explain the role of middle men, the sales process, etc. We have cycling and forest trekking too.
Recently we have added kayaking in the river that flows across Harisal.
Where do the tourists come from?
So far we have had only local tourists. We had a person from the US recently. So far we have been the host to about 55-60 tourists and only one has visited from a foreign country.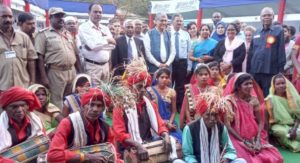 For how many years has this been going on?
This has been there for two seasons.
Has it made a financial difference for people in Harisal?
Yes. I mean there are variations depending upon what they do here. Home stays are very popular. I forgot to mention the Korku dance – the dance of the local tribe. That is also promoted. This dance group went to Mumbai – we were invited by the department of tourism, Maharashtra for an event they were hosting, and then by the National Institute of Rural Development to perform at their Rural Craft and Innovation Mela, in Hyderabad. It was for the first time that these communities went out of the district of Amravati. That was a completely different experience.
When we talk about the income, so far it has become a supplementary income for some of them. For instance, the dance group has 8 guys who get income from Safari packages, bird watching, etc. Like I mentioned earlier, people who run home stays also are earning well. What has not gained much traction is Machan stay which is an experience to stay with a farmer on a chilly winter night – to experience how he stays on his farm with the bonfire, and to understand how he saves his crop from animal attack. These farmers most often sit awake the entire night. This Machan Stay programme is something that has not worked so far. So, people involved in it are yet to benefit.
Even farm tourism didn't gain much traction. We had perhaps one tourist who was interested.
So, some activities are yet to see light but most of it is profitable so far.
How old are you Mr Prakash?
I am 29.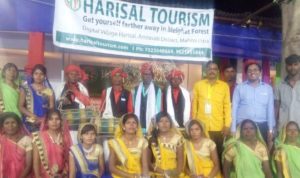 Do you feel we may be rushing the rural folks into our way of life?
To a great extent it is true with the sector. This is not just me but it involves everybody. This is the difference between a top-down approach to development and a bottom-up approach to development. The difference is not very clear but the theory is that there are people sitting at a distance designing policies without even getting a know how and feel of the place. That is a top-down approach. For a bottom-up approach you get into the crowd and ask people if they need it or not.
It is very difficult to have a clear cut boundary between these two approaches. But you are referring to a flaw in the developmental arena where we think what is best for them. Traces of that kind of approach will always be there, but you know, when I started my career I came across a lot of such incidents which made me think a lot. What I generally do is look out for what is there in the current surroundings that can help. So, taking people's opinion on what they do and what they want and explaining what it is about. Tourism, for example, people were of the opinion that the Forest Department was doing tourism and they didn't stand to gain any benefits. The only reapers of benefit were the people working for the forest department because it was a government driven tourism. However, there was always this willingness to get something by being in the village itself. It is a desire and hope to earn better without having to leave their own habitat.
One option on how to do it is to ask people about what you propose and you become the facilitator to arrange that. We are working with around 18 Self Help Groups in Harisal, which amounts to around 180 women who are pushed for using bank loans for meeting their livelihood. There were cases when three groups came proposing purchase of machines that could manufacture vermicelli. I was of the opinion to go through websites and check out what other machines are there around the village that are into this business, to understand what kind of business they do and how much do they earn. They did all that and they were enthusiastic about this research. But there are times when this clarity isn't there.
The top down model asks if we know everything about what should be done to develop the people of a certain community. Do we know better than them? The bottom up approach model says that individual communities know what they want and what is good and bad for them.
The reality is, honestly, somewhere in between these two.
Contact
Prakash Gupta
Digital Village Harisal, Dharni Block,
Amravati district
Maharashtra – 444813
Mob: 7023048669/ 7023048668
prakash.vips@gmail.com