Converts waste land into fertile land with natural farming. Started with 70 acres now extends to 2000 acres in Hyderabad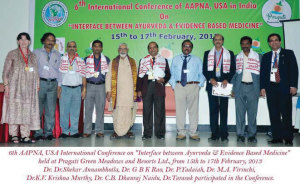 Pragati Green Meadows and Resorts was established in 1996 in Hyderabad, Andhra Pradesh. Dr.G.B.K. Rao is the founder-    Managing Director. His wife Mrs. G.V. Kumari is Director and his son G. Ajay Chandra is Joint Managing Director. It's the first Resort to obtain Integrated Management Systems for ISO 9001:2008, ISO 14001:2004 & OHSAS 18001:2007 certified Resort. The Resort was started in 70 acres and extended to 2,000 acres with herbal and medicinal plants, no chemicals and pesticides have been used since its inception. This land was taken on the basis to make the waste land into fertile land.
Pragati Resorts is in 85 acres surrounded by lush green area with full-fledged amenities. It is surrounded by 25 lakh aroma plants covering mostly Indian heritage flowering trees, tropical plants and more than 650 varieties of medicinal herbs which brings people closer to wellness and good health. Pushpa Ayurveda is the future alternative medicine, by inhaling directly aroma flowers and leaves of sacred and Indian heritage plants makes disease free and soothes human senses.
Dr. G.B.K.Rao, an engineer-turned ecological-visionary and with his vast experience in horticulture and real estate resulted in the creation of Pragati Green Meadows & Resorts Ltd. Dr. Rao's modern technological and managerial acumen has evolved Pragati into a unique locale, which brings one close to nature and a healthier life.
Dr. Rao's says that "Pragati is not into organic farming, but a natural farming. Natural farming is that whatever inputs we give in, it has to come out naturally. We take the cow dung and cow urine and apply by spray and also wherever the ant's mounds are there small amount of just 100gms we mix this in it. So it will digest the pasture and make it like gold. Whatever cow dung or cow urine is mixed in 100 litres and 10 litres that itself acts as a catalyst and this is not a fertilizer. With one cow we would be able to use for about 35 acres.
At present our target is 100 acres. We have shortage of cows and now farmers have forgotten to use these cows, this awareness is going to come soon. In the past 16 years we have not put any single gram of chemical or pesticides or insecticides. Today, at Pragati, it is completely green all around and every fruit grown here like amla, coconut, mango or any other fruits is spotless,'' adds Dr. Rao.
"If you have diabetes and if you got a cow, serve the cow with til for 8 days and on 9th day if you take that milk your diabetes is gone and at the same time you are enhancing the DHA, once DHA is enhanced it gives the immunity to the people and these people will not get any diseases. One must use this cow and feed with the materials that is where we expertise and if the people use this milk will be free from all diseases.
No one will get the disease if the people take this type of feeding. The feeding to the cow also should be without any chemicals and the cows should not be tied but allowed to graze and they know what they are eating which has most herbal value. In Andhra Pradesh, Google has taken Pragati at free cost because what we are doing is for the people — a natural farming. In the coming days, one can see every plant and sand particles in the Google.
Here is my advice: Today, we are suffering because of pollution. As there is no environment consciousness there is wastage everywhere and people are thinking that they will get sprouts from the seed. But I will say that hard work is the only answer.
I want to stress to the farmers that using cow-based materials is enough for doing miracles in both quality and productivity. Encourage this natural farming, distribute the cows to the farmers and encourage them to use it for their land.
Our Correspondent
For more information, contact : Pragati Green Meadows and Resorts Ltd., Head Office – No. 227 Mega City, H.No. 8-2-293/A/A/2 and A/A/2/1,Road No.2, Banjara Hills, Hyderabad – 500034 Andhra Pradesh, India.  Ph:+91 + 40 – 23553183/84/85/86  Fax : +91 – 40 – 23553187  Website – www.pragatiresorts.com Email: raogbk@gmail.com Skype: gbk.rao.
Source : Agriculture & Industry Survey