Adopts new technologies of zero budget natural farming at organic horticulture farm in Sohna, Gurgaon, Haryana
Organic Farmer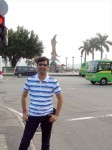 Mr. Adarsh Singh got initiated into organic farming through his involvement with a farmers group supplying organics fruits and vegetable to a retail chain. In 2012 he leased out 15 hectares of farm, in Haryana, and started organic farming. "Now we control entire logistics, including production and transportation," says Mr. Singh, director, Adarsh Bio Organics Pvt. Ltd.
Adarsh has a team of 12 people working in the farm. "Few people are into organic dry items and other specialized items which we supply to some processors. Most of us are into farming, distribution and packaging. We also hire few casual labors for farming, transportation, and packing," informs Mr. Singh.
Fresh Challenge
The company sources fruits like pomegranate, banana, and papaya from Nasik organic group and in the winters, they source apples and pears from Himachal Pradesh. "In our farms, we have all seasonal vegetables. Right now we are growing spinach, radish, turnip, carrot, china cabbage, red cabbage, normal cabbage, cauliflower, onions, spring onions, chenopodium and fenugreek, besides others."
Adarsh invites customers to visit the farm with their families and see how farming is done. "They also get involved in some organic activities. We teach them how we prepare, and what kind of products we use to save the crop from disease. After seeing all this, they become much more interested and confident about organic products," says Mr. Singh.
Regular vs. Exotic
The company tried growing exotic fruits and vegetables but failed to get the desired result. "Few of the exotic vegetables like iceberg lettuce, red lettuce and china cabbage grow well. But we didn't get much success in growing exotic vegetable like leek, celery and parsley because of climate and soil suitability. Our soil is not rich in humus. But we are learning new techniques and learning how we can produce these vegetables too," maintains Mr. Singh.
He adds, "As exotic vegetables require intensive care and a great amount of farm input (nutrients and crop protection), Indian organic farmers find it hard to grow them. Moreover there is limited demand for these vegetables during off-season. I have personally seen that sometimes exotic vegetables fetch lesser price than local vegetables at local markets because of high production and lack of marketing support."
Going Scientific
The company uses drip and sprinkler irrigation system for better water management along with traditional method of farming. "It has to be a nice balance, as in organic we have an uphill task. We are now adopting technologies of Zero Budget Natural Farming using cow urine, cow dung with other local inputs to meet all nutrients demands of the crop and also to improve the soil fertility. We are also following principles of companion cropping, inter cropping to have better pest and weed management and improved productivity."
Mastering Intercropping
Mr. Singh initially faced resistance in changing the mindsets of farmers regarding intercropping. "They want weed-free farm and monoculture so much that they don't like intercropping as it is hard work. Second problem is search for two ideal crops which complement each other. For example, I had severe problem of nematodes in tomatoes, so I planted marigold as intercrop as the chemical secreted from marigold roots repels and control nematodes."
He gives tips in intercropping:
1. The two crops should not have the same pest problems (like tomatoes, brinjals, okra are effected by same fruit borer)
2. The nutrient need of two crops should not be same or they should extract nutrients from different layers of soil (sallow and deep root crop)
3. If one crop is tuber (potato, onion) other should be fruit bearing (tomato, brinjal)
4. It's better to have a row of crops which acts as pest repellent like garlic, marigold, and onion.
The Change Agent
Mr. Singh introduced several changes in farm operations to grow organic fruits and vegetables. "We decided to grow local/ open varieties of vegetables to start with as they were easy to grow organically. Second we started on-farm input production which includes vermicompost, sprays, and panchgavya, besides others. Then we started developing our own organic seed bank."
He adds, "We also realized that we have to have end-to-end system (from crop production to retail marketing) in order to make this project successful. That's why we have our own delivery system, cold storage and packaging facility."
Our Correspondent
For more information, contact : Adarsh Bio Organics Pvt. Ltd. Khasra No. 576/2, Dera Village, New Delhi- 110074 Godown: A 338, Sector- 55, Sushant Lok- 2, Gurgaon
Organic Farm: Village Dhola, Sohna, Gurgaon (Haryana) Ph: 011-26652052/ 53
Mobile: 9810165575  Email – adasingh@yahoo.co.in, fresh@adarshbio.com
Blog – http://bit.ly/Ris1uS
Source : Agriculture & Industry Survey