Turns tribal villages into farming powerhouse in Rajasthan
India has favorable climatic conditions for growing numerous crops. Farmers are progressive and hard-working. Inspite of these two prime factors agriculture is tagged for farmers' suicide, low-income and non-attractive occupation! What are the reasons? "Farmers are unaware of the productive techniques, gullible to overspend money allured by seed and fertilizer MNCs and never attempts to sell farm produce directly to the consumer! To resolve these issues we have taken the responsibility to train the farmers to utilize only farm available resources for crop production without any dependence on the market, sell farm produce directly as far as possible and value add the farm products," says Mr. Pawan Tak, 25, Chief Trainer (Organic Dungarpur), International Horticulture Innovation and Training Centre (IHITC). He is responsible to turn Dungarpur and Jhalawar district, Rajasthan fully organic and increase farmers' income. There are 12-15 villages in each of these districts having 30-40 active farmers. "We train them on chemical-free crop cultivation providing result-oriented solutions, water management and government schemes. Besides we alert them on the market potential of different medicinal plants that can be grown in their region so that they get high profits," he adds.
Farm available resources comprises of livestock, bio-diversity and water. With these resources nutrient and pest management is done that is related to nourishing the soil and controlling the pests. "Livestock includes dairy, goat and poultry. Bio-diversity consists of birds and micro-organisms. Water management means rainwater harvest and groundwater re-charging. We train the farmers thoroughly in all these areas which are intrinsic part of farming," he elucidates. Farm available resources are real treasure of the farmers that not only makes him self-dependent, reduces the production cost, improves soil health, yields poison free food for consumers but also ensures long life to farmers unlike the chemical pesticides that leaves his skin lifeless or risks his well-being!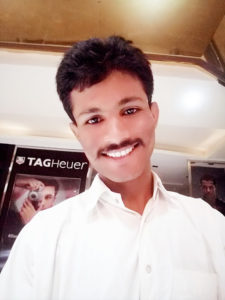 Mr. Tak has identified and invented some solutions using farm available resources to increase the crop yield and protect the farm from pest/disease attack. He shares few formulations, "Sometime the plants are infected and leaves starts curving towards inside due to disrupt in the process of photosynthesis. To resolve it, in 15 litre water add 800 ml raw milk of desi cow along with 50 gram turmeric powder and 300 gram purified aloe-vera juice. Mix it all well and spray on the plants immediately once in a day for a week. The problem of leaves curing will be solved", he explains.
Another commonly found crisis is dropping of flowers. According to Mr. Tak, it happens when the plant lacks the required nutrients and minerals. To resolve it, in 100 litre water 30 kg vermicompost is soaked for 5-7 days and then it is hung to collect the liquid droplets. The solution collected is referred as tea compost. It is sprayed on the plants before flowering to ensure flower drops doesn't occur. In place of vermicompost farmers can use dried cow dung cakes too. "All the problems in farm production can certainly be solved by using farm available resources," he affirms.
Next to improve farmer's income Mr. Tak insists on value addition, selling farm produce from farm gate and cultivating mixed-crops. "We assist the farmers in selecting crops that gives him regular income. It is a mix of grains, legumes, seasonal vegetables and leafy vegetables. We ensure time of sowing and harvesting of every crop is different so that farmer can have a consistent flow of cash," he asserts. Across Dungarpur and Jhalawar district villages, farmers have started selling their farm produce in wholesale and retail from their farm gate. "There is no need of looking for buyers when they are walking- in at the farm!" Third, value addition is the key for earning more profits. "We encourage them to sell bajra flour instead of bajra gains or sell chilli powder instead of chilli and so on." Lastly farmers' income is also increased when he starts preparing the agri inputs within the farm. "Money saved by using farm available resources for farm production is also money earned. Thus income improves right from the production stage."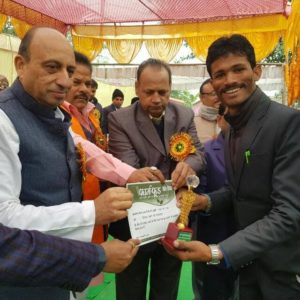 Slowly and gradually the change is taking place and livelihood of farmers is improving. Mr. Pawan Tak has come up a long way growing up in a very small community Fadako Ki Dhani, Ransi gaon, Bilara tehsil, Rajasthan. He saw the tough life of small and marginal farmers very closely thus dreamed to bring a positive change in their lives! Soon after completing B.Sc in agriculture from Bhagwant University he was lucky to get placement in Syngenta company, agri-chemical department in 2015. "With education I could get through the interview and thereby got the ticket to promising future with assured salary but my conscious was not ready to promote the harmful farming inputs which are brutal on soil, human health, living organisms and environment! So I quit the job just in 45 days and started research on desi cow-based farming on my farm. Alongside I also completed post-graduation in horticulture," he shares. He then got appointed as trainer in the International Horticulture Innovation and Training Centre (IHITC) to train farmers on organic farming practices.
Mr. Tak is innovative in crafting the training programs too, one of his exceptional program is 'Dampatti Krushak Model' in which farmer couple are provided training giving equal recognition to women farmers. So far he has trained more than 4000 farmers. He has also written book on organic farming 'Jaivik Kheti Ki Samagra Awdharna' that has detailed information on numerous natural farming inputs that can practically resolve all the crop production problems. In time to come he wants to diversify in extensive research on organic farming practices. "Vegetables cultivation is under maximum threat of being poisoned and requires immediate attention."
Mr. Tak concludes, "Farmers are fed of up training and lecturers so we work with them on fields to show them the results. Then they accept, change and adopt else not. However the future is promising and I strongly believe in coming 10 years farmers will be approaching us for learning organic farming practices instead of us going to them convincing about the benefits of quitting chemicals completely! Surely use of chemicals will be stopped in our country!"
Contact details:
Mr. Pawan Tak
International Horticulture Innovation and Training Centre Durgapura Horticulture Farm, Tonk Road, Durgapura, Jaipur – 302018 (Rajasthan)
Phone: ✆ +91 9571608164
Email: pawantak94@gmail.com