Engaged in rearing and breeding exclusively Bandur sheep breed
In India sheep farming has been a traditional occupation for many farmers across the country. One such old family run farm is Papanna Gowda Bandur Sheep Farm, "It was started by my grandfather 100 years ago. I am third generation taking care of the farm," says Mr. D M Papanna Gowda.
The farm is located at Dasanadoddi village, Karnataka. Total farm area is 20 acre while sheep shed is constructed in 0.25 acre. Apart from sheep rearing and breeding, the farm has horticulture cultivation of multiple crops such as mango, coconut, banana, millets (ragi) etc. The farm produce is sold in local market of the village. Mangoes are sold at Rs. 80-100/kg as it is grown organically. "Other than regular sheep rearing activities, we sell kids plus male sheep for breeding and extend free-of-cost one day training on sheep farming to new farmers," he adds. There are 100 sheep in the farm including adults and kids.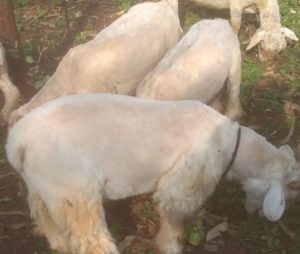 The herd is feed multiple times during the day. At 12 noon fodder given is horse methi, subabul and agasse grass. These three ingredients are chopped finely and mixed with horse gram husk. "We also mix dry (ragi grass, protein rich horse methi ) and green fodder. We prepare concentrate with semolina husk (25%), Bengal gram husk (25%) and sweet corn grains (50%). This concentrate is fed to the adult sheep before giving green fodder. Concentrate is not given to the kids as it lives on its mother's milk. Fodder is introduced to the kids after a month slowly and gradually," he shares. The fodder ingredients are partly bought from market while few are grown in-house such as sweet corn and Napier grass. Horse methi is a grass with high protein content. It grows 2-2.5 ft tall and resembles methi leafy vegetable. It is harvested in 1-1.5months. Clean drinking water is kept inside the shed 24/7.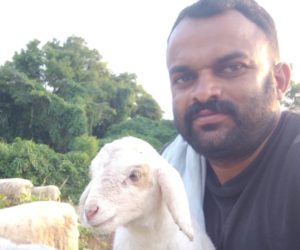 Post delivery female sheep and new born kid are kept in separate pen for 4-5days as kid requires additional care and is susceptible to infections. Usually sheep gives birth once in year. "It delivers in 5months and feed milk to its kid for next 2-3 months. Then it is ready for insemination and the cycle continues," he states. Kids aged 3-3.5months old are sold at Rs. 6000/kid. Approximately by then it weighs 10-12kgs. It is sold only for breeding purpose not for butchering. "We have high demand for kids so it sells easily. Presently we are now meeting only 50% of the demand."
Kids are introduced to fodder after one month. "We take mother out in open from 2 – 6 PM and hold back the kid in the shed. It is then given tender leaves of subabul, agasse etc. Initially the kid will not relish the leaves but later it starts eating it," he explains.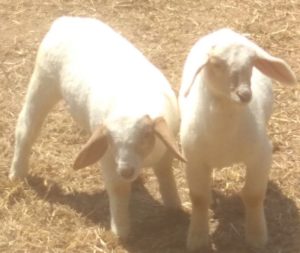 Breeding process is practiced cautiously. Ratio of male to female is 1:25. Commonly 1 buck (male sheep) mates with 2 does (female sheep) in one day. "We leave males with females every day for 2hours that is 8-10 AM. We will come to know which sheep is ready for mating. It will go near the male without any scream (like cows). Then we separate the two from the other herd. We have observed after we sell the kids within a week the mother sheep comes to heat. In our farm we get a batch of sheep for delivery, from these batches in a difference of 1-2days all female sheep comes on heat. We get approximately 1-2 sheep for mating every day," he shares.
To avoid in-breeding male sheep are sold once in 1- 1.5years. "We buy 2-3 months old male kids for breeding purpose from our network of sheep farmers. We rear it for 2 years and then leave it for mating. In this way the cycle continues," he informs. Male kids are bought for Rs. 6 -8 thousand/kid.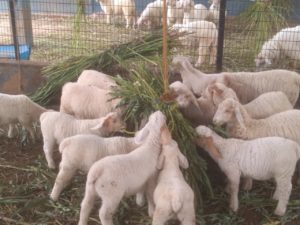 Allopathic medication is given even for common cold, cough or fever. "We do not believe in home remedies. Medicines are given as directed by the veterinarians," says Mr. Gowda. De-worming is done for all the animals once in 3months while vaccination is given as per the standard norms. Yearly twice ETH, once PPR and HS, lastly blue tongue disease vaccine is given only when symptoms are visible. "ETH is given to have trouble free pregnancy and healthy kids without any physical deformity," he highlights.
The life cycle of sheep is 8-10 years. After the fertility period of doe is over it is separated from the herd and reared carefully for three months with aim to increase the weight. "Then we sell it for meat at Rs. 350-400/kg. It would weigh 15-20kgs. Male sheep are sold for breeding and not for meat," he elaborates. Taking self-initiative Mr. Gowda has formed Farmers' Group rearing Bandur breed sheep to facilitate buying and selling of animals.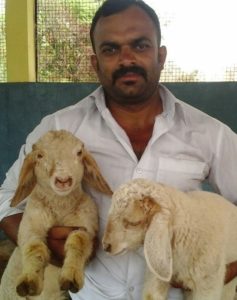 Mr. Gowda finds breeding more profitable than selling sheep for meat. "If we have 100 sheep, we get 3 batches of kids in 2 years. We get 300kids and with 10%mortality, we have 270 kids in our hand. We get Rs. 7-8lakhs profit after deducting expenses," he elucidates. It is supported by the Government. If farmers take loan, NABARD gives 25% subsidy. Challenges faced are only disease and infection spread-out even after taking preventive measures.
In time to come Mr. Gowda plans to open the wool factory. "I have plans to manufacture handicrafts with wool. I am also planning to expand present operations," he reveals and concludes, "It is a hassle free business as sheep are easy to manage and demand is high."
Contact Details:
Papanna Gowda Bandur Sheep Farm
S/o Madegowda, Dasanadoddi Village and PO, Malavalli Taluk, Mandya District – 571430
Phone: 09900373991